Integration of Gender Perspective in NATO's Work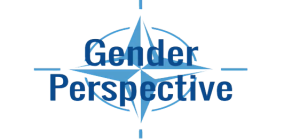 "We are advancing a robust Women, Peace and Security agenda, and are incorporating gender perspectives across NATO."
2022 Madrid Summit Declaration by the NATO Heads of State and Government, 5 July 2022.
The Women, Peace and Security (WPS) agenda is an essential component of NATO's common values of human rights, individual liberty, democracy, and obligations under the Charter of the United Nations.
NATO advances gender equality as a reflection of its values, and therefore promote gender mainstreaming in all its activities, at all levels.
NATO views the integration of gender perspective as the core method to implement and operationalize the NATO WPS agenda (composed of NATO policies on WPS, on Preventing and Responding to Sexual Exploitation and Abuse [SEA] and Conflict-Related Sexual Violence [CRSV] and related military guidelines, action plans and directives), into all NATO military operations, missions and activities, including into NATO warfare development activities.
NATO and its Allies and partner nations are committed to integrate gender perspective throughout the three core tasks of the Alliance (collective defence, crisis management and cooperative security) and consider it essential to ensure an agile, resilient and responsive NATO.
Systematic integration of gender perspective and the collective effort in gender mainstreaming, across the full spectrum of military activities, during peacetime, crisis and armed conflict, increase Alliance effectiveness through all components of NATO's fighting power (moral, conceptual and physical), and contribute to lasting peace, stability and security.
General "Approach" to the integration of gender perspective:
As a capacity, gender perspective allows us to detect gender-based and sex-based differences between women, men, girls and boys in a particular situation. Applied to any activity, it helps to improve situation awareness and understanding of the human environment by identifying "if, when, how and why":
A particular situation or action can affect these population groups differently, and
These population groups have different impacts and/or influence on a given situation.
Integrated throughout the decision-making and planning processes, gender perspective enhances risk assessments and improves the identification of opportunities, requirements/needs, and imperatives/obligations when analysing possible solutions, responses or courses of action. Therefore, this approach leads to better plans and decisions in order to achieve the defined objective(s), desired effect(s) or end state.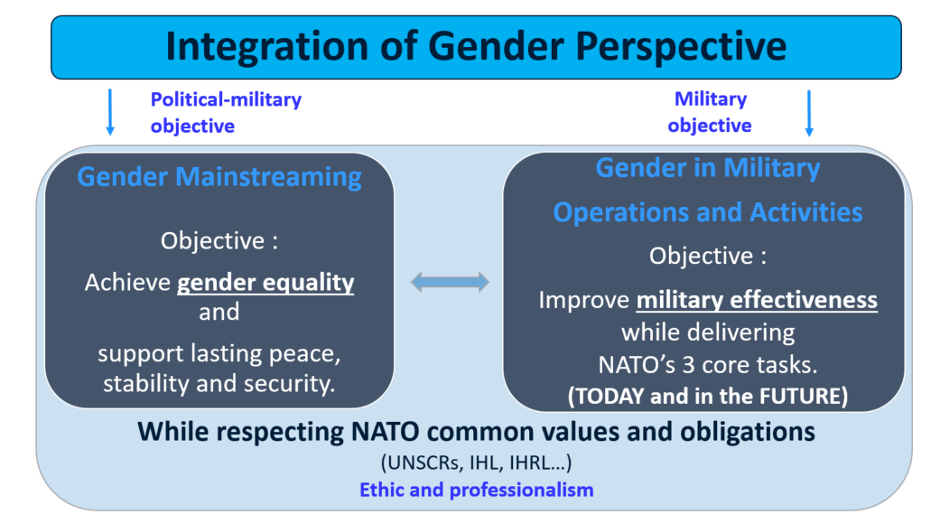 Why is NATO integrating gender perspective into all of its activities?
Often, we unintentionally stereotype the roles of men and women in a society.
Although this is internationally recognized that women can be powerful agents of peace and security, and that unfortunately, women and children are amongst the most vulnerable groups in war and conflict, they are too often only considered as victims. They can also be important actors in the conflict or crisis, notably agents of influence, change, support, and also dangerous enemies. Similar to how we tend to stereotype women, we often see men as actors in a conflict, thereby neglecting that they are more often victims of violence during wartime, in particular death and other direct causes of war.
The assumptions regarding women's and men's roles (and their agency) is often been connected to biological differences between sexes (male and female). Arguments about hormones, body size, cognitive ability, strength, or reproduction are used as justification for assuming different roles in warfighting. While such differences offer partial explanations of the gendered roles of men and women in armed conflict, given the diversity within the gender groups regarding the physical aspects, arguments using biological justification are incomplete. Instead, the interplay between sex (biology) and gender (social attributes) is necessary to explore.
The values and social positions attached to gender are not static nor universal; rather, they vary and are history- and culture-specific. Gender is a system or regulatory norms attached to men's and women's conduct, dynamically shaped by their interactions. In turn, gender regulates how people act by enabling and restricting different actions for women, men, girls and boys.
Thus, gender is one of the factors to be considered to improve situation awareness and understanding of the human environment. Gender perspective needs to be integrated throughout the decision making and planning processes in order to enhance the identification and assessment of risks, vulnerabilities, strengths, opportunities, needs, and obligations, that will determine the impacts and effectiveness of NATO's actions.
Recognising the importance of integrating gender perspective across all levels and phases of military analysis, planning, execution and assessment, NATO integrates gender perspective into its internal and external activities. The NATO strategic Commands (ACO and ACT), guided by their respective core military frameworks, which are the Concept for the Deterrence and Defence of the Euro-Atlantic Area (DDA, 2020) and the NATO Warfighting Capstone Concept (NWCC, 2021), are integrating gender perspective across the planning and conduct of NATO operations and missions, and in all lines of efforts that contribute to warfare development.
Considering gender perspective in the continuously evolving global security environment and applying it as an enabler to the military and non-military instruments of power contribute to the adaptation and transformation of the Alliance to encounter new and more complex patterns of warfare, in current and future operations.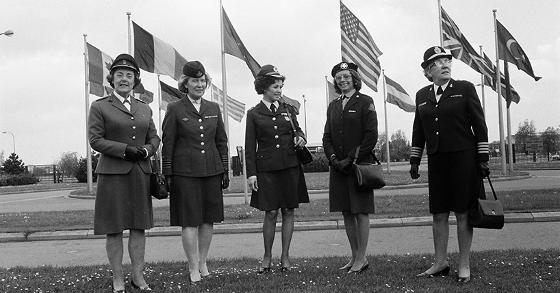 NATO has a long history of considering gender perspective. It officially started in 1961, with the idea of senior women in NATO to meet informally to share best practice and discuss their concerns. The first NATO Conference of Female Senior Officers of the Alliance, led progressively to the creation of what is now the NATO Committee on Gender Perspectives (NCGP).
In 2000, the United Nations Security Council (UNSC) unanimously adopted Resolution 1325 on Women, Peace and Security (WPS), recognizing for the first time that gender inequalities exacerbated during conflict impede the establishment of sustainable peace and development.
The UNSCR 1325 and related Resolutions, forming the framework of the international WPS agenda, acknowledge the disproportionate impact that armed conflict has on women and children, and calls upon international actors (political and military) to introduce specific measures to respond to this.
In 2007, NATO and the Euro-Atlantic Partnership Council (EAPC) adopted their first policy on WPS. In 2010, the North Atlantic Council adopted the first result-oriented NATO Action Plan for the implementation of the NATO/EAPC Policy on WPS. In 2012, the NATO Secretary General appointed the first NATO Secretary General Special Representative for Women, Peace, and Security.
NATO policy on WPS have been updated in 2018. Directly linked to this policy, NATO adopted few years later two other NATO polices on Preventing and Responding to SEA in 2019, and on Preventing and Responding to CRSV in 2021.
Whereas the above-mentioned developments occurred at the political level, the first adoption of the Bi-Strategic Command Directive 040-001 on Integrating Gender Perspective into the NATO Command Structure in 2009 (further revised in 2012, 2017 and 2021) was a milestone achievement for the NATO military component. This Directive provides clear guidelines and instructions for the implementation of NATO's WPS policy, and related policies, at all levels of the NATO Command Structure, through the integration of gender perspective into all NATO operations, missions and activities.
As implementation needed to be matched with institutionalisation, the gender advisory structure was established throughout the organization, at all levels. Therefore, the Bi-SCD 040-001 establishes and clarifies the role of Gender Advisors and Gender Focal Points, who are responsible for providing advice and support on the integration of gender perspective and gender mainstreaming to the NATO Commanders, leadership and staff.
Most recently, the military guidelines on the Prevention of and Response to CRSV were updated in 2022 (previously the military guidelines on Conflict Related Sexual and Gender Based Violence/CR-SGBV, 2015).
The UNSCR 1325 has four fundamental pillars to implementing the work on women peace and security:
Prevention – All efforts should be implemented to prevent violations of men and women's human rights. Efforts can include preventing gender-based sexual violence, prosecute offenders of sexual violence and strengthen legal support for women's rights.
Protection – Since armed conflict affects men, women, boys and girls differently, they may need different sorts of protection.
Participation – Women and men should participate on equal terms in all levels of the peace process, in the post-conflict work and before, during and after the conflict. At the moment, this is rarely the case and women often have less influence than men in these processes. The results of the misrepresentation of women in peace processes is that their rights often are overlooked in the post-conflict work.
Relief & Recovery – Gender-sensitive humanitarian programming needs to be considered during and after disasters/crises. Special attention should be directed to the communities with the most vulnerable situations, which includes but not limited to, women and children who are displaced, persons with disabilities, and the needs of women transitioning during the Demobilisation, Disarmament and Reintegration (DDR) process.
The UNSCR 1325 identifies that the method to achieve protection, prevention and participation is through integration of gender perspective in all activities in order to address the whole population (men, women, boys and girls).
Currently, there are eleven resolutions on the topic of WPS. The landmark resolution 1325 came in 2000 but the progress with the implementation was slow. Ten related resolutions have been adopted since 2008 to promote the implementation of the founding UNSCR 1325.
UNSCR 1325 (2000): Prevention, protection and participation
UNSCR 1820 (2008): Protection against sexual violence (systematic)
UNSCR 1888 (2009): Reaffirms the importance of 1325 and 1820
UNSCR 1889 (2009): Peace building, anniversary of 1325 & indicators
UNSCR 1960 (2010): Monitoring and reporting system on CRSV
UNSCR 2106 (2013): Need for gender education and gender advisors, and CR-SGBV recognized as affecting boys and men as well
UNSCR 2122 (2013): Female Participation, gaps in WPS implementation
UNSCR 2242 (2015): Addressed women's role in countering terrorism
UNSCR 2467 (2019): Sexual violence in conflict
UNSCR 2493 (2019): Urges member states to commit to implementing the nine previously adopted resolutions
UNSCR 2538 (2020): Women's participation in peacekeeping operations
Furthermore, while they are not officially recognized as part of the WPS framework, it is important to mention two additional resolutions that are closely linked:
UNSCR 2272 (2016): Sexual exploitation and abuse in peace operations
UNSCR 2331 (2016): First resolution on human trafficking and its impact
Language is a powerful tool; it can shape our thinking and influence behaviours and actions. NATO terminology is standardised to build a common understanding across the Alliance and enhance cohesion with the International Community. In order to remain coherent, consistent and relevant to existing practices, these definitions undergo updates as appropriate.
The definitions provided below have been approved through the NATO Terminology programme (2022 update).
Gender
The social attributes associated with being male and female, learned through socialisation, that determine a person's position and value in a given context, including in the relationship between women and men and girls and boys, as well as in the relations between women and those between men.
Note: Gender issues do not equate to an exclusive focus on women.
Gender perspective
The ability to detect if and when men, women, boys and girls are being affected differently by a situation due to their gender.
Note: Gender perspective takes into consideration how a particular situation impacts the needs of men, women, boys and girls, and if and how activities affect them differently.
Gender analysis
The systematic gathering and examination of information on gender differences and on social relations between men and women in order to identify and understand inequities based on gender.
Sex-disaggregated data
Information and data collected from and analysed for males and females separately to overcome a bias and potential for analytical error caused by focusing on one section of the population when collecting information.
Gender mainstreaming
A strategy used to achieve gender equality by assessing the implications for women and men of any planned action, in all areas and at all levels, in order to assure that the concerns and experiences of both sexes are taken into account.
Gender equality
The state in which there are equal rights, responsibilities, opportunities and access for men, women, boys and girls.
ACT aims to deliver the right training to the right people at the right time.
In order to safeguard the freedom and security of its members, the Alliance must maintain the capabilities to prevent, detect, deter and defend against any threat of aggression. For this reason, NATO conducts education and training programmes to increase cohesion, effectiveness and readiness of its multinational forces. In order to anticipate future training and education, ACT collaborates with operational components to explore the requirements and develop opportunities to support new warfighting capabilities.
Global Programming is how NATO manages the training needs of personnel from member and partner nations to provide tailored training solutions to satisfy all NATO requirements. NATO has the Gender in Military Operations discipline which adheres to the HQ SACT global programming process. This discipline is working to constantly adapt and introduce the integration of gender perspective to the four dimensions of the organisation's education programme, individual training, collective training and exercises. The list of currently certified courses under the GMO Discipline can be found at the open access NATO Education and Training Opportunities Catalogue.
---
The Nordic Centre for Gender in Military Operations, NATO Department Head for the GMO Discipline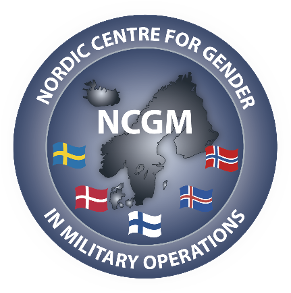 The Nordic Centre for Gender in Military Operations (NCGM), established in 2012, operates under three key functions as an international expert centre, NATO Department Head (DH) and NATO Accredited Education and Training Facility (ETF) on gender in military operations. NCGM, staffed with military and civilian international experts, is guided by a Steering Committee, co-located with the Swedish Armed Forces International Training Center (SWEDINT) near Stockholm, Sweden.
In 2013, the "memorandum of understanding between the Swedish Armed Forces, HQ SACT and SHAPE concerning Gender Education and Training" was signed by the Swedish Chief of Defence. The agreement formalises NCGM DH's role for the delivery of the Gender Education and Training to NATO, following NATO Education, Training, Exercises and Evaluation (ETEE) policy and the global programming approach. Since then, the NCGM has become the hub of knowledge through close cooperation and commitment with their partners and stakeholders to develop, sustain and mainstream WPS and GMO within institutions.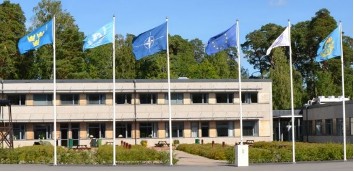 The role of the DH is to support HQ SACT's responsibility for translating NATO ETEE requirements (NETRs) into solutions for the individual and collective training spectrum (c.f. MC 0458/4, January 2023).
Therefore, as the DH for the GMO Discipline, the NCGM, under HQ SACT guidance:
Translates operational NETRs into education and training objectives within the subject of GMO and related programmes, modules and courses;
Establishes training standards to which the NATO GMO programme courses will adhere;
Collaborates with both HQ SACT and SHAPE to ensure courses and curricula conform to NATO requirements;
Recommends GMO E&T Programme changes to HQ SACT and SHAPE;
Collaborates with HQ SACT to coordinate the Annual Discipline Conference (ADC) to discuss NATO GMO E&T programme changes;
Collaborates with other DHs and ETFs on a case-by-case, as coordinated with HQ SACT; and
Acknowledges NATO command and forces structure developments, and be responsive to NATO policies and activities related to GMO.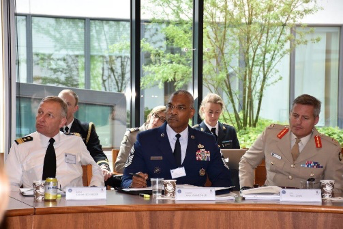 As a NATO accredited ETF and international expert centre, NCGM:
Conducts NATO-accredited courses and seminars, both in-house, online and as Mobile Education and Training Teams, following NATO E&IT Quality insurance mechanism;
Engages in Subject Matter Experts (SMEs) development, which primarily materializes in expert meetings, concept notes and publications;
Provides a pool of SMEs to support NATO Nations and Partners at Education and Training events, including military exercises.
NCGM's work on integrating gender perspective in military operations and activities, and operationalizing the WPS agenda include additional tasks beyond the scope of E&T, which include but are not limited to:
Supporting HQ SACT and SHAPE with analysis of GMO related Lessons Identified, upon request;
Supporting institutional change of the Alliance through integrating gender perspective and analysis, in particular through doctrine and directive development;
Consults NATO as an expert centre regarding the prevention of, and response to gender-based violence, including CRSV and SEA; and
Supporting other NATO-led tasks related to the integration of gender perspective, on a case-by-case basis, upon request from HQ SACT or SHAPE.
---
Crisis Management and Disaster Response, NATO Centre of Excellence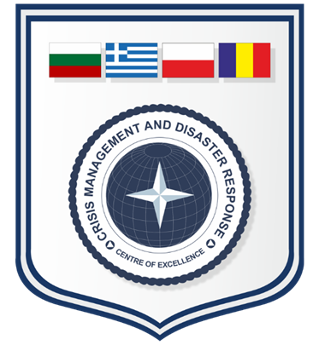 The Crisis Management and Disaster Response Centre of Excellence (CMDR COE) is a NATO-accredited and quality-certified COE located in Sofia, Bulgaria. The CMDR COE has the primary area of responsibility – crisis management and disaster response, which is coupled by a broad thematic portfolio including relevant cross-cutting topics such as resilience, climate change, protection of civilians and gender mainstreaming. The Centre supports NATO's transformation through research and analysis, tailored education and training for senior experts (strategic and operational level), support to concept development and experimentation, doctrine and standardisation and lessons learned.
The CMDR COE supports gender mainstreaming across NATO. Building and fostering the required combined expertise in pursuit of the latter objective, the Centre has a GENAD and three certified gender trainers. Research and analysis on the Women, Peace and Security (WPS) agenda and relatedly – the integration of gender perspective in military contexts, is a continuous process that informs planning, policy elaboration, and education and training development. The CMDR COE is working on gender perspective in crisis and disaster management, including disaster risk reduction, resilience, protection of civilians and climate change.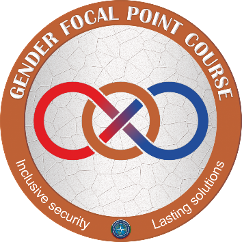 Resulting from joint collaborative efforts by the CMDR COE and the NCGM (NATO DH on GMO discipline), a tailored education and training solution for Gender Focal Points (GFPs) at the strategic and operational levels was developed to enable dual-hatted specialists to perform successfully in support of the integration of gender perspective. The NATO-approved GFP Course (NATO ETOC CODE: GEN-GO-25432) enables GFPs to support the integration of gender perspective and facilitate gender mainstreaming within their respective chain of command and functional area, and thus contribute to the institutionalisation of gender-responsive approaches to planning and decision-making. The CMDR COE is delivering the course for a target audience at the strategic and operational levels, while the GFP course at NCGM's target audience is at the tactical level.
Furthermore, each CMDR COE NATO-approved course features a module on exploring how gender is relevant for and applicable across the various CMDR activities.
The NATO Education and Training package on gender perspective is designed to increase awareness on gender perspective in military operations and activities and to assist NATO Allies and partners to build their gender capability.
NATO and its Partners are committed to continue to develop appropriate education and training (E&T) programmes and tools at the national level as well as under the auspices of NATO, and integrate gender perspective in their exercises and programmes. NATO and its Partners will ensure that curricula on gender training will continue to be developed for NATO personnel and leaders in military and civilian structures related to defence and security.
To support these commitments, the Allied Command Transformation Gender Advisor Office (ACT GENAD Office), with the support of NCGM, have developed the following Education and Training Package on Gender Perspective -Training Materials for NATO Allies and Partners. This package aims to provide basic tools and guidance for Instructors on how, why and what to include when training on gender perspective in military operations and activities.
HQ SACT developed the first Gender Education & Training Package for Nations in 2015 with the full support of NCGM. Since then, this package has been updated and released in several iterations (2017 and now in 2023) to ensure that nations train their forces with relevant and up to date information that addresses current and emergent security challenges, and consider recent developments in NATO regarding gender perspective in military operations and activities.
---
Disclaimer: The following publications are produced by Headquarters, Supreme Allied Commander Transformation (HQ SACT), Office of the Gender Advisor and the Nordic Centre for Gender in Military Operations (NCGM); however, these publications are not formal NATO documents and do not represent the official opinions or positions of NATO or individual nations. Opinions, conclusions, and recommendations expressed or implied within are solely those of the contributors and do not necessarily represent the views of NATO, HQ SACT, or any of the authors' respective parent organisations, nor is HQ SACT responsible for any links (and associated materials) provided or embedded in the material. These materials are provided in order to inspire and support national training in NATO and Partner Nations, while they belong to HQ SACT with the limitations stated here. Absent specific permission, these publications cannot be sold or reproduced for commercial purposes nor may the products and articles be copied, reproduced, distributed, or publically displayed except for their specific education and training purpose. Neither NATO or any NATO command, organization, or agency, nor any person acting on their behalf, may be held responsible for the use, which may be made of the information contained therein.
---
The Education and Training Package on gender perspective for Nations is composed of an instructor guide and six modules (with proposed PPT presentations) covering guidance across the three levels: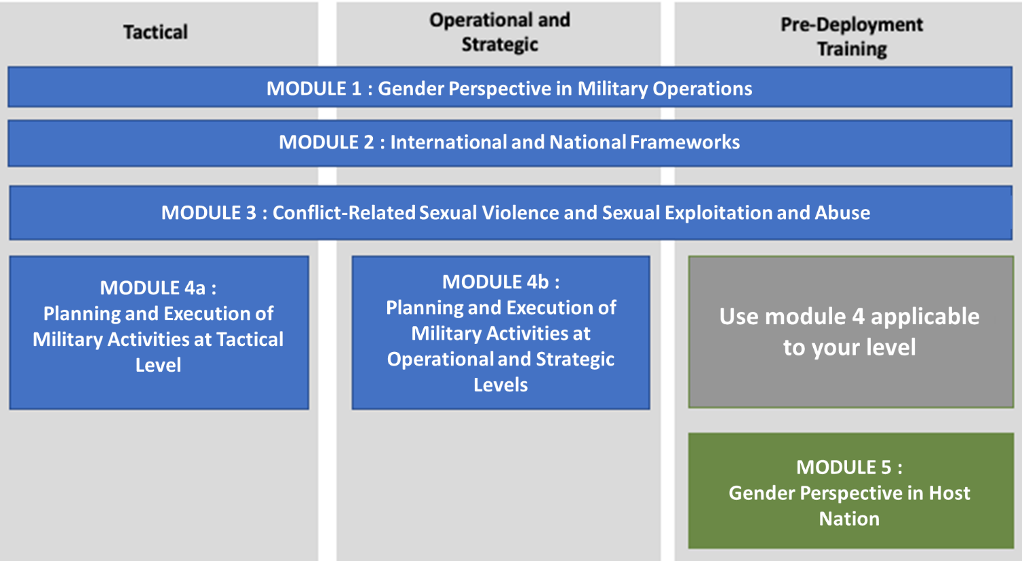 Structure of the NATO Education and Training Package on gender perspective.
Key themes in the 2023 package include, but are not limited to:
Operational impact of gender perspective,
National and international legal frameworks,
Key NATO approved gender-related terminology,
Prevention and response related to Conflict-Related Sexual Violence, and Sexual Exploitation and Abuse,
NATO's operationalisation of the Women, Peace and Security Agenda,
Gender perspective in the planning and execution of military operations and activities, and
Host Nation history, gender roles, gender analysis and participation of women in the area of operation.
This training package aims to help instructors plan and conduct training on gender perspective in military operations and activities. It is a generic tool that reflect current NATO's developments which needs to be tailored to fit the national frameworks, the training audience, the training objectives and when used for pre-deployment training, to fit with the area of operations and specific mandate. Also, it is important to highlight that the most effective method to educate and train on gender perspective is to integrate it, as necessary, into general and specialized training programs, from the initial training, and throughout the development of the military career, so it can become part of everyone's skill sets.
In 2017, HQ SACT developed three additional modules on gender perspective and terrorism:
Terrorist organisations understanding of gender dynamics and how they integrate gender perspective into their strategies,
CR-SGBV used as a tool of terror,
Protection of Civilians and mitigating harm to avoid radicalisation, and
Conducting operations with a Counter Terrorism component in urban operational environments.
The ACT GENAD Annual Conference was held from 24th to 26th of October 2022.
You can read the full article for more information on the conference.
Watch the open conference recorded: link available soon.
The non-classified panel discussion was on the theme "22nd Anniversary of UNSCR 1325 – NATO's achievements: The WPS agenda, current focus areas and how this informs future conduct and planning of military operations and activities". Guest speakers and panellists were:
Ms. Irene Fellin, NATO Secretary General Special Representative on Women, Peace and Security;
LTC Diana Morais, Chair of NATO Committee on Gender Perspectives, GENAD to the Portuguese Ministry of National Defense (MND) and Head of the Equality Office at the MND;
COL Micaela Brancato, Military Advisor to the Office of the Secretary of the US Air Force, Reserve Affairs and Readiness, and Department of the Air Force (DAF) WPS Program Lead; and
Dr. Camille Boutron, Researcher at the French strategic military research institute (IRSEM).
The second part of the open conference (NATO Unclassified discussion) on the theme: "Gender in Military Operations – Operationalise WPS : looking to the future of integrating gender perspective in NATO's warfare development" featured:
MGEN Lise Bourgon, Acting Commander of Military Personnel Command & Canadian Armed Forces WPS Champion,
BGEN Moschos Voudouris, HQ SACT ACOS Joint Force Development, and
BGEN Lone Traeholt, Senior Military Advisor and Gender Advisor to the Commander Air Command Denmark.