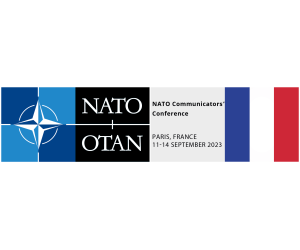 The 2023 NATO Communicators Conference will be held 11-14 September 2023 in Paris, France. This year's conference will focus on communications disciplines from NATO's military structure (Strategic Communications – Public Affairs – Information Operations – Psychological Operations) as well as corporate activities driven by NATO Headquarters.
The conference is organized to discuss shared objectives and interests. Information disciplines will hold respective working groups on the first two days of the conference. Attendance at those events is organized by the working group secretariats with attendance guided by NATO's Strategic Communications Policy.
For individuals who are part of an information discipline working group (Military Public Affairs Working Group, Psychological Operations Working Group, Information Operations Working Group) those activities will begin on Monday 11 September. The plenary sessions will take place on Wednesday 13 and Thursday 14 September.
If you need more information, please send an email to [email protected].