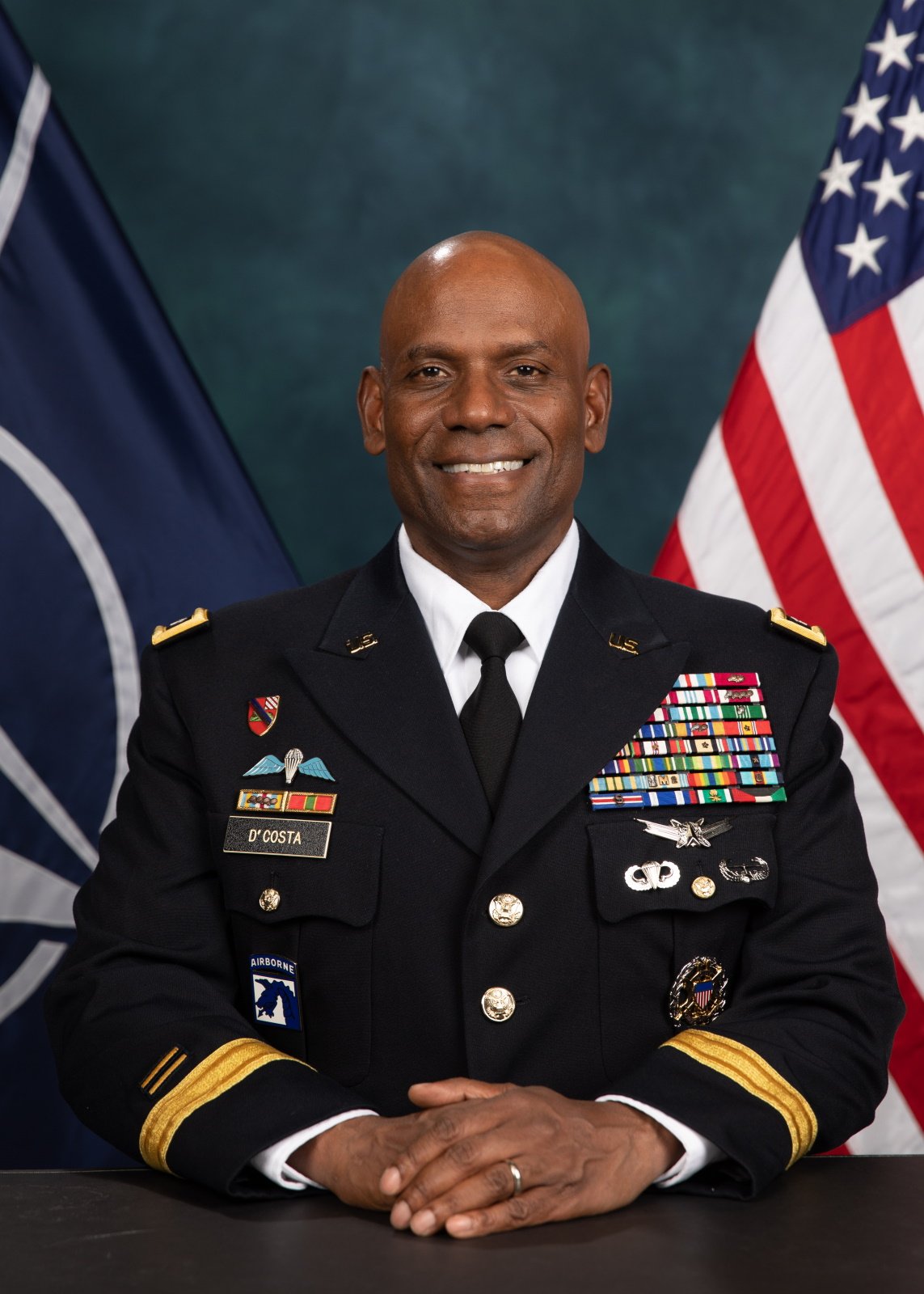 Major General Joseph D'Costa
Deputy Chief of Staff, Strategic Plans & Policy
---
United States Army
North Atlantic Treaty Organization
Major General Joseph D'costa currently serves as the Deputy Chief of Staff for Strategic Plans and Policies (DCOS SPP) at NATO Headquarters, Supreme Allied Command Transformation in Norfolk, VA. He was commissioned as a Field Artillery Officer through the United States Military Academy in 1989.
Major General D'costa has served in numerous leadership and staff positions to include: Fire Direction Officer, Platoon Leader, and Battalion Adjutant, 1-17 Field Artillery Battalion in Fort Sill, Oklahoma; Field Artillery OCT, Combat Arms Training Officer, Division Aide-de-Camp, Headquarters and Headquarters Detachment Commander, Division Retention and Recruitment Officer, and Division Headquarters Commandant, 75th Division in Houston, Texas; Effects Based Operations Officer, Operational Net Assessment Officer, Assistant Space Operations Officer, and Information Operations Officer at Standing Joint Force Headquarters, US Joint Forces Command in Norfolk, Virginia. He was the Battalion Commander of 1st Battalion, 378th Infantry Regiment, 98th Division; the Contemporary Operating Environment Chief of 1st Brigade, 75th TDMC; and the Brigade Commander 2nd Brigade, Gulf Division, 75th Training Command. He was the Assistant Chief of Staff, G3, 75th Training Command, and the United States Army Lead at the Defense Innovation Unit Experimental in Boston, MA. He served as the Vice Director J7-Reserve, Joint Force Development at the Office of the Joint Chiefs of Staff, Washington, D.C. He served as the Deputy Commanding General (Support) at 412th Theater Engineer Command in Vicksburg, MS and as the Deputy Commanding General (Sustainment) at Eighth United States Field Army in the Republic of Korea. He has served in Operations Desert Shield, Desert Storm, Iraqi Freedom, and Enduring Freedom and supported the Hurricane Katrina and Pakistan Earthquake Relief Efforts.
Major General D'costa's military education includes US Army Airborne School, US Army Air Assault School, Field Artillery Officer Basic Course, Field Artillery Cannon Battery Course, Infantry Officer Advanced Course, Observer/Controller Course, Combined Arms and Services Staff School, Command and General Staff College, US Army Space Operations Officer Qualification Course, Effects Based Operations and Operational Net Assessment Course, Joint Professional Military Education II Course, US Army Information Operations Officer Qualification Course, the United States Army War College, and the Joint Flag Officer Warfighting Course (JFOWC).
Major General D'costa's decorations include the Defense Superior Service Medal, Legion of Merit, Bronze Star Medal, Defense Meritorious Service Medal, Meritorious Service Medal (9OLC), Joint Service Commendation Medal, Army Commendation Medal (5OLC), Joint Achievement Medal, Army Achievement Medal, Army Reserve Components Achievement Medal (6OLC), National Defense Service Medal with bronze star, Southwest Asia Service Ribbon with three campaign stars, Afghanistan Campaign Medal with campaign star, Iraq Campaign Medal with campaign star, GWOT Expeditionary Medal, GWOT Service Medal, Korea Defense Service Medal, Armed Forces Medal, Humanitarian Service Medal (1OLC), Military Outstanding Volunteer Service Medal, Armed Forces Reserve Medal with Hour Glass and 2 M-device, Army Service Ribbon (Numeral 2), Army Reserve Component Overseas Training Ribbon (Numeral 9),Cheon-su Medal (Republic of Korea) NATO Medal (ISAF), Liberation of Kuwait Medal (Saudi Arabia), Liberation of Kuwait Medal (Kuwait), Joint Meritorious Unit Award (4OLC), Army Superior Unit Award, US Army Parachutist Badge, US Army Air Assault Badge, British Army Parachutist Badge, USAF Space Badge, Joint Chiefs of Staff Identification Badge, the Orders of Saint Barbra and Saint Maurice (Legionnaire), Signal Corps Brevet Colonel, and a recipient of the Knowlton (Military Intelligence) medal.