The Academic Outreach Function is Allied Command Transformation's portal to Youth, Academia and the Think Tank community.
The Strategic Issues and Engagement Branch is responsible for the establishment of cooperative relationships, as well as coordinating the Command's engagements with academic institutions.
All related activities are designed to improve Allied Command Transformation's Academic network for the mutual benefit of the Command and its partners.
Currently, Allied Command Transformation's Academic Outreach Function is based on three pillars: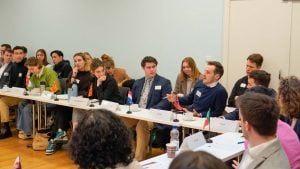 NATO Model Events (NMEs)
NATO Model Events aim to introduce university students (graduate and post-graduate) to the workings of NATO through preparation for and participation in a dynamic decision-making simulation of a North Atlantic Council session. By acting as Ambassadors, students are engaged in diplomatic discussions that resemble those at NATO. Representatives from Allied Command Transformation chair the North Atlantic Council session by acting as the Secretary General and Chair of the Military Committee.
---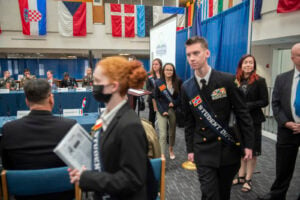 Model NATO Challenge (MNC):
As part of the annual Norfolk NATO Festival, the Model NATO Challenge is a High School scholarship competition in which top candidates are chosen to participate in a North Atlantic Council simulation, chaired by Allied Command Transformation Staff. Each selected student Ambassador represents a NATO member and is assigned a mentor – an Allied Command Transformation military officer. Based on the students' diplomacy and judgement skills, as demonstrated in the North Atlantic Council simulation, the top three finalists are awarded scholarships.
---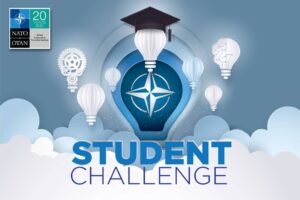 ACT 20th Anniversary Student Challenge:
As part of Allied Command Transformation's 20th anniversary in June 2023, the Command invited students from across the Euro-Atlantic area and the Middle East and North Africa region to participate in a student challenge by recording a video on "How emerging and disruptive technologies impact the transformation of NATO." The best three students will be invited to Norfolk to discuss their ideas with NATO's senior political and military leadership at the anniversary celebrations.
For more information about the winners of the 2023 Student Challenge, please see here.
The next Allied Command Transformation Student Challenge will open on 01 February 2024.
---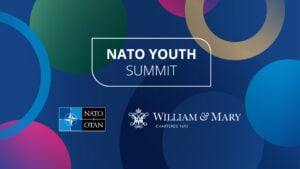 NATO Youth Summit 2023
NATO and the College of William & Mary organized the 2023 NATO Youth Summit; this year's theme was "Next Generation Freedom and Security." The 2023 NATO Youth Summit started in Belgium and continued in Washington, D.C., with online participants able to engage throughout the transatlantic conversations. The summit covered issues like resilience, disinformation, and democracy, drawing expert discussion from industry and academia, as well as public and private entities. NATO Secretary General Jens Stoltenberg responded during Questions & Answers sessions, addressing several questions focusing on topics like youth involvement and climate change. NATO hosts this annual summit to ensure that emerging leaders are able to share their views and ideas as NATO addresses ongoing and next-generational challenges.
For more information about the NATO Youth Summit, please see here.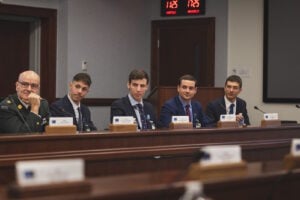 Lecturing and Student Visits:
As part of Allied Command Transformation's cooperative relationships with Academia, Allied Command Transformation Subject Matter Experts deliver lectures and mentor students at respective partner universities. Furthermore, Allied Command Transformation offers visits for student groups, which provide the opportunity to directly engage with the Command's Staff and expand knowledge about the work and tasks of a NATO Military Command.
---
Research Collaboration:
Allied Command Transformation collaborates with a number of Academic Institutions to interact directly with researchers with expertise in relevant areas for the Command. This benefits the Command in fulfilling and realizing its intents and priorities.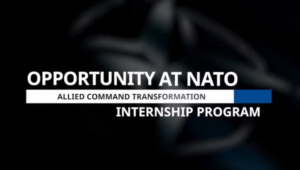 Internship Programme:
Each year, Allied Command Transformation offers a limited number of internships to current students and recent graduates. The aim of the internship program is twofold. First, it introduces the future generation to the workings of a NATO Military Command and second, it provides the organization with access to the latest theoretical and technical knowledge that the intern can apply through practical work assignments.
Please find more information on the Allied Command Transformation Internship programme here.
---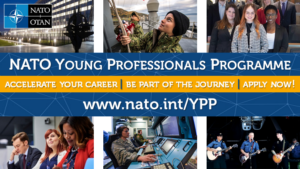 Young Professionals Programme (YPP):
The new NATO-wide Young Professionals Programme aims to attract and develop highly talented professionals who are interested in accelerating their careers through entry-level positions at NATO. Through this highly competitive global three-year program, the selected participants are assigned to a different NATO body each year. Those posted to Allied Command Transformation provide unique perspectives to the Command by applying superb academic knowledge, expertise and experience from other NATO entities. In return, Allied Command Transformation broadens their understanding of transformation, capability development and innovation, and is an opportunity to develop many competencies unique to working in Allied Command Transformation.
Please find more information on the Young Professionals Programme here.
---