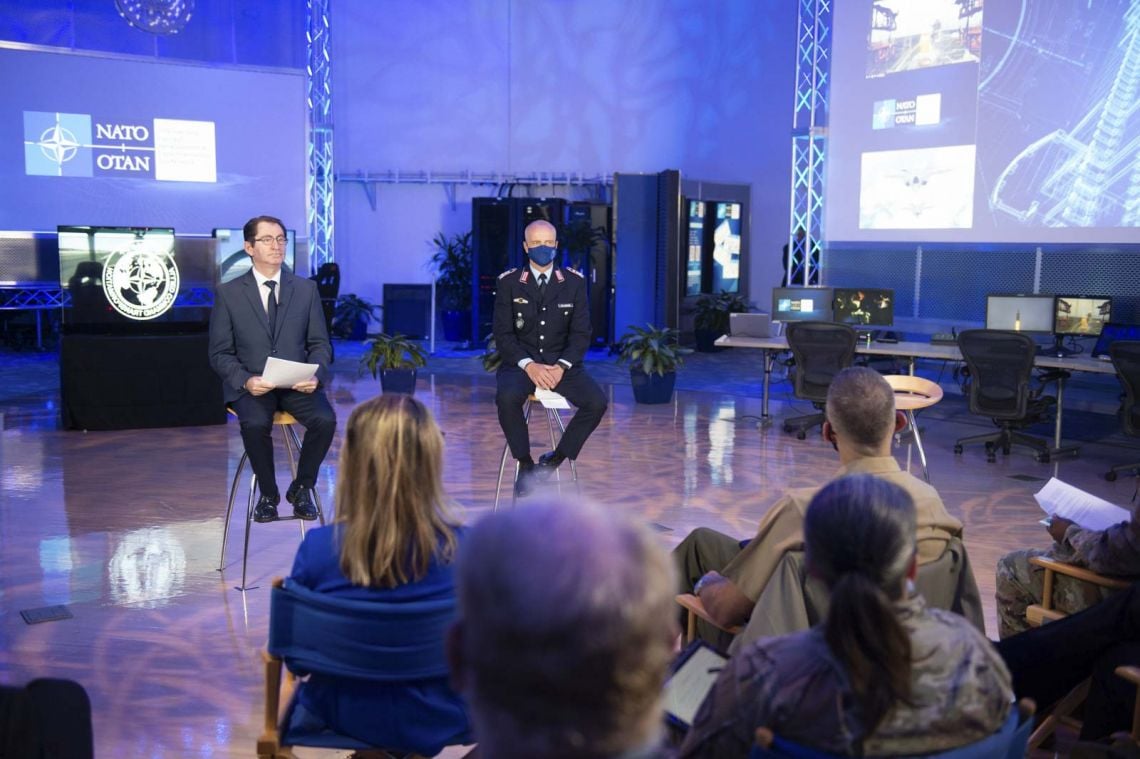 Hosted by NATO's Allied Command Transformation and held at the Lockheed Martin Center for Innovation, the 2021 International Concept Development & Experimentation Conference took place in a "Virtual+" format from Oct. 25 to Oct. 28, 2021.
Over 300 participants from 33 nations around the world, including a high-level speaker from Japan and attendees from South Korea, Australia, New Zealand and Brazil, joined this year's International Concept Development and Experimentation Conference. Building on last year's conference success and to maintain the engagement and cooperation with the Concept Development & Experimentation community, the event provided a 'digital arena' to explore, exploit, and experiment further with the virtual format and test out 'hybrid' elements to gain insights for future events.
The International Concept Development & Experimentation Conferences series aims to promote a collaborative approach to concept and capability development, and share the knowledge and experience garnered from 30 nations' expertise. The four-day conference included keynote speakers, plenary sessions and workshops where participants discussed current topics relevant to the Concept Development & Experimentation community, like synthetic environments, digital transformation, exploration of new concepts in artificial intelligence, future leadership and wargaming.
This year's location, the Lockheed Martin's Center for Innovation also known as "the Lighthouse", provided an ideal physical and virtual venue for the attendees. This unique infrastructure, optimized for collaborative experimentation and analysis, is a 50,000-square-foot, high-end laboratory, part of Lockheed Martin's investment in global research and development programs and infrastructure.
The International Concept Development and Experimentation Conference is NATO's annual forum for the international Concept Development and Experimentation community and stakeholders to discuss the current issues of concept development and experimentation in the capability development process. The Conference is hosted by Headquarters Supreme Allied Commander Transformation, and normally co-hosted by the Ministry of Defence of a host nation.
As one of NATO's two strategic commands, Allied Command Transformation has been located in the United States since its inception in 2003. The city of Norfolk, and the region as a whole, serve as exceptional hosts to military and civilian personnel from allied and partner nations who are assigned to Allied Command Transformation. The NATO Alliance currently comprises 30 member nations.
Allied Command Transformation is both a symbol and instrument of the transatlantic security link between Europe and North America. The command exists to preserve the peace, security and territorial integrity of Alliance member states by leading the NATO's warfare development.
For more than 70 years NATO has been a symbol of transatlantic unity, making NATO the strongest and most successful alliance in history.
To understand more about the conference concept and its lessons, please feel free to get in touch with the Concept Development Branch: [email protected]