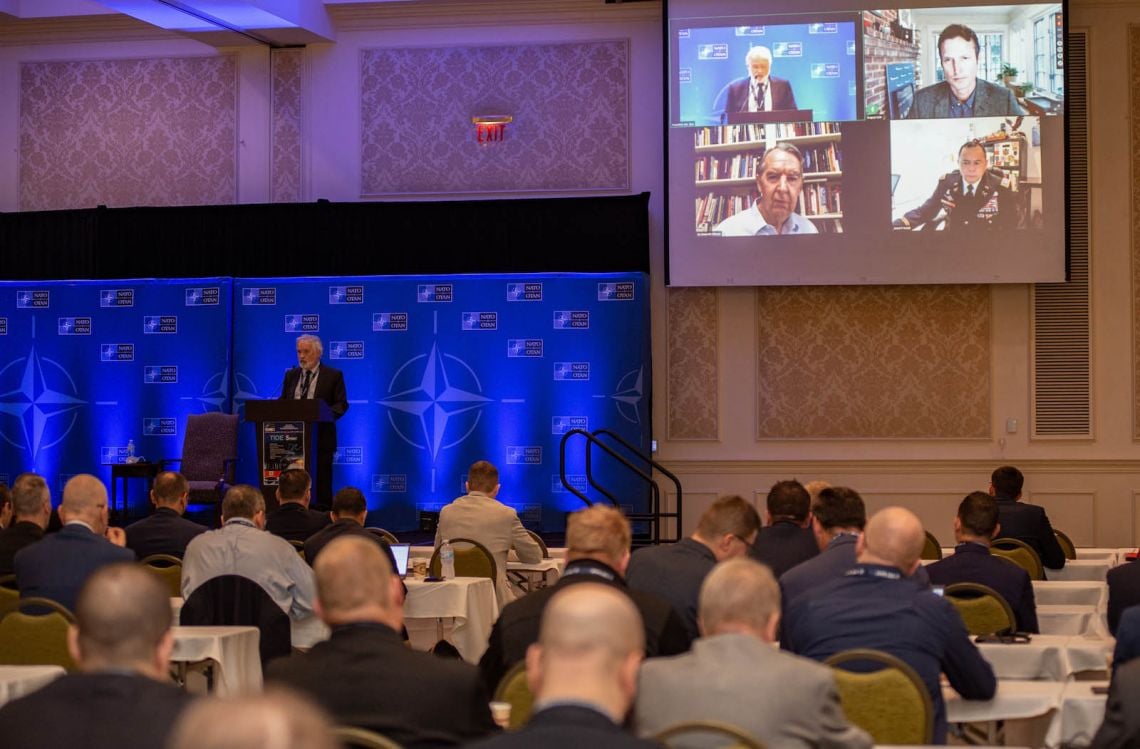 The first fully Hybrid TIDE Sprint came to an end
The fall edition of TIDE Sprint ended Friday after a week-long programme of plenary sessions, specialised track sessions, and community building. The Think-Tank for Information Decision and Execution Superiority (TIDE) Sprint is NATO's premier think-tank event to solve tomorrow's interoperability challenges today.
This was the first fully hybrid TIDE Sprint, with more than 150 in-person attendees at the Founders Inn in Virginia Beach, VA and up to 650 online participants. By convening with allies and communities of interest to advance future Command and Control capabilities, ACT is better prepared for tomorrow's security environment.
"As our 38th TIDE Sprint concludes, we want to thank our keynote speakers, Track Leads, and participants for a week of stimulating conversation and networking. Without your creativity and collaboration, there would be no TIDE Sprint," said BGEN Poul Primdahl, Assistant Chief of Staff for Requirements at NATO Headquarters Supreme Allied Commander Transformation. "In particular, I am grateful for your proactive ideas and concrete recommendations to ensure the Alliance is equipped for future warfare."
All that is done at TIDE Sprint contributes to the NATO Warfighting Capstone Concept (NWCC), an ambitious "North Star" vision detailing how NATO's Military Instrument of Power must develop to maintain its advantage for the next twenty years.
The plenary keynote speakers followed the forward-looking theme by addressing Cognitive Warfare, the Alliance's technological edge, and multi-domain operations. With the growing role of technology, the speed of decision making, and information overload, the cognitive ability is increasingly challenged when it comes to timely decision-making. The concept of Cognitive Warfare has emerged as a pressing issue facing the Alliance.
The NATO Science and Technology Organization explored cutting-edge developments, including Modelling and Simulation to support for current and future NATO missions; Cognitive Warfare; Quantum Technologies; Space as a Force Enabler, and forecasting science and technology trends.
TIDE Sprint experts came together as a diverse community, tapping into novel ideas and solutions that will develop and improve interoperability to benefit current and future warfighters.
Interoperability Tracks: Federated Mission Networking (FMN), Data-Centric Security (DCS), Enterprise Architecture (EA), and Interoperability Verification and Validation (IV&V)
Federated Mission Networking (FMN) enables fully interoperable coalition mission networks, and its TIDE Sprint track enhances compatibility across multiple functions and disciplines. By leveraging FMN, nations and partners will "plug and play" from the first day of a NATO mission. This requires mission partners to share operational information at the right time and place with the right mission partners so that decision makers can have the situational awareness needed to keep our militaries safe. To that end, the Data-Centric Security (DCS) track contributes with best practices to safeguard and securely share data among partners and across domains.
A key interoperability challenge is to align capability development with common standards and agreed requirements. If NATO is to operate effectively, Alliance and Partner nations must share a common vocabulary to translate different business roles and functions across the organizational structures and bodies. The Enterprise Architecture track supports this effort through the Consultation, Command and Control (C3) Taxonomy that provides an agreed set of architectural components upon which Alliance and partner nations can base their acquisition efforts. The Interoperability Verification & Validation track ensures that, as capabilities are developed and tested, common approaches are applied to ensure consistency of test procedures leading to outcomes that are in accordance with agreed standards, and with the confidence that interoperability is achieved.
Data Science
Data is the fuel that drives future missions. Modern analytics supported by data science and artificial intelligence (AI) provide a way of exploiting data, contributing with new insights and improved support for military decision making. TIDE Sprint's Data Science track discussed how modern data exploitation can be applied by different NATO communities, for example by automating manual processes and mitigating risk. The Data Science Track explored many areas related to the Warfare Development Agenda's (WDA) Data Exploitation Programme, identified opportunities to enhance analytical support to warfighters by examining areas such as prescriptive, predictive, diagnostic and descriptive data elements.
Logistics
TIDE Sprint provided the logistics community with a better understanding of resource management and supply chain resilience within the Alliance. Specifically, participants examined the vulnerability of rare earth mineral supply chain and identified an innovative recycling process for electronic components. Future urban mining, the use of hydrogen fuel and additive manufacturing (3D printing) can now be leveraged to deliver a more agile and scalable future NATO sustainment strategy that is aligned with the NWCC and Warfare Development Imperatives (WDI).
Medical
The Medical Track showcased emerging and disruptive technologies such as Artificial Intelligence and Machine Learning and how they can enhancing NATO's resilience by helping to protect the health and well-being of the warfighter. The same technologies also enhance situational awareness, the speed of decision-making and resource allocation decisions for medics, leading to better and faster medical support when it is most needed. Medical experts also discussed Cognitive Warfare and Human Enhancement, encompassing medical disciplines such as neurobiology. Finally, the Medical Track invited experts to discuss the importance of cyber security for the medical support and the provision of secured and undisrupted medical digital networks to ensure optimal care for NATO warfighters.