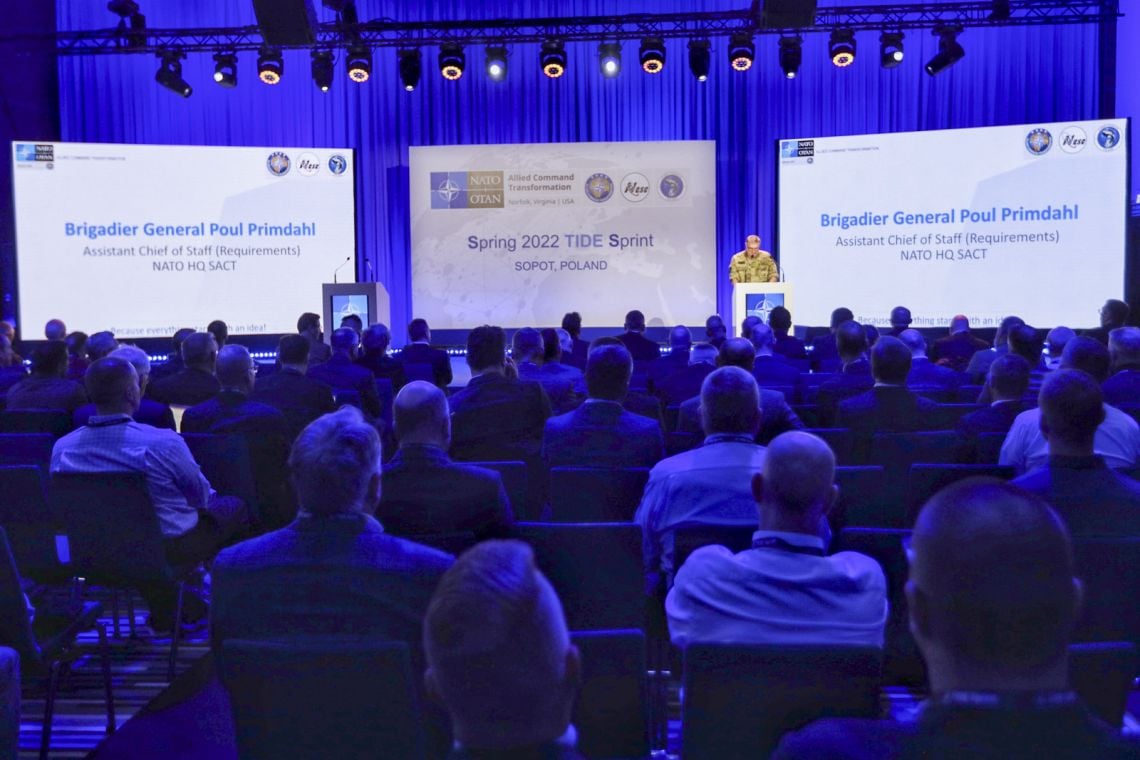 Week-long conference comes to an end in Sopot, Poland
The Spring 2022 TIDE Sprint ended Friday in Sopot, following a week of plenary sessions, specialised tracks, and community building. The Think-Tank for Information Decision and Execution Superiority (TIDE) Sprint is a biannual event and NATO's premier think-tank initiative to solve tomorrow's interoperability challenges, today. A central theme was Digital Transformation, underpinning Supreme Allied Commander Transformation General Phillipe Lavigne's vision for future-proofing the Alliance.
TIDE Sprint is a future-looking event, and while it has taken many forms, it always adapts to changing circumstances; this TIDE Sprint was no exception. Building on its first hybrid iteration last Fall, the 39th TIDE Sprint welcomed more than 275 in-person attendees with up to 600 joining online.
TIDE Sprint opened with a keynote address from our Polish host, Brigadier General Karol Molenda, the National Cyber Security Centre – Cyber Commander, who underscored how TIDE Sprint prepares NATO's future readiness. Throughout the week, the audience was cognizant of TIDE Sprint's heightened relevance amidst the unprovoked Russian invasion of Ukraine and ongoing war on NATO's eastern border.
"Current realities demand that the Alliance remain vigilant, adaptable, and always ready," said Brigadier General Poul Primdahl, Assistant Chief of Staff for Requirements at NATO Headquarters Supreme Allied Commander Transformation, in his welcome remarks. "The capabilities, standards, and solutions discussed this week will ensure that those who deploy in the future to protect the Alliance – such as the NATO Response Force – can do so with greater confidence."
The Spring 2022 TIDE Sprint featured eleven specialized tracks facilitated by Subject Matter Experts. While Friday marked the finish line for TIDE Sprinters, their work continues. This week accelerated the ongoing realization and implementation of the NATO Warfighting Capstone Concept, an ambitious 'North Star' vision detailing how NATO's Military Instrument of Power must adapt to maintain its advantage for the next two decades.
Throughout the week, an impressive slate of keynote speakers briefed three cutting-edge topics related to the NATO Warfighting Capstone Concept and Allied Command Transformation's Warfare Development Agenda: Digital Transformation, Multi-Domain Operations, and Military Medical Interoperability.
Allied Command Transformation's own Jean-René Couture, Federated Interoperability Branch Head, offered his view of Digital Transformation, an imperative for NATO to become a truly data-driven organisation. "By leveraging data, we create optimal conditions for NATO Commanders to make battlefield decisions in any domain. We owe it to our military commanders to offer them the best possible insights to ensure the best possible outcomes," said Mr Couture. "We are on a journey of digital transformation, and already modernising and optimising, but must take the critical next step and ensure that NATO's people and processes excel in the digital age."
The audience also heard from a panel of Multi-Domain Operations experts who highlighted key ways for NATO to evolve its edge across five warfare domains; Air, Land, Sea, Cyber and Space. The lively discussion that followed made clear that NATO must operate as a dominant single force in any mission scenario.
Three Tracks – Data-Centric Security, Data Science & Artificial Intelligence, and Science and Technology – linked the topics of Digital Transformation with a Multi-Domain approach by exploring Big Data in Hybrid Military Operations. Speakers proposed improvements to federated Information Technology services that would dismantle stovepipes and coalesce relevant data, unleashing stronger information sharing across the Alliance. The Data Science & Artificial Intelligence Track delved further into how data exploitation can help NATO combat and adapt to climate change. As our environment degrades, the risk of other destabilising events increases.
The last plenary session featured provided a direct link between TIDE Sprint and two live medical table-top Exercises, VIGOROUS WARRIOR '22 and CASUALTY MOVE '22 that were being hosted by the Hungarian Defence Forces. By simulating a major NATO operation and testing a patient flow management concept, the audience saw first-hand how NATO takes forward the concepts developed at TIDE Sprint, demonstrating to the audience that "Everything starts with an idea!"
TIDE Sprint is part of the NATO Allied Command Transformation-led Interoperability Continuum that also includes other TIDE Sprints, the TIDE Hackathons and the Coalition Warrior Interoperability Exercise (CWIX). The Fall 2022 TIDE Sprint is scheduled to take place in late October 2022 in Virginia Beach.