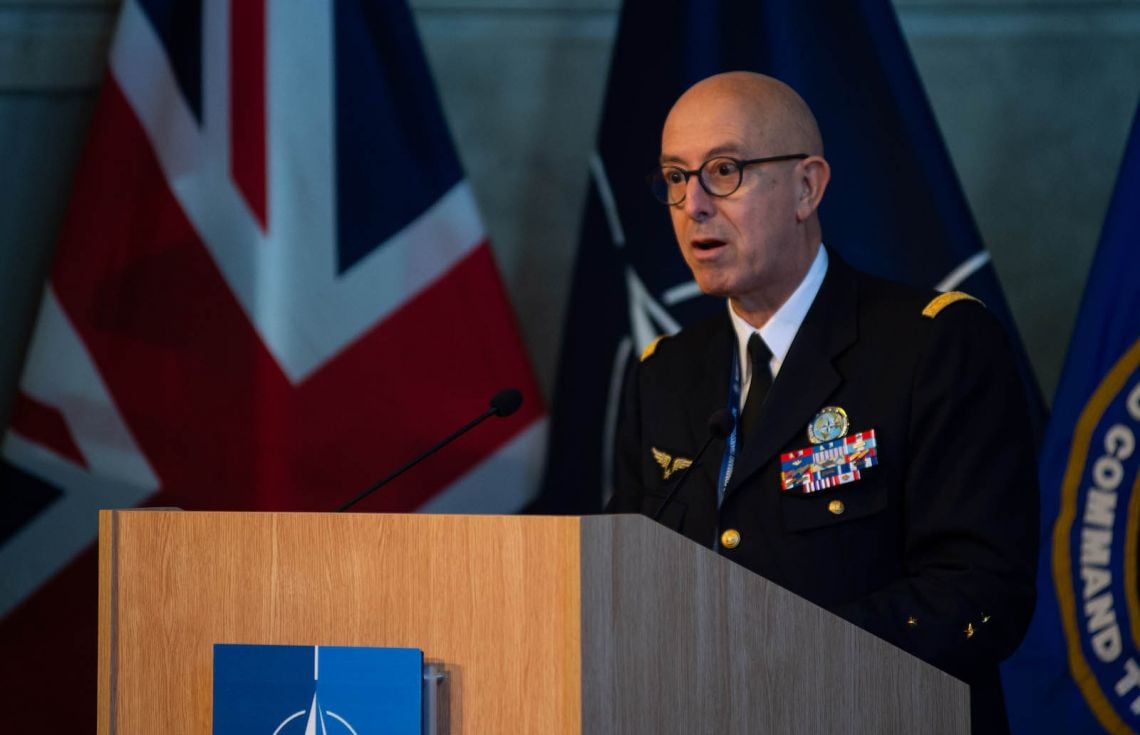 As part of the development of an Alliance initial concept for Multi-Domains Operations, NATO's Allied Command Transformation has recently organized two events – the virtual Military Committee visit to the Headquarters on 22 February 2022, and the NATO Multi-Domain Operations Conference on 16-18 March 2022 – to explore thinking and drive the template for the future art of war.
The NATO Military Committee tasked Allied Command Transformation to lead the bilateral Strategic Command development of an initial concept for Multi-Domain Operations. To date, there has been significant progress by Allied Command Transformation and Allied Command Operations teams in consultation with Allies, Partners, Industry and Academia. Momentum is building based on our bilateral Strategic Command working definition that focuses on NATO's Military Instrument of Power and how it might be synchronised with the other Diplomatic, Information and Economic Instruments of Power to deliver converging effects at the speed of relevance. The target is ambitious, with an aim to finalise the initial concept for Multi-Domain Operations and invite NATO nations to agree this transformational work this year. And we're on track!
As of today, Multi-Domain Operations means different things to different Nations and, as always, NATO has the challenge of explaining it in a manner that is acceptable, relevant and understood by all members. For this, NATO must therefore achieve an effective consensus across 30 Nations, all with different approaches and varying capabilities across the now 5 operational domains – Air, Land, Maritime, Cyberspace and Space.
Discussing the emerging framework, thinking and challenges outlined above was a key driver for the last two events organized by Allied Command Transformation. Of note, the Multi-Domain Operations Conference, co-hosted by Allied Command Transformation and UK Strategic Command, in the United Kingdom from 16th to 18th March brought together 200 people from 20 different nations. From extensive exchanges between industrial partners and academic experts, as well as military and government representatives, five key takeaways were captured. These are highlighted below and set the scene to deliver Multi-Domain Operations more fully into the hands of our warfighters and cross-government colleagues at pace:
First, our priority is to develop Multi-Domain Operations as part of a broader Military, Diplomatic, Information and Economic levers of power approach. The Alliance's approach to Multi-Domain Operations will enable NATO's Military Instrument of Power to prepare, plan, orchestrate, and execute synchronized activities, across all operational domains and environments, at scale and speed. However, the power comes through connection to, synchronization and collaboration with, other levers of power, partners and stakeholders. As raised by the NATO Military Representatives, wide counsel is being sought on how to achieve multi-domain collaboration, particularly for Space and Cyberspace, and synchronisation with non-military actors.
Second, Education of all stakeholders is key. From junior officers to generals, our military must think multi-domain, understanding what can be achieved in areas where they, and perhaps their Nation, are not experts. The military will ensure decision-makers and warfighters understand the availability (and accessibility) of capabilities across the domains, to deliver broad effects across the physical, cognitive and virtual dimensions. Education to achieve a cultural shift to multi-domain action will be complex because Nations have varying capabilities across all domains, but they must understand their role in enabling NATO to deliver Multi-Domain Operations. A change in mindset is pivotal to ensure NATO is fully Multi-Domain Operations-enabled.
Third, Digital Transformation of the Alliance is critical as the foundation for Multi-Domain Operations. In an age of data predominance and need for interoperability across all Nations, digital transformation must connect all parts of the Alliance. Transformation must start today through incrementally-delivered and cohered capability development programs that integrate on-going initiatives. This is fundamental for NATO's ability to achieve understanding, unity, and shared tools that allow multi-domain decision-making and action. This will be underpinned by a need to share philosophy.
Fourth, the future started yesterday. President Putin's current war in Ukraine created a sense of urgency to accelerate adaptation. We must be careful not to draw lessons too quickly, but issues, opportunities and constraints from this situation are being analysed now to ensure Multi-Domain Operations will remain relevant. But we must look to the future too. These emerging lessons are being considered along with the long-term warfare development head mark as laid out in the politically-approved NATO Warfighting Capstone Concept. This 20 year vision for the development of the Allies' Military Instrument of Power is the vehicle that complements the Concept of Deterrence and Defence of the Euro-Atlantic Area to provide a realistic path forward to maintain strategic advantage.
Fifth, Multi-Domain Operations requires a pathway to change. The Alliance Warfare Development Agenda as the implementation plan for NATO Warfighting Capstone Concept will support mapping out a phased delivery approach, evolving from Joint and Interoperable forces and capabilities, while prioritising rapid development in Cyberspace and Space domains. NATO's Exercise and Educational programmes will provide opportunities to experiment as we train as, and with whom, we fight. Therefore, Experimentation in Exercises will be key activity to test the Multi-Domain Operations vision and framework, develop our thinking, and show the Nations that a new mindset is needed to enable multi-domain action.