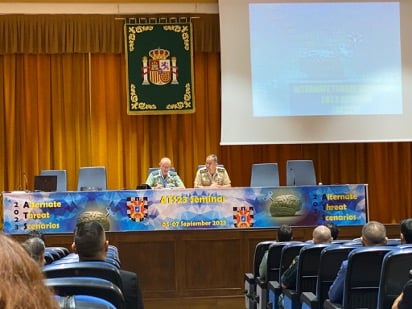 MADRID, SPAIN – The Counter-Improvised Explosive Devices Centre of Excellence hosted the Alternate Threat Scenarios 2023 Seminar at the Spanish Guardia Civil's Colegio Infanta Maria Teresa Residence from 5-7 September. The seminar allowed the Centre to interface with stakeholders throughout Allied and Partner nations as well as associated organizations to share best practices and lessons learned in the drive to improve the Alliance's ability to counter threats to both NATO service members and domestic populations from improvised explosive devices and malign actors.
The Seminar brought together 92 representatives from 14 different nations to engage and think strategically about the Alliance's ability to counter and adapt to emerging threats and strengthen relationships. Participants included military, law enforcement, and security experts from NATO countries, NATO partners, European Union nations, and other multinational organizations. Framed within one of the essential pillars of activity for the Centre of Excellence Programme, Concept Development and Experimentation, the Seminar aimed to foster discussion among military/security professionals on emerging and potential threats posed by violent extremist organizations, while also improving interoperability/relationships along nations, partners, and organizations.
The official opening ceremony was chaired by the Chief of the 2nd Central Special Unit of the Information Service of Guardia Civil, Colonel Francisco J. Vazquez, who was accompanied by the Centre's Director, Colonel Javier Corbacho.  Colonels Vazquez and Corbacho reminded the attendees "our enemies are always adapting to an ever-changing environment and to our capabilities to protect ourselves. Therefore, we must always adapt and work closer together to solve emerging security challenges in our current and future operational environment".
The seminar presented the representatives with three threat scenarios, based on aerial, maritime and land/urban environments. After introducing the baseline for each of the scenarios, attendees were divided into syndicates. The purpose of the syndicates was to discuss and evaluate the scenarios from the perspective of both friendly and enemy vulnerabilities, capabilities, and options. This setting challenged participants to shift their mind-set from common perceptions of threats and consider "alternate threats" that military and security organizations may not be prepared to combat. The syndicates then shared the nature of these threats, potential counter-threat strategies and the opportunities that exist to work across nations and organizations to defeat these challenges. In considering these topics, events such as the Alternate Threat Scenarios Seminar drive innovative policy development and encourage stronger partnerships across Partner and Allied nations organizations.
The Counter-Improvised Explosive Devices Center of Excellence is one of the 28 NATO Accredited Centers of Excellence, and is located in Hoyo de Manzanares, Madrid. Its mission is to provide subject matter expertise in order to support the Alliance, its Partners, and the International Community in the fight against Improvised Explosive Devices and co-operate to increase security of Allied Nations and troops deployed in theatres of operations, reducing or eliminating the threats from improvised explosive devices used or for use, in particular by terrorists or insurgents and any kind of emerging threat resulting from the rapid evolution of global scenarios.