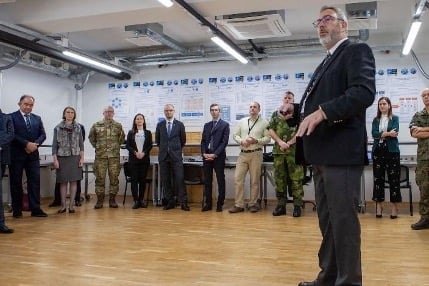 Russia's unprovoked war of aggression against Ukraine has not only led to physical conflict but has also ushered in a new era of warfare in the digital realm. While cyberattacks were not a novelty before this conflict, the magnitude and sophistication with which they have been employed in the ongoing conflict between Russia and Ukraine, though with mixed results, mark a significant turning point in the world of cyberspace. Over the past 18 months, cyberspace operations have taken centre stage, revealing a complex and evolving battleground that governments and organizations are racing to understand and address.
As NATO's Warfare Development Command, NATO Allied Command Transformation is charged with leading initiatives like the annual Cyberspace Experimentation Campaign, a yearlong endeavour driving both transformation and collaboration in cyberspace warfare. This campaign serves to test and validate innovative concepts, identify necessary requirements, and explore emerging and disruptive technologies, in support of cyberspace operations. Results of these experiments feed transformational concepts and capability development products such as Operational Requirement Statements, Capability Requirement Briefs, Capability Programme Plans, and the NATO Defence Planning Process.
In 2021, General Philippe Lavigne, Supreme Allied Commander Transformation, visited the Cyber Coalition Exercise and noted that "we declared cyberspace as a domain of operation in order to ensure unhindered access and freedom of manoeuvre in cyberspace during Allied Operations and Missions," emphasizing the criticality of this field.
NATO Allied Command Transformation invites NATO commands, Member Nations, industry partners and those from academia to submit ideas, concepts or experimental capabilities to the NATO Allied Command Transformation Cyberspace Branch to be evaluated for their suitability for inclusion in the event each year. The campaign provides experimental space, grants access to NATO Cyber Range capabilities, provides engagement opportunities with operational communities, and collaboration with subject matter experts from various domains.
The pinnacle of the yearlong effort is the annual Cyber Coalition Exercise, the foremost collective cyber defence exercise within NATO and one of the largest globally. Orchestrated by NATO Allied Command Transformation under the governance of the Military Committee, and held in December in Estonia each year, this exercise brings together a cyber coalition of NATO commands, NATO Allies, and Partners to strengthen the ability of the Alliance to deter, defend against, and counter threats in and through cyberspace. Focus on these goals support NATO's core tasks by exercising collaboration in cyberspace operations, while providing input to NATO's transformation, notably through the Cyberspace Experimentation Campaign.
While cybersecurity aspects at the technical level are more mature and understood, the Cyberspace Experimentation Campaign and Cyber Coalition exercise focus on operational-level considerations in order for the Alliance to fully function in the Cyberspace domain. For example, there is further work needed in terms of concepts and capabilities in the area of Cyberspace Situational Awareness and Cyberspace Command & Control. The 2023 Cyberspace Experimentation Campaign is ambitious and will include experiments in diverse areas, such as:
Cyber Message Centre led by US Air Force Research Lab and Estonia
Mission Modelling and Analysis driven by NATO Joint Force Command Naples
Evaluation of the European Cyber Situational Awareness Platform capability in collaboration with industry experts
As the conflict between Russia and Ukraine underscores, the role of cyberspace operations in future armed conflicts is destined to become even more significant. Operations in, and through, cyberspace will complement traditional forms of warfare, necessitating comprehensive cyber defence strategies to safeguard national and international security. NATO recognizes this evolving landscape and has made Cyber Defence an integral part of its core task of Collective Defence.
Industries and universities with a focus on the cyber domain are invited to join the 2024 NATO Allied Command Transformation Cyberspace Experimentation Campaign, submissions for which will be collected between January and March each year. Collaboration and innovation will be crucial in staying ahead in this ever-evolving realm of cyber threats. Interested parties can reach out to Dr. Alberto Domingo, NATO Allied Command Transformation's Cyberspace Technical and Industrial Relations Director, at [email protected] to explore the possibilities of participation and opportunity to contribute to our collective defence against cyber aggression.