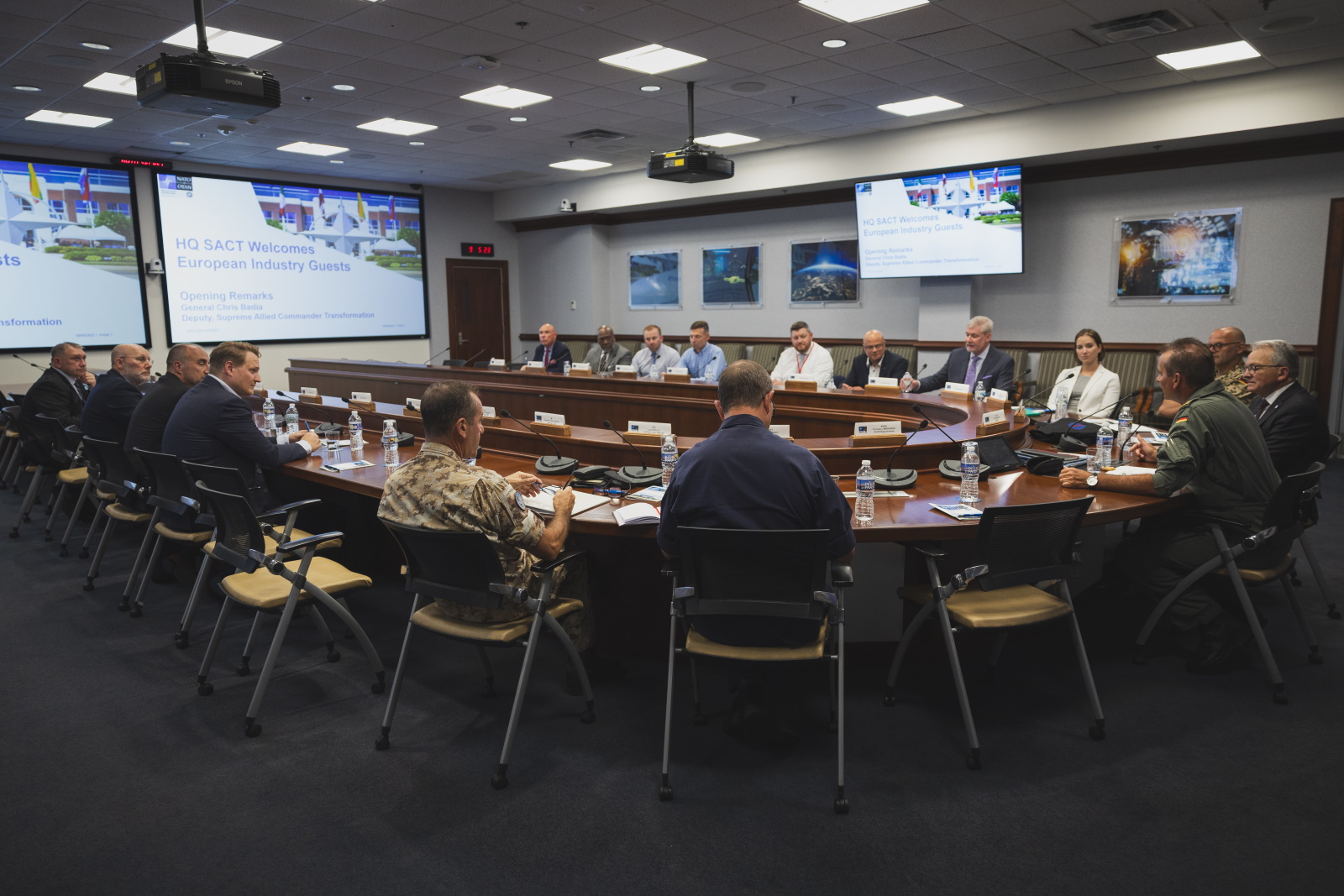 NORFOLK, VA – Allied Command Transformation hosted a delegation of industry leaders from various private sector partners on September 5th, 2023. The group visited with key stakeholders and learned about the Command's responsibility for improving the Alliance's capability development while demonstrating the value of private-public partnerships that strengthen the Alliance's ability to maintain readiness and defend its Members.
The Field Trip of European Industry arrived in Norfolk, the Alliance's home in North America, to gain a better perspective on the Command's capability development initiatives. The delegation met with key personnel throughout the various departments spearheading the command's capability development, gaining insight into how the delegates' private industry can assist the Alliance with future initiatives. Major General (retired) Erich Staudacher, formerly of the German Air Force and current General Manager of Armed Forces Communications and Electronics Association (AFCEA) – Europe, led the group. He emphasized the importance of private industry for the Alliance's capability development:
An enduring and stable net of manifold relations between NATO, industry and academia in my view gained significance during recent years and will increase in importance for a variety of reasons… The complexity of the today's battlefield and its speed of change requires continuity and thorough understanding of the battlefield environment when developing adequate technological solutions. Disruptive technologies of interest for maintaining NATO's technological edge emerge from the small industry, university and start-ups ecosystem with unprecedented speed.
The topics discussed during the delegation's visit included briefs by subject matter experts on broad goals of Allied Command Transformation (ACT) as well as specific lines of effort such as cognitive superiority, multi-domain operations and digital transformation. These specialized initiatives are key features of the Alliance's Warfighting Capstone Concept, and the contributions of private industry within these projects is indispensable. The industry-leaders visit allowed for greater future integration on industry-to-government projects, educating private civilian sector stakeholders on key initiatives and ACT's vision for industry's role in the future.
The European Industry Leaders visit highlights NATO Allied Command Transformation's commitment to the continuation of the private-public partnership. Without the Alliance's key allies in private industry, our overall capabilities development would be adversely affected. Allied Command Transformation intrinsically values and appreciates the importance of continuing these partnerships which foster greater cooperation in pursuit of the Alliance's goals of Collective Defence, Crisis Management and Cooperative Security.