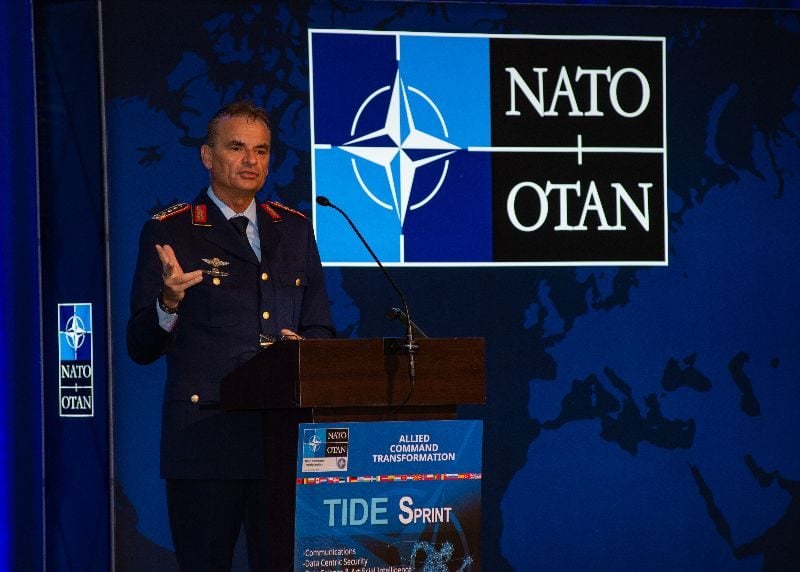 The Fall 2022 TIDE Sprint concluded on Friday in Virginia Beach, USA following a week of dynamic plenary sessions, specialised tracks, and networking. The Think-Tank for Information Decision and Execution Superiority (TIDE) Sprint is a biannual event and NATO's premier think-tank initiative to solve tomorrow's command and control interoperability challenges today.
Throughout the week, Digital Transformation and Multi Domain Operations were dominant themes. Following the NATO 2022 Madrid Summit, NATO Allies have approved NATO's first Digital Transformation vision to "enable the Alliance to ensure interoperability across all domains, enhance situational awareness, and facilitate data-driven decision-making" by 2030.
TIDE Sprint opened with a keynote address from Deputy Supreme Allied Commander Transformation, General Chris Badia, which set the stage for the week's discussions: "The current strategic environment is complex and rapidly changing. Events like TIDE Sprint progress NATO interoperability and ensure NATO is responsive, resilient, and ready to work with a network of partners."
After three years of online and hybrid events, the Fall 2022 TIDE Sprint combined the benefits of in-person experience with the most effective elements of hybrid participation taken from the previous two events. This allowed the Fall 2022 TIDE Sprint to welcome over 355 in-person experts, and up to 600 joining online track sessions, making this the largest event yet.
"Over the last two decades, TIDE Sprint has progressed from a technical event of 40 participants to a nearly 1,000-person hybrid 'think-tank event," said Brigadier General Thorsten Jorgensen, Danish Army, Assistant Chief of Staff for Requirements at NATO's Headquarters Supreme Allied Commander Transformation, in his welcome remarks. "As we look into the next two decades, NATO faces a more uncertain future, and TIDE Sprint will evolve to meet the moment," he continued.
Following a video introduction by Ukrainian Vice Prime Minister and Minister of Digital Transformation Mr Mykhailo Fedorov, members of the Ukrainian DELTA Team were present to demonstrate how an agile and innovative approach to capability development using industry practices and commercial systems has been battle-tested against Russian forces. DELTA provides Ukrainian forces with situational awareness and has leveraged previous NATO Interoperability Continuum events (including TIDE Sprint, TIDE Hackathon & the Coalition Warrior Interoperability Exercise) to evolve DELTA from idea to battle-winning capability.
Mr JR Couture, Branch Head for Federated Interoperability at NATO Headquarters Supreme Allied Commander Transformation, delivered a keynote describing how NATO must accelerate its digital endeavours, which provoked lively discussion from the TIDE Sprint community.
This TIDE Sprint has seen the first-ever TIDE Talk series, with five TIDE Sprint participants ranging from NATO and industry representatives to defence logistics experts – provided 15-minute mini-keynote presentations to explain why they were excited by digital transformation. The resulting presentations included historic and present-day perspectives on digital transformation in various contexts such as how technology is leveraged to support humanitarian and disaster relief to personal reflections on the "Why" of digital transformation.
The Fall 2022 TIDE Sprint features ten specialised tracks managed by Subject Matter Experts from NATO and partner nations. By exchanging perspectives from national militaries, governments, industry, and academia, each track examined NATO's most pressing interoperability challenges.
This TIDE Sprint saw the debut of a Tactical Multi-Domain Operations Track, with operational and technical Subject Matter Experts contributing to a roadmap for NATO capability development to align with national efforts. In a joint session with the Interoperability Verification & Validation Track, participants discussed opportunities at exercise BOLD QUEST, a joint service, multinational coalition capability exercise led by the U.S., and NATO's Coalition Warrior Interoperability Exercise.
The Communications Track explored developments in waveform technology, network management and transition to Internet Protocol version 6. Experts embarked on contemporary research and brainstormed ways to enhance federated information sharing, anticipating challenges for the future battlefield.
The Data Centric Security Track delved into methods of protecting and transmitting information in a coalition environment, such as a multi-domain operation, where data is stored in a cloud environment and shared at the speed of relevance.
The Logistics Track highlighted ongoing Artificial Intelligence research by the Vision Lab at Old Dominion University, exemplifying the broad capabilities of Artificial Intelligence models in autonomous systems. Attendees observed live demonstrations that deploy Artificial Intelligence models on two robotic platforms: a humanoid robot called "NAO" and a four-wheeled military robot, "MARCbot-IV."
The TIDE Sprint Medical Track helped to deliver key outputs of the NATO Medical Support Capstone Concept by driving developments that ultimately provide better care to ill and injured military personnel across the spectrum of activities. One panel took telehealth to the extreme through a session on Space medicine, featuring astronauts and a discussion of medical support on future journeys to the Moon, and eventually Mars.
The Enterprise Architecture Track took on interactive challenges to model how the Alliance can better organize business functions and implement relevant work products, while experts in Federated Mission Networking proposed how can improve alignment of people, processes and technology to enable interoperability and instant connectivity from the very first day of an Allied mission.
Maritime track participants identified the need for understanding the evolving Multi-Domain Operations concept and its implications in the maritime domain. A joint session with the Data Science & Artificial Information track featured experts from NATO's Centre of Maritime Research and Experimentation and identified opportunities to enhance NATO's digital readiness.
TIDE Sprint is part of the NATO Allied Command Transformation-led Interoperability Continuum that also includes other TIDE Sprints, the TIDE Hackathons and the Coalition Warrior Interoperability Exercise. The Spring 2023 TIDE Sprint is scheduled to take place in April 2023 in Norway.