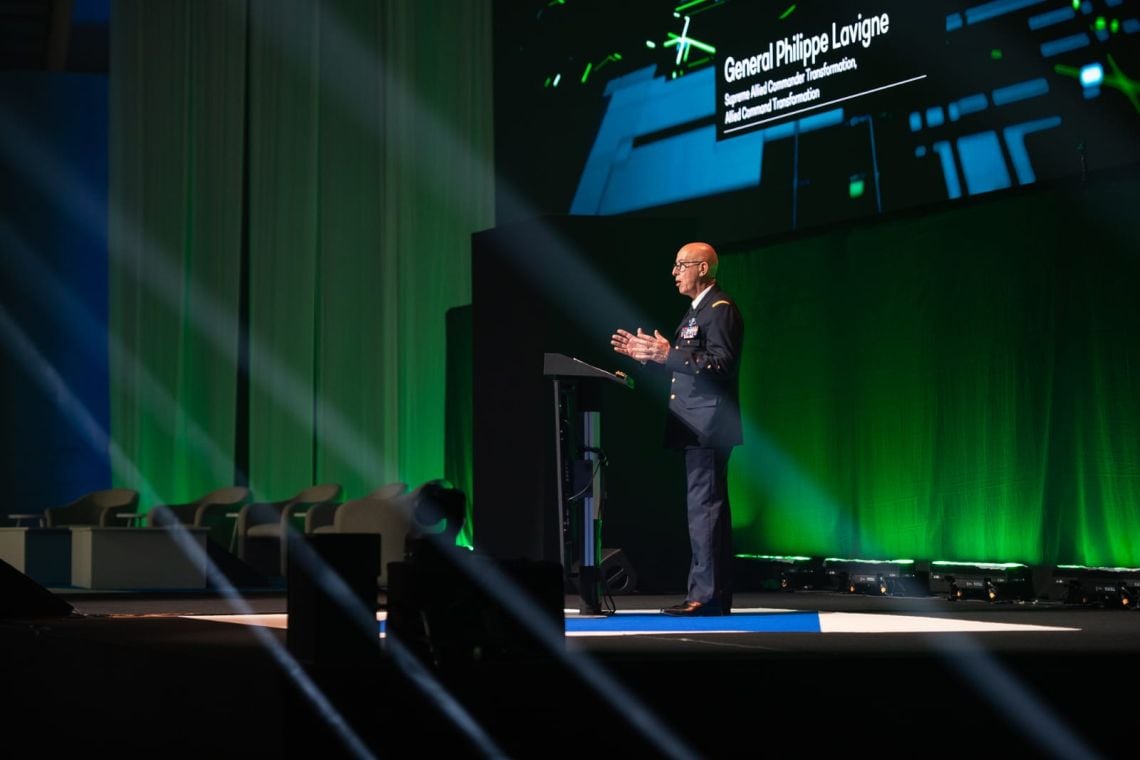 Mons, Belgium – The NATO Communications and Information Agency hosted the inaugural NATO Edge conference on October 25th – 27th. The three day event brought together thousands of delegates from dozens of international companies with a focus on the technologies, collaboration and partnerships needed to future-proof the Alliance. The theme of the conference was "Technology in Focus" and included discussions and displays on emerging and disruptive technologies, artificial intelligence and data.
General Philippe Lavigne, Supreme Allied Commander Transformation, led the Command's delegation to the conference. He delivered a keynote speech that helped shape the event.
"NATO's military instrument of power is the result of combining the women, men and equipment of 30 different nations, united by common procedures and interoperability standards," said General Lavigne. "In recent years, increasingly bold competitors have emerged in an ever more complex security environment. All around us, the digital revolution is shortening all cycles: research and development cycles, training cycles, user cycles… We have entered the era of agility, open architectures and constant questioning."
General Lavigne also appeared via hologram to engage with conference delegates and, together with the NATO Communications and Information Agency General Manager, Mr. Ludwig Decamps, introduced the winners of the Fall 2022 Innovation Challenge. The Innovation Challenge brings together academics, researchers, and start-ups to solve complex challenges that NATO faces. Considering the Russian invasion of Ukraine and increased antagonism globally, this fall's Innovation Challenge was tailored to incorporate elements of resilience and digital security.
Allied Command Transformation, NATO's Warfare Development Command, works to proactively shape the future operating environment to build and maintain advantage in order to win any future fight. The Command is therefore seized with ensuring multi-domain operations through digital transformation and harnessing the potential power of emerging and disruptive technologies, artificial intelligence and data.
NATO Edge took place as Allied Command Transformation is pursuing the NATO Warfighting Capstone Concept – an organising principle for warfare development in NATO and across the Alliance. The NATO Warfighting Capstone Concept describes the future environment in terms of increasingly boundless, simultaneous, and persistent challenges and it recognizes that NATO must persistently, deliberately, and proactively shape the operating environment to build and maintain advantage in order to win any future fight.
In order to achieve that vision, the Command is working with partners across NATO, as well as the NATO Communications and Information Agency, to embrace Multi-Domain Operations with increased focus on cyberspace and space – enabling NATO's Military Instrument of Power to prepare, plan, orchestrate and execute synchronized activities, across all operational domains and environments, at scale and speed. In order to embrace Multi-Domain Operations, NATO must simultaneously move the Alliance towards a secure, data-enabled organization. This digital transformation is an operational necessity to move data vertically from the strategic to the tactical level and horizontally across all domains.
These themes were visually presented both at a Command booth located on the exhibitor floor and an innovation booth. Brigadier General Didier Polome, Allied Command Transformation's Digital Transformation Champion, spoke at an innovation theatre on these themes. He addressed where NATO is going, how it will get there and how industry can assist NATO to get there faster.
"NATO is embarking on an enterprise project to create the international security environment of the future," said Brigadier General Polome. "Our Command will play a leading role in building the coalitions and expertise necessary to help protect our citizens and boundaries against any potential threat. Now, more than ever, we recognize the importance of building a future that protects our freedoms, democracy, individual liberty and the rule of law."
Other dignitaries at NATO Edge included Alexander De Croo, Prime Minister of Belgium, Mr. Mircea Geoană, NATO's Deputy Secretary General, Admiral Rob Bauer, Chair of the Military Committee and other NATO leaders.
Many of the themes discussed at NATO Edge will shape the December 2022 Alliance Warfare Development Conference held at Headquarters, Supreme Allied Commander Transformation.