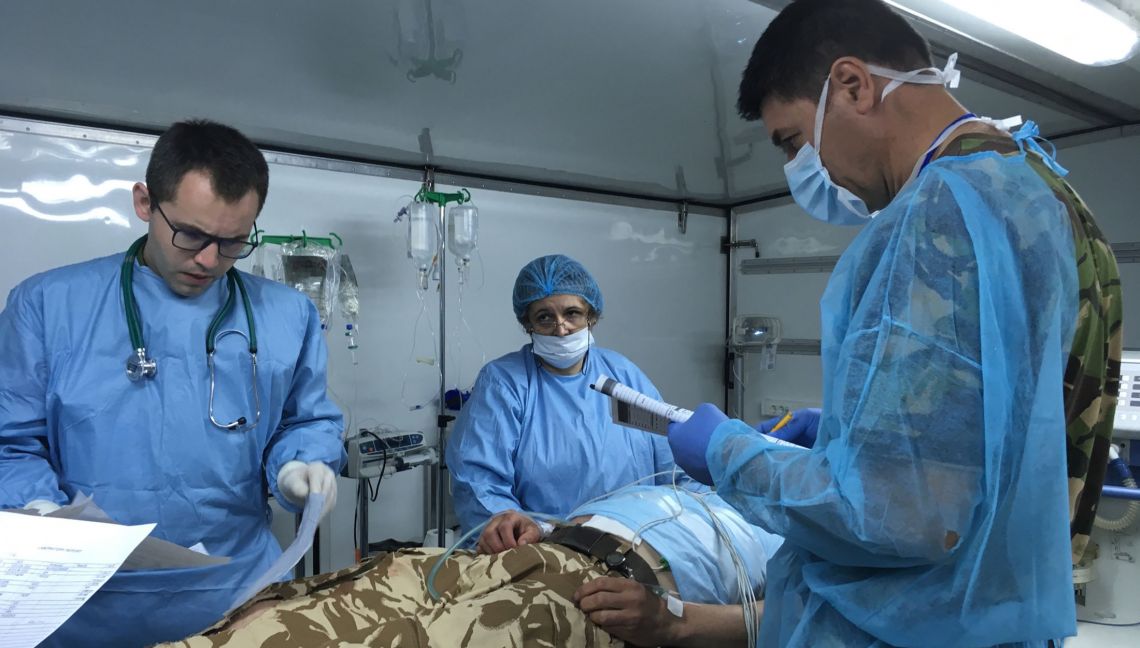 The spring 2021 TIDE Sprint concluded today, after an outstanding week of online collaboration, engagement, and interaction. After five days of solid work to develop the concepts, specifications, and requirements that will drive Warfare Development, this event certainly lived up to its motto: "Everything Starts with an Idea."
NATO's flagship Think-Tank for Information Decision and Execution (TIDE) Sprint aims to improve the interoperability of the Alliance. TIDE Sprint offered its participants an opportunity to hear from world-class speakers who are global thought-leaders in their respective areas of expertise. Held from 12-16 April 2021, the 37th edition of TIDE Sprint ran alongside the TIDE Hackathon, a week-long competition in which teams from NATO and partner nations experimented and explored innovative solutions to multi-domain interoperability challenges, involving emerging and disruptive technologies. Conducting these two events concurrently was highly efficient and productive: with the events running alongside each other, the TIDE Sprint generated and exchanged new ideas to improve interoperability, and the TIDE Hackathon put these to the test in a rigorous environment. Over the week, more than 800 registered participants, including operators, engineers, scientists, and academics, tackled interoperability issues in 'tracks' ranging from Data Science and Cyberspace to Medical, Meteorology and Oceanography (METOC) and Maritime Services.
Johns Hopkins University's Professor Lauren Gardner, named one of TIME Magazine's "Top 100 most influential people in the World for 2020", spoke of the now-ubiquitous COVID-19 dashboard, which she and her colleagues masterminded in early 2020 to visualise the spread of cases around the world. Individuals, media outlets, and national governments now use Professor Gardner's dashboard to support policy decisions on COVID-19 responses. Mr Thomas Kenney, Chief Data Officer of US Special Operations Command (SOCOM), discussed the real-world importance of data and organisational interoperability to the "pilot in a cockpit, the Green Beret on the ground, and the Navy SEAL on the water."
The challenges posed by the COVID-19 pandemic have provided the medical community with an unparalleled opportunity to show how they can sustain quality of care during a global crisis. Throughout the week, the Medical track explored the 'journey' of medical innovation ‒ from an initial idea to its culmination in a 'real' product. Participants explored near real-time disease surveillance possibilities and future military medical capabilities. In turn, learning from business, industry, and academia, the track informed the NATO Medical Innovation community and developed a cross-partner NATO Innovation "ecosystem". The track occurred in parallel with the TIDE Hackathon Medical Challenge, in which teams competed to create an effective, efficient, and automated 'Patient Regulation' system and were encouraged to provide their own innovative approaches to solve this complex, real-life medical challenge. Innovative ideas and the use of emerging and disruptive technologies will allow NATO to tackle medical challenges of the future successfully.
Threats in cyberspace are becoming more frequent, sophisticated, and destructive, with consequences that extend far beyond the virtual. The TIDE Sprint Cyberspace track aimed to explore these cyber threats in a forward-leaning fashion and contribute to NATO's continued efforts to strengthen its cyber defence posture. The track explored ongoing capability development activities, notably Cyberspace Situational Awareness, which is crucial to ensure proper decision-making, while also connecting industry experts, academics, NATO, and national professionals in this rapidly advancing field. Inputs and feedback captured throughout the TIDE Sprint week help NATO continually enhance its security and ensure interoperability across the Alliance.
This TIDE Sprint saw the exciting introduction of the Future METOC Service track to its profile. Meteorology and Oceanography experts provide data on weather and ocean conditions that may directly affect the performance and effectiveness of many of NATO's weapons, sensors, and platforms. The Alliance therefore has an enduring requirement to visualise current and forecasted environmental conditions; this situational awareness allows NATO Commanders and their planning staff to optimise how they deploy NATO force elements, while better understanding the impact of the environment during post-operational analysis. With NATO's current METOC visualisation capability nearing the end of its life cycle, this track identified and shared their requirements with interested national and industry stakeholders to help shape NATO's future METOC visualisation capability.
The Multi-Domain Command and Control (MDC2) track was another new addition to this spring's TIDE Sprint, offering the opportunity to bring together major contributors for the development of concepts and Command and Control (C2) capabilities required for NATO future operations. The track provided a chance for ACT to present the Future Tactical Battle Management (AFSC) to a community of interest. This presentation triggered necessary discussions on the challenges at the strategic and operational levels identified by Allied Command Operations (ACO) for NATO's transition towards Multi-Domain Operations (MDO).
TIDE Sprint is part of an 'Interoperability Continuum' of NATO ACT-led interoperability events that include the TIDE Hackathon and the Coalition Warrior Interoperability eXercise (CWIX), all of which aim to improve NATO members' and partners' ability to act together coherently, effectively, and efficiently to achieve Allied objectives. Forthcoming events from this continuum include the next iteration of CWIX, which will run from 7-25 June and the autumn edition of TIDE Sprint, which will take place in Virginia Beach, VA, USA from 25-29 October 2021.