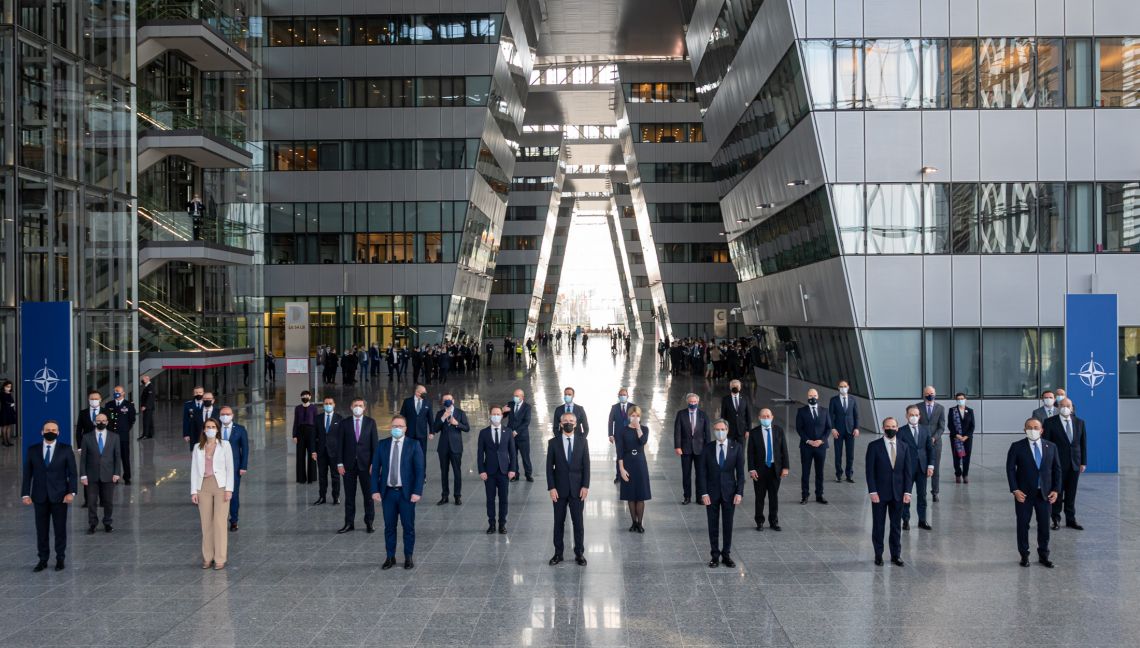 NATO Foreign Ministers met on March 23-24 to set the stage for the upcoming NATO Summit in Brussels, scheduled to take place towards the end of 2021. The Summit will be an opportunity to bolster transatlantic relations and to continue adapting the Alliance to the changing security environment, a perfect platform to set the direction for the future of the Alliance.
"We must be bold and ambitious to build a stronger Alliance for the future", said NATO Secretary General Jens Stoltenberg in his press conference ahead of the meeting, "because we live in a more dangerous and competitive world, where challenges know no borders," he added.
Ministers discussed the NATO 2030 initiative, which is centered on how NATO can continue to adapt to a rapidly changing security environment, with rising threats and systemic competition, major shifts in the global balance of power and increasing challenges to the rules based international order.
The transatlantic relationship, embodied by NATO, remains the cornerstone of the Alliance's collective defence, central to Allies' political cohesion, and an essential pillar to the rules-based order; but in response to a more dangerous and unpredictable security environment, NATO is considerably strengthening its deterrence and defence, demonstrating solidarity, unity and political resolve.
Current threats require strengthened resilience, critical infrastructure protection and maintaining NATO's technological edge on potential adversaries, while addressing climate change and its impact on security: ministers discussed a substantial increase in common funding to support deterrence and defence; how to strengthen NATO's role as the primary transatlantic platform, to discuss and coordinate on all issues that affect Allies' shared security; and how to boost NATO's resilience by establishing minimum standards among Allies for critical infrastructure such as telecommunications and energy supplies. Allied Command Transformation has held two Resilience Conferences with the City of Norfolk and international partners to tackle these challenges.
Allies will work to maintain NATO's technological edge, and foster transatlantic cooperation on emerging and disruptive technologies, all the while focussing on the security implications of climate change. Allied Command Transformation has developed an Emerging and Disruptive Technologies Road Map to help guide the Alliance's work and partnerships with the private sector. Every year, the Command's Innovation Hub holds two Innovation Challenges which bring emerging technologies into NATO's orbit.
Ministers took the first steps towards Net Zero emissions by agreeing on a report which will increase NATO's ability to understand, adapt and mitigate the security impact of climate change.
Ministers also welcomed the recommendation to update NATO's Strategic Concept and to strengthen cooperation with like-minded partners around the world, including the European Union, to protect the rules-based international order and tackle shared challenges.
NATO has implemented the biggest reinforcement of its collective defence in a generation, stepping up hybrid and cyber defences, and continues to work with the EU and other close partners on a dual-track approach that combines strong deterrence and defence with openness to dialogue.
"NATO has a strong and long-standing commitment to arms control, disarmament and non-proliferation, and remains a unique platform for Europe and North America to consult on the future of arms control, because it helps to preserve peace," said NATO's Secretary General during the press conference at the end of the meeting.
Being the leading agent on innovation for the Alliance, Allied Command Transformation plays a leading role by turning ideas into reality that achieves value for the Alliance. This leading role applies to three areas: applying innovation in capability development and warfare development efforts in order to deliver better and faster; staying at the head of the Alliance's efforts to inform on the implications of technological innovation; and, notably facilitating the adoption of innovation practices within NATO and the nations.