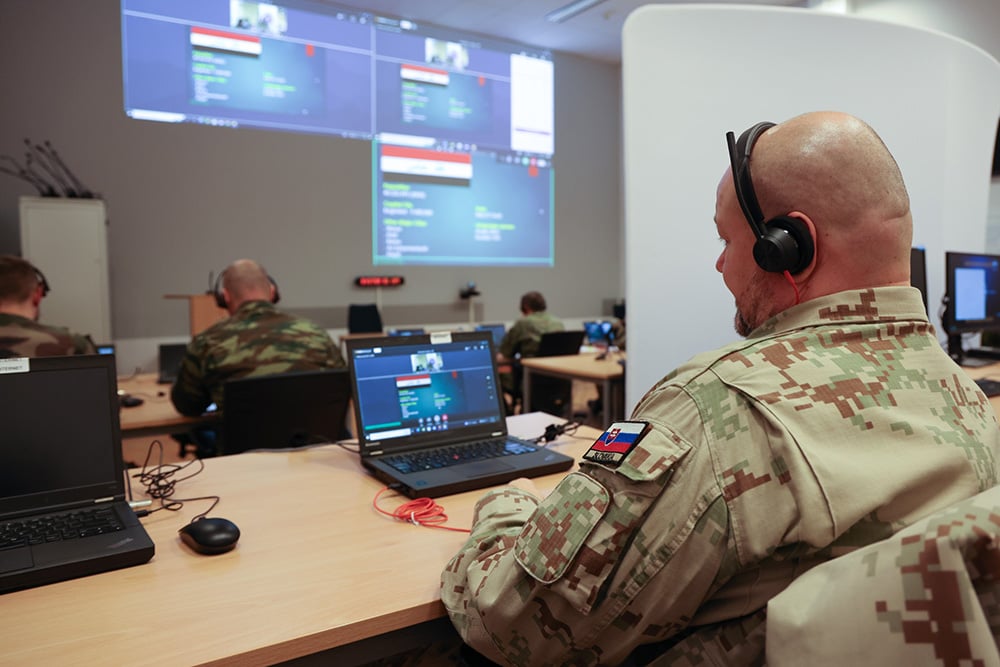 Allied Command Transformation is leveraging insights from the Joint Force Training Centre to enable the Alliance's readiness, transformation, and interoperability through robust training.
Allied Command Transformation is utilizing the expertise of its Joint Force Training Centre to enable the transformation of the Alliance's Military Instrument of Power through training. Constantly developing to meet current and future Alliance training requirements, the Centre has proven to be a key player in NATO's readiness and transformation process due to its exercise and training capability. The Centre also contributes Allied Command Transformation's warfare development efforts by implementing experimentation activities into NATO training and exercises. In doing so, the Centre occupies a critical function in the Alliance's transformation process, helping enable Allied Command Transformation's efforts to innovate the Military Instrument of Power and ensure that it is fit for purpose into the future.
As tensions continue to rise across the globe, it has become increasingly important for NATO member states to ensure that their armed forces are ready to face any potential threat. This is where the NATO Joint Force Training Centre in Bydgoszcz, Poland, comes in. Officially established in 2004, this Centre helps to enhance NATO's ability to project stability, deter adversaries, and defend the Alliance by challenging troops with advanced training at its state-of-the-art facilities.
SUPPORT TO FUTURE OPERATIONS
The Joint Force Training Centre primarily focuses on support to NATO readiness, and thus possible future operations, by its extensive engagement in Major Joint Operations Plus exercises. With its adaptable and flexible approach, the Centre is well equipped to respond to the ever-changing NATO training environment. It excels in delivering complex, high-intensity computer assisted exercises, serving as the Officer Conducting and/or Directing Exercise.
The Joint Force Training Centre's significance in the Alliance's training program is highlighted by its Officer Directing Exercise role in the LEDA exercise series. These land domain tactical-level exercises train and evaluate designated corps in the NATO Warfighting Corps role. They are based on an Article 5 scenario that encompasses a wide range of modern warfare challenges, to include those deriving from space and cyber domains as well as hybrid warfare. The exercises bring together thousands of personnel from across NATO, with Exercise Control comprising 700-800 members, who steer the exercises from the Centre.
The Joint Force Training Centre also serves as Officer Conducting Exercise and Officer Directing Exercise for the annual NATO Key Leaders Training – Exercises STEADFAST PYRAMID and PINNACLE, scheduled by the Supreme Headquarters Allied Powers Europe and conducted at the Joint Headquarters of the Latvian National Armed Forces. This training program provides recently appointed NATO Flag and General Officers with introduction to the Alliance's planning process, doctrine, and policy. The exercises train senior commanders and staff officers in the planning, preparation, and execution of joint operations through application of informed decision-making, operational art, and the operations planning process. The attendees gain better understanding of the context and connections in a collective defense situation.
The Joint Force Training Centre also provides NATO units with well-equipped facilities for conducting tactical level exercises, such as Exercise GRIFFIN LIGHTNING 2023, conducted in March by the Multinational Corps Northeast, or CITADEL BONUS 2023, planned by the Rapid Reaction Corps France in the second half of this year.
SUPPORT TO CURRENT OPERATIONS
The Joint Force Training Centre is also the focal point for NATO pre-deployment training, and thus supports current operations.  The Centre builds on its vast experience gained from previous NATO missions to provide mission-focused training for staff members and advisors deploying to the NATO Mission Iraq. The Centre also ensures that trainees gain the necessary knowledge, flexibility, and capacity to provide effective advice and assistance to their counterparts, while laying groundwork for their long-term sustainability.
The pre-deployment training for NATO Mission Iraq, conducted three times annually, gathers  future NATO Mission Iraq staff members, advisors and subject matter experts, as well as current NMI members who facilitate the training. The event consists of two phases. The virtual phase is comprised of briefings, individual learning modules, and live chats that enhance participants' knowledge and understanding of the mission and its environment. The residential phase is executed at the Joint Force Training Centre, providing the trainees with an opportunity to practice their skills and interact with experts. Moreover, personal interactions during the training help to build foundation for future cooperation and enable a smoother start once in Iraq.
Over the years, the Joint Force Training Centre has trained approximately 20,000 staff members and advisors for various NATO missions, including Iraq, Afghanistan, and Kosovo.
CONTRIBUTION TO WARFARE DEVELOPMENT
The Joint Force Training Centre also aims at enhancing NATO's operational efficiency by assisting higher headquarters with warfare development engagements. It does so through both self-contained endeavors and those combined into exercises. The Centre also houses the sole Battle Laboratory within Allied Command Transformation.
The Joint Force Training Centre contributes to warfare development via three lines of effort: experimentation, wargaming, and innovation – all interconnected with Allied Command Transformation's Strategic Priorities, which include Multi Domain Operations, Adaptation to Deterrence and Defence and Better Understanding. To maximize the effects, the Centre also implements experimentation activities into NATO training and exercises.
The Joint Force Training Centre also hosts and augments the Coalition Warrior Interoperability Exercise, NATO's biggest annual interoperability testing event, led by Allied Command Transformation. This exercise gathers more than 1,500 participants, including scientists, operators, industry representatives, and military operators from approximately 40 nations and agencies. During this exercise they explore, experiment, examine, and exercise emerging, near-fielded, and fielded capabilities. The ultimate goal is to ensure that people, processes, and technology are fully interoperable and maintain the Allies' military advantage in an increasingly complex global security environment.
SUPPORT TO EMERGING ENDEAVOURS
In 2015, the Joint Force Training Centre assumed the leading role in preparations for the NATO-Georgia Exercise. After the successful execution of this event in 2016, the Centre used its vast experience to mentor and support the newly established NATO-Georgia Joint Training and Evaluation Centre. Three years later, this Joint Training and Evaluation Centre took over the directing of the NATO-Georgia Exercise, with the Joint Force Training Centre acting in a mentorship capacity. The subsequent exercises confirmed the Joint Training and Evaluation Centre's capability to plan and deliver a multinational brigade level command post exercise and a computer-assisted exercise to NATO standards. In 2022, the Joint Training and Evaluation Centre, supported by Joint Force Training Centre, was the Officer Directing Exercise for the second time. The next NATO-Georgia Exercise is scheduled for 2025.
Over the years, cooperation between the Joint Force Training Centre and NATO-Georgia Joint Training and Evaluation Centre has evolved and developed – from mentorship to partnership. The Partnership Agreement was signed on 11 December 2020, with the team of NATO advisors who supported Joint Training and Evaluation Centre since its inception falling under its operational control.