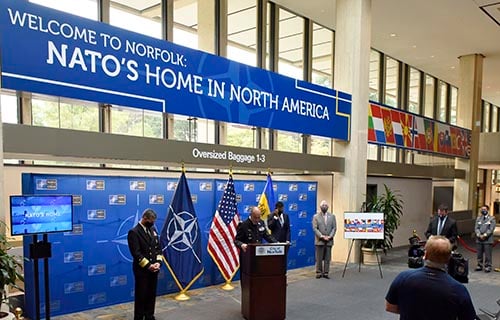 Norfolk, VA – Alongside City of Norfolk Mayor Kenneth Alexander, PhD., Commander, Joint Force Command Norfolk Vice Admiral Andrew Lewis, US Navy, and Chairman of the Norfolk Airport Authority Board of Commissioners Captain Malcolm P. Branch, US Navy (Ret.), General André Lanata, North Atlantic Treaty Organization's Supreme Allied Commander, Transformation, unveiled new NATO signs to be placed around the City of Norfolk today.
The unveiling took place at the Norfolk International Airport, and introduced new signs noting Norfolk as NATO's Home in North America. Norfolk is home to both Allied Command Transformation and Joint Force Command Norfolk, the only two NATO commands in North America.
"NATO's success rests entirely upon the cohesion that we maintain among our 30 nation members," said General Lanata. "All of this is embodied by an international community of NATO military and civilian families here in Norfolk. NATO families coming to Norfolk feel quite at home from day one. That is because they are privileged to enjoy the phenomenal hospitality and openness of the people of Hampton Roads."
Some signs will replace older NATO signs around the community, while other signs are new, including large welcome signs in the airport. All signs now include NATO's newest member nation flag of North Macedonia, joining the Alliance on March 27th, 2020.
The new signs highlight the important relationship between the City of Norfolk and NATO. The city has been home to NATO since 1952 when NATO's Allied Command Atlantic was established to bridge the distance between North America and Europe among other critical missions. Allied command Atlantic was decommissioned in 2003, with Allied Command Transformation established the same year as its successor in Norfolk.
Opening in 2018, Joint Force Command Norfolk recently reached initial operational capability Sept. 17. Hundreds of NATO military and civilian personnel representing the 30 Member Nations live in the Hampton Roads area.
"We are excited to unveil new signs promoting our enduring relationship with NATO and introducing NATO's newest member, North Macedonia, to the region," said city of Norfolk Mayor Kenneth Alexander, PhD. "For 68 years, we have proudly served as NATO's home in North America, and since 2003 Allied Command Transformation has led the evolution of international security from its command in the City of Norfolk. We appreciate the significant economic and cultural benefits that we have enjoyed by hosting Allied Command Transformation and are grateful that Joint Force Command has recently joined our community. We will continue to be honored to aid NATO in its commitment to solve global problems, build trust among nations, and prevent conflict."
Together, Norfolk and NATO annually conduct the Norfolk NATO Festival, the longest-running festival of its kind in North America, a Model NATO Challenge and a Youth Ambassador's program. The City of Norfolk and Allied Command Transformation have also conducted a Resilience Conference featuring speakers from around the world.
Allied Command Transformation's mission is to contribute to preserving the peace, security and territorial integrity of Alliance member states by leading the warfare development of military structures, forces, capabilities and doctrines. Allied Command Transformation works to ensure the relevance of the Alliance in a rapidly evolving and complex global security environment.