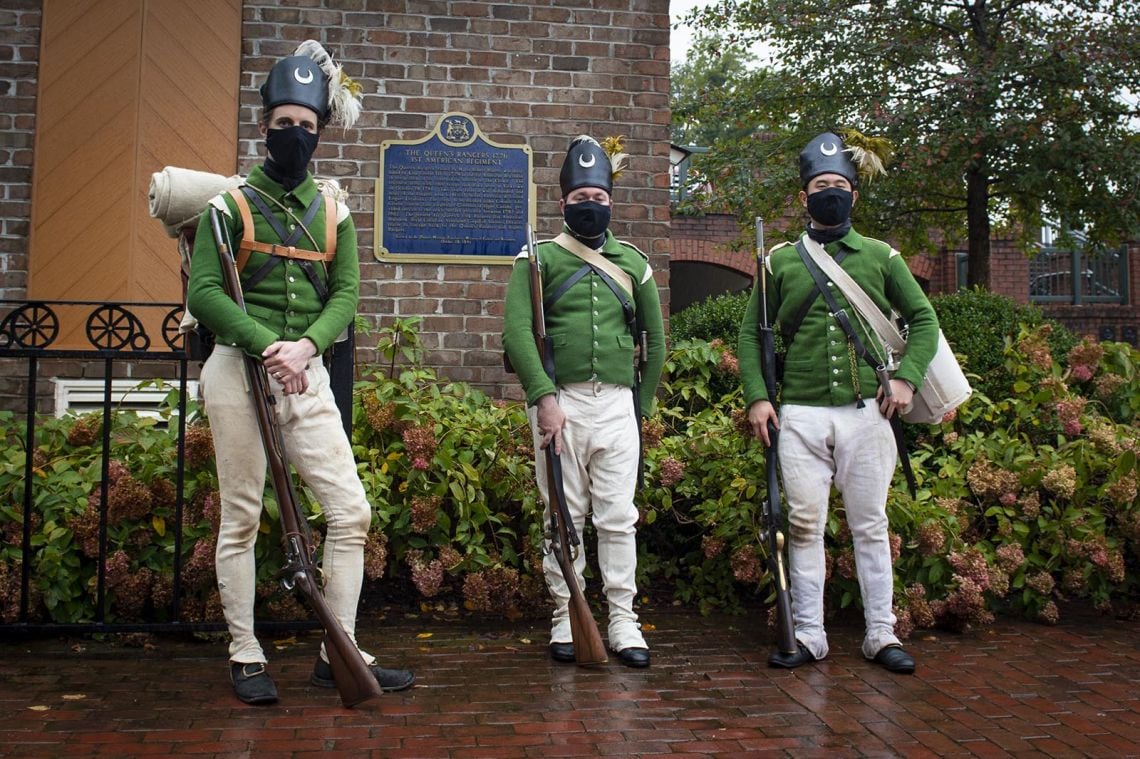 Yorktown, VA – On October 16, 2020, on the waterfront at Yorktown, VA, a rededication was held recognizing the restoration of a plaque honouring the Queen's Rangers to the public. The plaque was originally a gift from the Ontario Heritage Trust, Ministry of Culture & Recreation, to the Bicentennial Commission to commemorate the 200th Anniversary of the Siege. After a brief display, it was removed and placed in storage for years, but was retrieved and erected for public viewing in Yorktown. The restored plaque gives a brief history of the Queen's Rangers. Today, the Queen's York Rangers (1st American Regiment, Royal Canadian Armoured Corps) of Toronto, Canada, traces its lineage to the Queen's Rangers and Roger's Rangers.
Distinguished senior military guests from NATO's military command in the United States, Allied Command Transformation, who attended the ceremony were: Rear Admiral Steve Waddell, Canada; Rear Admiral Hilaire Ducellier, France; Vice Admiral Paul Bennett, United Kingdom and Lieutenant General Thomas J. Sharpy, United States. Additionally, the ceremony was attended by York County Board of Supervisors' Chairman W. Chad Green, along with representatives from the National Park Service, Jamestown-Yorktown Foundation, Royal Canadian Legion Post 180 of Virginia and other local officials.
The Queen's Rangers, a Loyalist regiment formed in 1776, served during the 1781 Siege as part of Lieutenant General Charles, Earl Cornwallis's army at Yorktown and forced to surrender when the British capitulated on October 19, 1871. Following the war, many of the Rangers relocated to Canada as United Empire Loyalists.
This was a unique opportunity for personnel from Allied Command Transformation to directly participate in a historic event and was a collaborative effort between York County, the Royal Canadian Legion, Queen's York Rangers, York County Historical Museum, and other local partners.