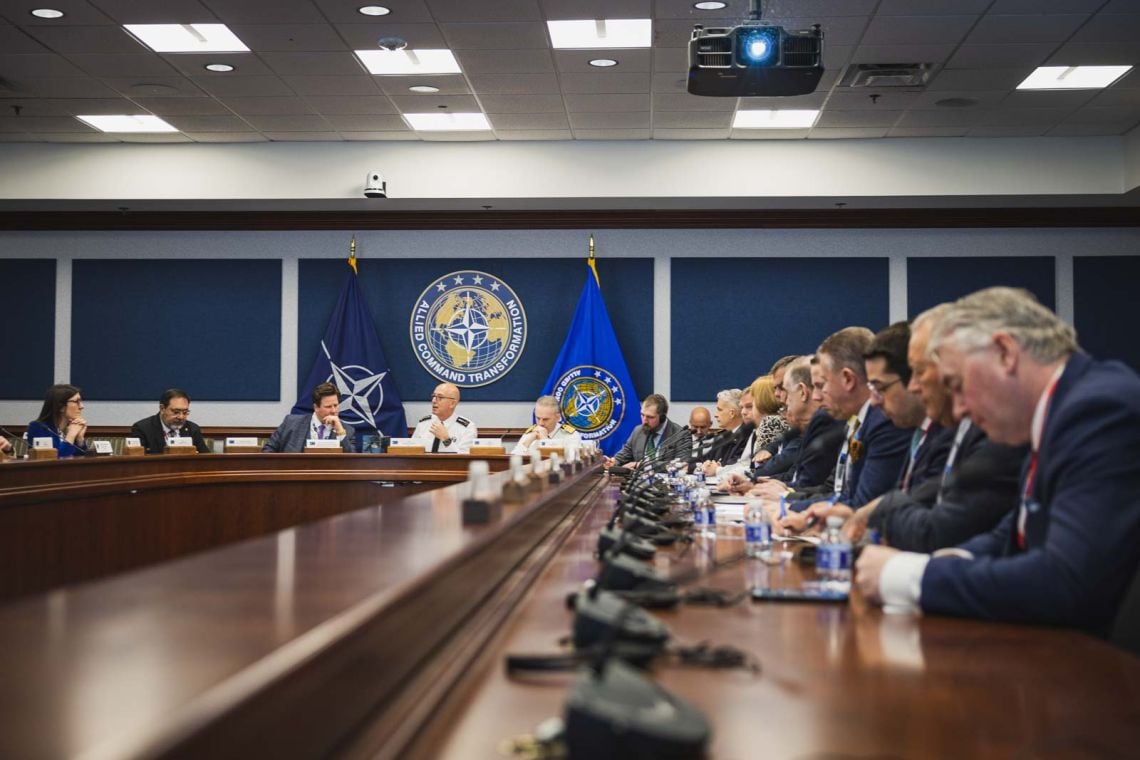 Norfolk, VA – NATO's Allied Command Transformation hosted members of the Standing Committee for Defence and Security from the NATO Parliamentary Assembly on March 9th and 10th, sharing knowledge on cognitive superiority and lessons learned from the war in Ukraine.
Parliamentarians from the NATO Parliamentary Assembly Defence and Security Committee arrived in Norfolk, Virginia to discuss Allied Command Transformation's current projects and deliverables, deterrence and defence posturing, and conceptual work pertaining to cognitive superiority. A key focus of the meeting was on sharing lessons learned throughout the war in Ukraine; NATO Allied Command Transformation collaborated with the diverse delegation of NATO Parliamentary Assembly attendees to understand, address, and resolve parliamentary concerns and insights.
NATO Parliamentary Assembly plays an important role in promoting cooperation and understanding between NATO and its member countries' parliaments. Parliamentarians discuss and debate NATO-related issues, including defence spending, arms control, and capabilities development. NATO Allied Command Transformation acts as the transformational guide for interoperability, defence planning, and multi-domain operations – these activities require in-depth understanding and collaboration from the parliaments of NATO member states.
Highlights include strategic foresight, interoperable innovation, and capability development. These initiatives require transparent, open, and frequent inputs from NATO Allies and partners. NATO Parliamentary Assembly provides political, military, and economic expertise from a diverse group of respective national parliamentarians; increasing mutual understanding of structures, systems, and deliverables will enable NATO Allied Command Transformation to continue transforming the military instrument of power.
"It's vital that we continue through the NATO Parliamentary Assembly to relay the work of Parliaments to Allied Command Transformation and NATO as whole for the successful future of the Alliance," stated Alec Shelbrooke MP, UK House of Commons, Chairperson of the NATO Parliamentary Assembly Defence and Security Committee.
Strategic collaboration requires NATO to anticipate evolving global security environments. NATO Parliamentary Assembly and NATO Allied Command Transformation share insights to modernize capabilities, talents, and opportunities to fight today and prepare for tomorrow. On the topics of Cognitive Superiority and the NATO Defence Planning Process, Supreme Allied Commander Transformation General Lavigne expressed to NATO Parliamentary Assembly: "NATO is nations. And we need your support. We need you to put this on the table."
NATO Parliamentary Assembly facilitates the diffusion of novel concepts to national legislatures and strengthens political support for NATO's military transformation.