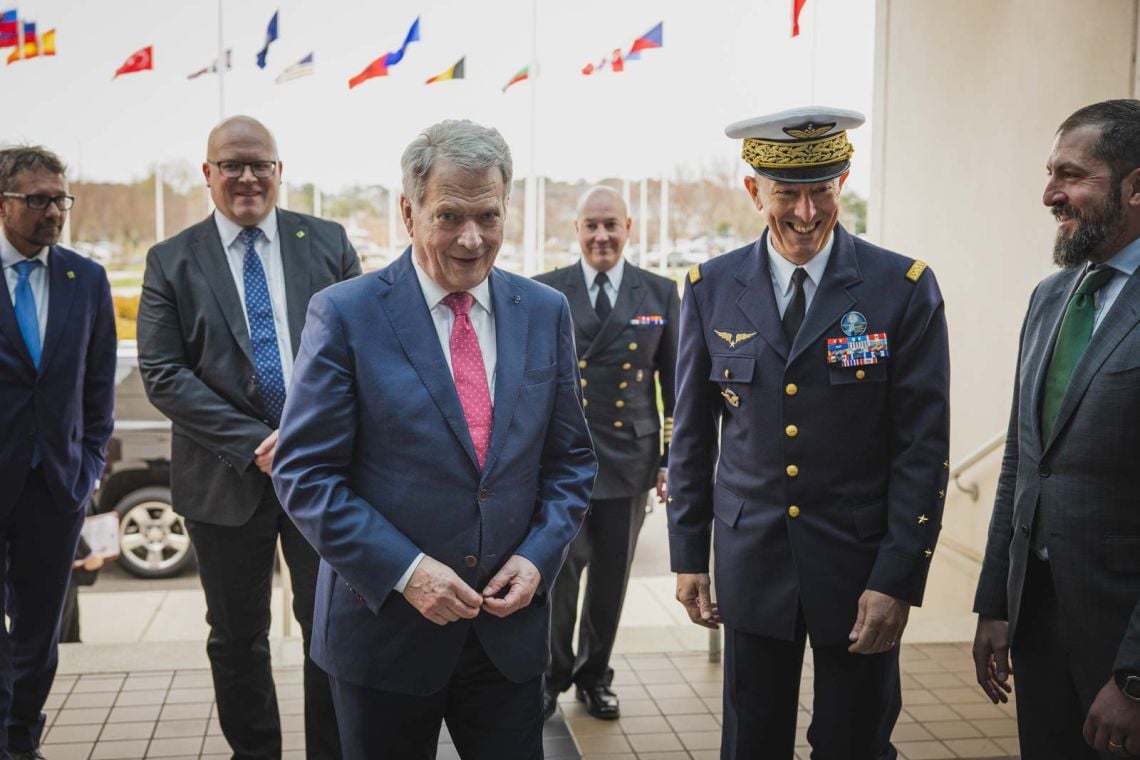 Norfolk, VA. – General Philippe Lavigne, NATO Supreme Allied Commander Transformation, welcomed Mr Sauli Niinistö, President of the Republic of Finland, at NATO's Home in North America, NATO Allied Command Transformation. General Lavigne discussed interoperability and collective defence with President Niinistö – NATO Allied Command Transformation focuses on the practical military aspects of Finland's integration into the Alliance. Also joining was Virginia Governor, Glenn Youngkin.
President Niinistö and his delegation visited NATO's Home in North America, where he joined Supreme Allied Commander Transformation General Lavigne, to discuss defence integration and capability development. The successful accession and military integration of Finland and Sweden is a top priority for NATO. General Lavigne commented: "The Alliance's key purpose is to ensure our collective defence, and the arrival of this strong player into our team will be a powerful force multiplier."
NATO Allies invited Sweden and Finland to join the Alliance at the Madrid Summit in June 2022. As of today, 28 of 30 NATO Allies have already ratified the accession protocols. "It is now time for all Allies to conclude the ratification process and welcome Finland and Sweden as full members of the Alliance ahead of the upcoming NATO Summit [scheduled for July 2023] in Vilnius," declared NATO's Secretary General, Jens Stoltenberg. The Alliance has years of experience training and operating with Finland, and NATO Allied Command Transformation has established the Finland Accession and Integration Working Group for ongoing support.
Allied Command Transformation is NATO's Strategic Warfare Development Command, leading the transformation and modernization of the Military Instrument of Power. NATO Allied Command Transformation is responsible for the warfare development of military structures, forces, capabilities and doctrines. NATO Allied Command Operations, led by Supreme Allied Commander Europe in Mons, Belgium, is NATO's Operational Command, responsible for the planning and execution of all Alliance operations. Together, they form the NATO Command Structure, which is responsible for providing a response to any security threats to the Alliance, as well as a capable and effective military response to an armed attack against the territory of any NATO Allies.
General Lavigne and President Niinistö discussed the importance of keeping the Alliance strong and flexible, and sustaining support for Ukraine's self-defence against Russia's illegal invasion. They shared insights on military transformation, capabilities targets, and defence innovation, in preparation for the upcoming Summit in Vilnius, as well as NATO Allied Command Transformation's 20th anniversary.
NATO Allied Command Transformation is working alongside NATO Allied Command Operations to support Finland during the accession and integration process, covering multiple functional areas such as personnel, interoperability, standards, and doctrine, ensuring the Alliance is prepared to fight today and tomorrow. President Niinistö: "Finland has long been a very close partner and highly interoperable with NATO. The integration work with NATO ACT is proceeding well, and we are looking forward to completing our membership process. Finland's and Sweden's memberships will benefit the whole Alliance."
Governor Glenn Youngkin, a Virginia Beach native, also welcomed President Niinistö to NATO Allied Command Transformation in Norfolk, Virginia: "I thank the President of Finland Sauli Niinistö for visiting Virginia to discuss our enduring relationship and joint priorities." Governor Youngkin also expressed gratitude towards NATO Allied Command Transformation: "I thank Supreme Allied Commander Transformation General Philippe Lavigne […] I am grateful for NATO Allied Command Transformation's continued community engagement around the Hampton Roads region."

NATO Allied Command Transformation supports annual events around the Norfolk area, such as the Norfolk NATOfest and NATO Night at the Tides.