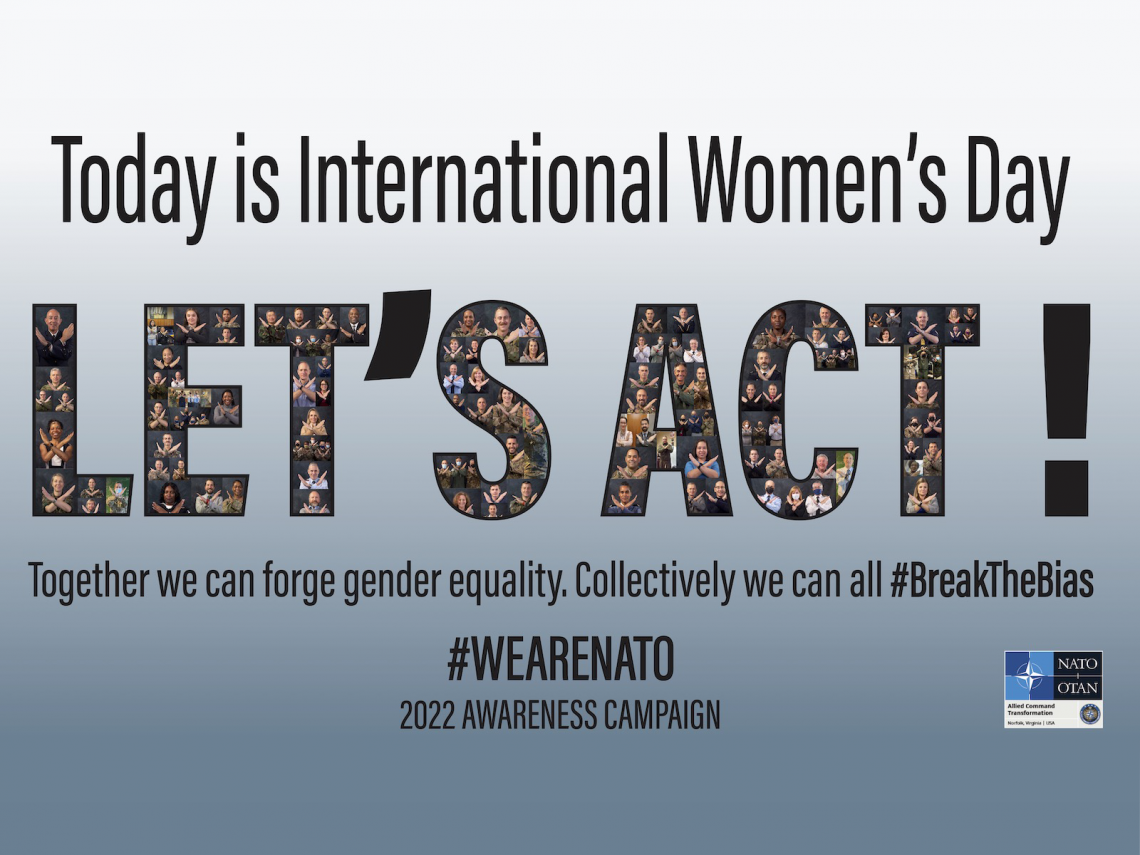 NATO's Allied Command Transformation marked 2022 International Women's Day. We also seized this opportunity to officially launch the Allied Command Transformation broader campaign that aims to raise awareness on stereotypes, prejudice and bias, in order to enhance our innovative mind-set and our team spirit.
#breakthebias #diversityandinclusion #gendermainstreaming #WeAreNATO
Why?
Because in Allied Command Transformation, as the NATO Warfare Development Command, it is important to have an innovative mind-set and a powerful team spirit, that will boost our creativity and our unity, as well as our effectiveness.
Working in such a diverse human environment can represent a challenge, but is also a great opportunity which we should capitalize on, to leverage our full human capacity, in addition to the establishment of a safe and positive working environment for everyone.
Who is doing what?
Our first action was Allied Command Transformation staff mobilizing in the past few weeks by taking pictures of themselves, with their arms crossed, to symbolize their support and will to stop having bias, and therefore, to act for a more gender equal world, free of bias, stereotypes and discrimination. A world that is diverse, equitable, and inclusive. A world where difference is valued and celebrated.
Allied Command Transformation's broader plan is now to organise, during the coming year, different projects, events and activities (like conferences, group discussions, sharing of studies-articles…) in order to raise more awareness about stereotypes, prejudice and bias.
Understanding what biases are, how they are built, what are their consequences on our interactions, as well as their impact in our Allied Command Transformation work, will enable us to think about the better ways of preventing it, mitigating it and stopping it.
So this broader campaign won't be only about gender bias, but about all kinds of bias that we could possibly face in Allied Command Transformation in particular diverse groups of people (gender, age, cultural background, ethnicity/race, nationality, civil/military…).
How?
Combatting stereotypes, prejudice and bias, as well as combatting discrimination and promoting equal opportunities are the primary steps that will allow us to achieve our goal.