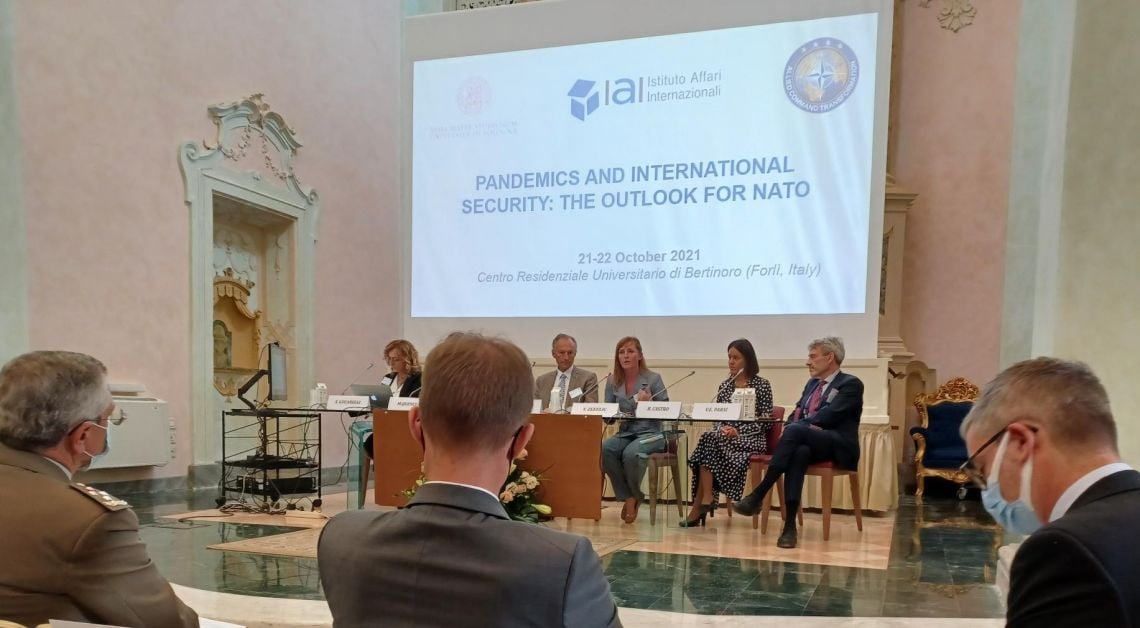 NATO's Allied Command Transformation positions itself for success as it continues to rapidly expand its win-win collaboration with Academia.
The Model NATO Challenge, a signature academic outreach event for Norfolk, Virginia's Allied Command Transformation takes place on March 16, 2022. Sponsored by Supreme Allied Commander Transformation General Phillipe Lavigne, the annual event serves as a primary engagement effort for current students, and as a tool to engage new academic partners. A scholarship competition between top thirty student diplomats chosen to represent each of the thirty NATO Member Countries in a global crisis simulation, the event is one of many academic outreach activities prioritized across NATO's North American headquarters.
"Academic outreach activities improve Allied Command Transformation's intellectual network for the mutual benefit of NATO, the Nations, and our partners," said General Lavigne. "Success in shaping, contesting, and fighting depends on having the best people with the right knowledge, skills and attitude, able to operate effectively in complex and multi-domain environments."
Academic Outreach is categorized into three pillars of work within NATO Allied Command Transformation.
The first pillar involves Capability Development Directorate and Innovation Branch. The Office for Collaboration with Academia and Industry initiate and facilitate collaborations to reduce risk and increase the cost-effectiveness of capability development. The result is an expansive academic network of formal, informal, and ad-hoc relations with over thirty academic institutions, including the co-location of the Innovation Hub on the campus of Old Dominion University in Norfolk, Virginia. The Association for Educational Communications and Technology Design and Development Competition is an example of recurring academic collaboration that seeks to solve NATO education and training challenges.
Strategic Engagements Branch delivers the second pillar of academic outreach by engaging civilian universities in activities that are mutually beneficial. One example is the Academic Conference sponsored by Allied Command Transformation in cooperation with the University of Bologna since 2011.
The third pillar, managed by the Human Capital Enhancement and Individual Training Branch, organises courses with universities for NATO civilian and military staff, developing programmes for professional development to improve NATO's organizational effectiveness. The NATO Allied Command Transformation Professional Doctoral Programme, and the Coaching and Mentoring Programme provide personal development, ensuring the Alliance has the right people with the right skills.
Establishing networks through academic outreach is a key tenet of Allied Command Transformation's organisational ethos to create and expand its network of researchers and academics at the forefront of technological innovation. Leveraging academia is also a deliberate enabler of General Lavigne's strategic priorities to digitally transform the Alliance and deliver the right capabilities at the right time, a central tenet to his Warfare Development Agenda.
"The NATO Warfighting Capstone Concept identifies complex new skills required by future war fighters and leaders," said General Lavigne. "Allied Command Transformation in turn enhances its engagement with academia to explore, exchange new ideas, and experiment elements on the Warfighting Development Agenda."