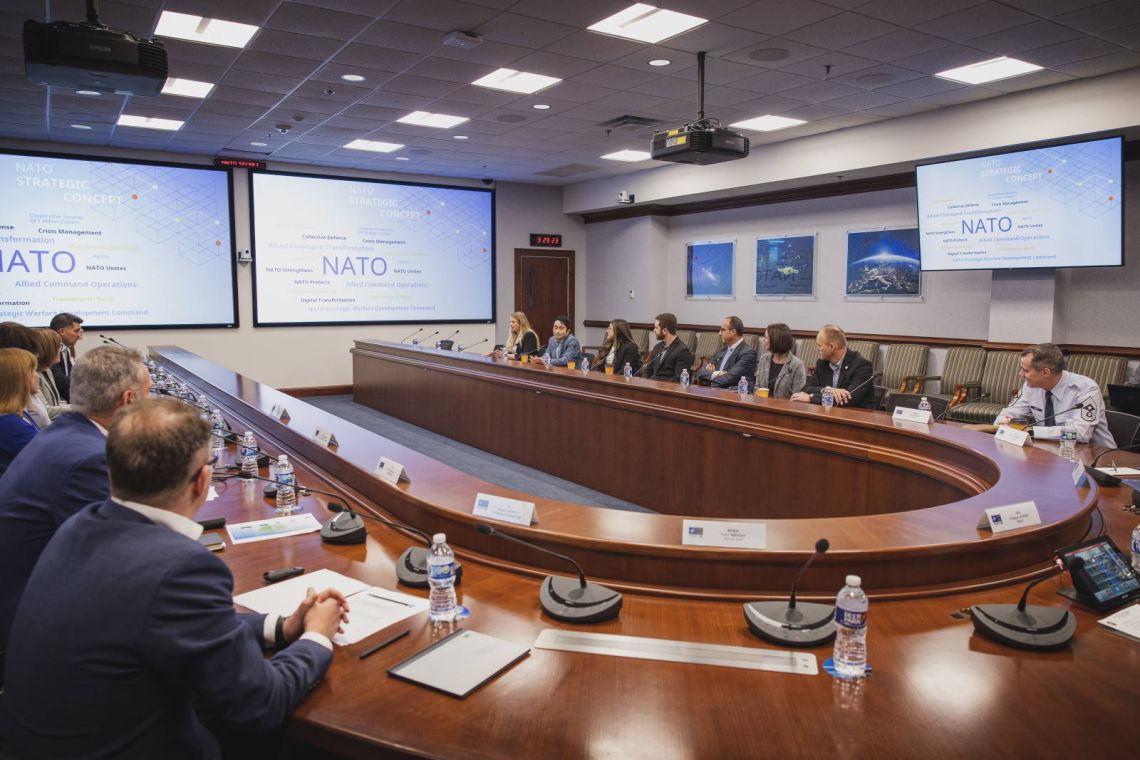 NORFOLK, VA – Supreme Allied Commander Transformation General Philippe Lavigne met with a group of leaders from around the Hampton Roads on March 29th, 2023. NATO's Allied Command Transformation officials and local leaders exchange insights on NATO, Norfolk, and Alliance-wide innovation.
Norfolk, Virginia is NATO's home in North America, where relationships have steadily formed and grown between NATO and the local community. This year is NATO Allied Command Transformation's 20th anniversary, as well as the 70th anniversary of the annual Norfolk NATO Festival; ahead of the celebrations, General Lavigne hosted a cohort of local leaders from around the Hampton Roads at the Command, located on Naval Support Activity Hampton Roads, Norfolk, Virginia. Allied Command Transformation regularly engages with the local community for business development and industry collaboration.
NATO Allied Command Transformation leads the transformation process and ongoing innovation processes throughout the Alliance: modernization of the Military Instrument of Power includes synchronization of military and non-military capabilities. Through collaboration between military officials and local leaders, the Alliance is able to improve both understanding and utilization of the environment, as well as learn best practices from industry and academia.
These visitors come from diverse backgrounds and industries, similar to the wide-spectrum of nationalities and organizations across the Alliance. Some have extensive experience with the military and NATO: representatives included those from the World Affairs council of the Greater Hampton Roads, United States Navy of Maritime and Depot Operations, and Norfolk based defence contractors.
Others are community leaders in different and unique capacities: in attendance were several members of the CIVIC Leadership Institute, a non-profit organization that builds opportunities for students and scholars around the Hampton Roads; academics from Old Dominion University, bringing new pathways towards research collaboration; and local entrepreneurs and business leaders, as innovative and agile frameworks are being brought into Alliance-wide transformation.
NATO Allied Command Transformation is proud to continue building strong and lasting partnerships around the Hampton Roads. Allied Command Transformation initiatives include youth education events, innovation challenges, and community events: collaborating with the Virginia Arts Festival, the 70th Norfolk NATO Festival kicks off throughout the weekend, from April 20th through the 22nd.