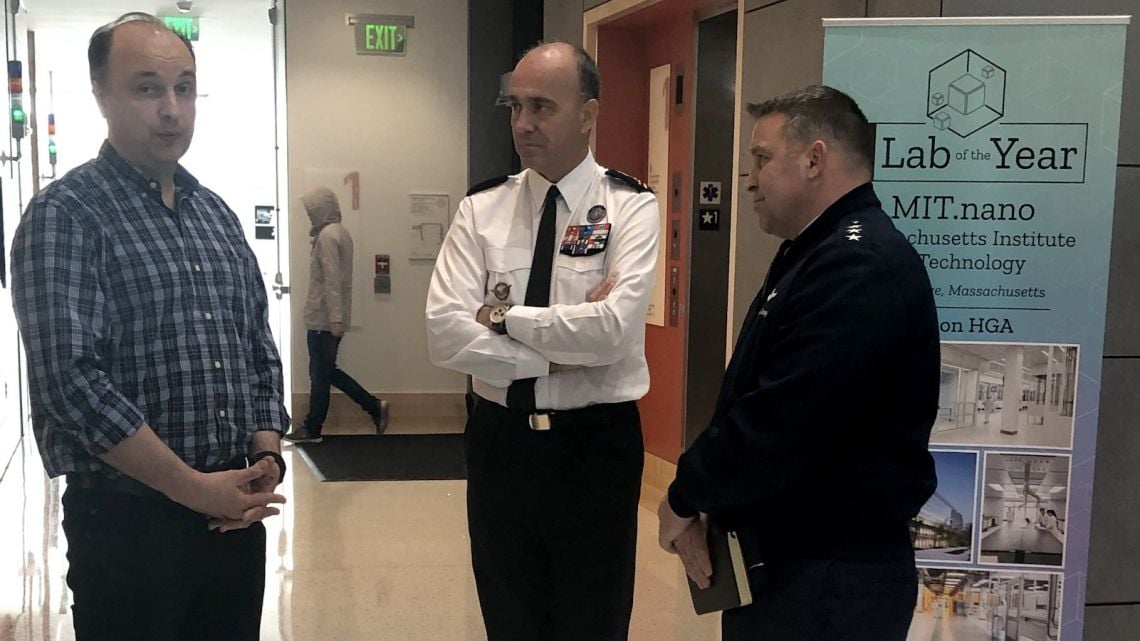 Although the most successful Alliance in history, NATO, in its 70th year needs to continuously adapt.
It must embrace and flourish innovation in order to remain relevant, maintain its military edge against both state and non-state adversaries, and accomplish its core tasks efficiently and effectively. As NATO's Warfare Development Command, Allied Command Transformation (ACT) operates as the leading agent on innovation for the Alliance.
It is for this reason that on the 8th May 2019, General André Lanata, Supreme Allied Commander Transformation travelled to Boston, Massachusetts to visit the United States Air Force Kessel Run Project and the world renowned Massachusetts Institute of Technology (MIT). His visit was part of Allied Command Transformation's engagements with external stakeholders which include Allies' armed forces, Academia, Industry, and Think Tanks and furthermore, to share and learn from those partners. The visit was successful in adding two more organisations, with a track record of successful Innovation endeavours, to the wider network that Allied Command Transformation can co-operate with.
The United States Air Force Kessel Run Project aims to revolutionise the way the United States Air Force delivers software. By using agile and disruptive methods and by working with partners to access resource and develop software in-house, the Project delivers new capabilities to the war fighter at an unprecedented speed. In its first six months, the Project delivered a tanker missions planning tool which is, since then, saving 13 million dollars to the United States Air Force monthly. "I was impressed by my visit in Kessel Run," said General Lanata, "and particularly by the processes and methods the project has set-up. Combined with a start-up mind-set, they allow the U.S. Air Force to develop and release at the speed of relevance to the air combat units software that really meet the final user needs." The General highlighted that "Allied Command Transformation, as leading agent for innovation for the Alliance, shares a common vision of this disruptive approach. These methods and mind-set perfectly feed my vision of how we should leverage innovation in our capability development efforts, and should inspire NATO in order to rethink its acquisition process of software."
Emerging and Disruptive Technologies are those which have a rapid and major effect on technologies that already exist and disrupt or overturn traditional business methods and practices. These technologies can present both an opportunity and a threat to the Alliance and, in recognising this, Allied Command Transformation initiated the Emerging and Disruptive Technologies (EDT) Roadmap in 2018. The EDT Roadmap uses a bottom-up approach to conduct rapid and tangible demonstrations in realistic operational conditions in order to understand the potential of EDT from both the opportunity and threat standpoints and, to set the conditions to exploit them within NATO and its Member Nations.
On arrival at the Massachusetts Institute of Technology, the General was given a tour of the Nano Laboratory which opened in October 2018. The laboratory is a 214,000-square-foot facility dedicated to the characterization and fabrication of nanoscale materials, structures, devices, and processes. The laboratory, known as MIT.nano, is a collection of unique research spaces which make it an unparalleled workshop for 'tinkering' nanoscale, nurturing discovery, sparking invention, and propelling hard-tech start-ups. General Lanata was shown around by the Director of MIT.nano, Professor Vladimir Bulovic, who as part of his role is responsible for developing collaborations and partnerships as well as communicating the expected impact of recent discoveries and scaled technologies to a broader community echoing the NATO aim of open innovation – which matched the intent of the General to broaden the network on which Allied Command Transformation can rely to better understand the implications for the Alliance of Emerging and Disruptive Technologies (see box).
Further on, Professor Michael Cima and Professor Fiona Murray, Co-Directors of the MIT Innovation Initiative and the Associate Deans for Innovation and Mrs Kathy Person, the Program Manager of the Mission Innovation Lab, joined the General for discussions on the Innovation approach by both organisations. This included in-depth debates about the Innovation Initiative at MIT and how it seeks to strengthen and evolve the pathways for the MIT community and its partners to openly develop ideas into solutions that address today's most pressing challenges. General Lanata was told how this was achieved by providing a single entity that combines opportunities for hands-on innovation and entrepreneurship education to equip the Institute's whole community and its partners to move powerful ideas from concept to impact – an approach comforting the recent decision to set-up a new Innovation Branch within Allied Command Transformation. The discussions also led to identifying areas of possible collaboration that will be further investigated through a follow-up visit of MIT at the Headquarters Supreme Allied Commander Transformation.
Innovation is at the centre of Allied Command Transformation's efforts in transforming the Alliance. Through successful interaction with organisations such as MIT and Kessel Run, it aims to stay at the forefront of identifying technological trends as well as innovative approaches in order to the deliver cost effective interoperable capability solutions at the pace of relevance.