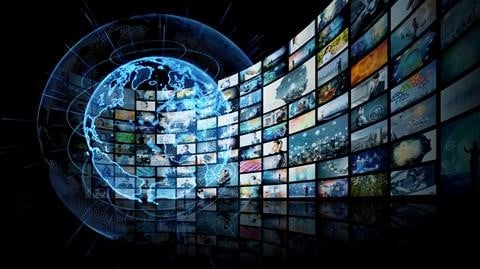 The NATO Secretary General identified the development of the Information Environment Assessment capability as a high priority programme at the 2022 Madrid Summit, with Allied Command Transformation driving capability production to meet NATO ambitions. In early 2023, The Military Committee and the Resource Policy Planning Board endorsed the Information Environment Assessment Capability Programme Plan, recently submitted for North Atlantic Council approval. The Information Environment Assessment programme development is both ambitious and critical to achieve NATO's Strategic Communication objectives.
Flow of Data – Threat and Opportunities
NATO operates in a contested global environment, where an ever-growing amount of data influences actions and decisions. Individual actors, audiences, organizations and systems digest and spread information with growing speed and veracity, creating constant change within the information environment.
With an increasingly interconnected world, where easy access to technology is prevalent, the Information Environment Assessment Capability offers the ability to deliver real-time, audience-tailored communication to report, command, inform, persuade, confuse, coerce, distract or deceive. The speed and scale by which anyone, on any level, can affect the information environment creates threats and/or opportunities to exploit vulnerabilities. In order to defend our values and to ensure our core tasks, NATO needs to develop a comprehensive understanding of this information environment to better inform decision-makers and proactively develop our strategic messaging.
Cutting Edge Technology and Innovative Approach
The Information Environment Assessment Capability delivers the "understand" function for Strategic Communications in the areas of own, earned and hostile communications. The Information Environment Assessment programme will harness selected, purpose-driven data sources, which contribute to an organizational digital backbone to ensure enterprise-wide usability and information-sharing across multiple communities of interest. With a focus on Artificial Intelligence and Machine Learning applications, the Information Environment Assessment Capability is one of the programmes to be a forerunner that will develop automated predictive analytics, supporting the organization in optimizing decision-making. Additionally, the codified approach to monitor, collect, process and share data and information contributes significantly to the digital transformation of the Alliance.
The Information Environment Assessment Programme aims to monitor the Information Environment continuously at the speed of relevance, identifying social groups and behaviours to provide a deeper audience understanding that will provide fast and evidence-based decision-making. This understanding will allow NATO to capture an audience-centric and narrative-led execution of activities across all domains to integrate within a multi-domain approach.
The Information Environment Assessment capability development process is accompanied by a data analytics engine prototype, referred to as 'Merlin,' with the intent to inform the development process, deliver proof of concept, and mitigate risks associated with creating and integrating new technological capabilities. Upon NAC approval of the Information Environment Assessment Capability Programme Plan and achieving Gate 2 of the Common Funded Capability Delivery Governance Model, the programme will be implemented through seven materiel projects and one non-materiel project. The materiel projects address the accessibility of data sources, the provision of the computing environment and the development of the Functional Area Service through an incremental development approach. The capability is based on a modular and scalable architecture, ensuring the use of existing commercial off-the-shelf technology while developing advanced systems that will be integrated with commercial off-the-shelf applications to execute a "Create+Buy" acquisition strategy.
Based upon internal methodologies and a minimal core workforce, the Information Environment Assessment Initial Operating Capability was declared in June 2019. The Information Environment Assessment programme aims to seamlessly integrate existing process and people-driven capabilities with project developments that will allow the Information Environment Assessment Capability to reach full maturity through focused advances of people, process, and technology.  For example, Project 0 serves as materiel mitigation to sustain IOC while building upon 'Merlin' prototype development with additional data sources and commercial off-the-shelf capabilities. It does this while generating important lessons and information for further programme development.
Information Environment Assessment is not Only Technology but Process and People as Well
Like all programmes currently under development, the Information Environment Assessment Capability is a new capability for which all lines of Doctrine, Organization, Training, Materiel, Leadership development, Personnel, Facilities and Interoperability must be developed. The main focus of the non-materiel project resides in personnel needs. Very few nations have qualified military personnel for data processing, nor data scientists or data analysts specializing in the processing of publically available information, so these scarce competencies need to be recruited from the civilian sector. After the initial establishment of Information Environment Assessment methodologies in 2019-2022, the Information Environment Assessment Capability requires personnel and organizational uplift in addition to the technological project development to reach Full Operational Capability. To achieve Full Operational Capability, a total of 48 new civilian positions and 18 reclassified military personnel positions must be allocated to Information Environment Assessment throughout the NATO Command Structure and NATO Headquarters Public Diplomacy Division to build the necessary teams to achieve Strategic Communications objectives. Simultaneously, Information Environment Assessment policy, doctrine, and training will be developed to ensure the requisite fusion of people, processes, and technology.
Notably, Information Environment Assessment is not the only programme that scrutinizes the information environment. Programmes such as Open-Source Intelligence, Political-Military Assisted Decision-Making, Cyber, and other programmes also seek to establish enhanced situational awareness through the transformation of information and data procured from the Information Environment. Together we are striving to synergize interoperability and programme efficiencies to harness commonalities across capabilities and functions.
Finally, as we execute current Information Environment Assessment Capability development, we must also look to the next challenge of fusing cross-functional information through the context of Multi-Domain Operations and Digital Transformation. We must develop and leverage people, processes, and technology to improve decision-making processes on a wider scale to synchronize effects within the cognitive dimension. In other words, we must further conceptualize the Command and Control of the Information Environment to increase the speed of the decision cycle. By doing so, we can outthink (i.e. attain and maintain cognitive and decision superiority over) our adversaries and competitors.