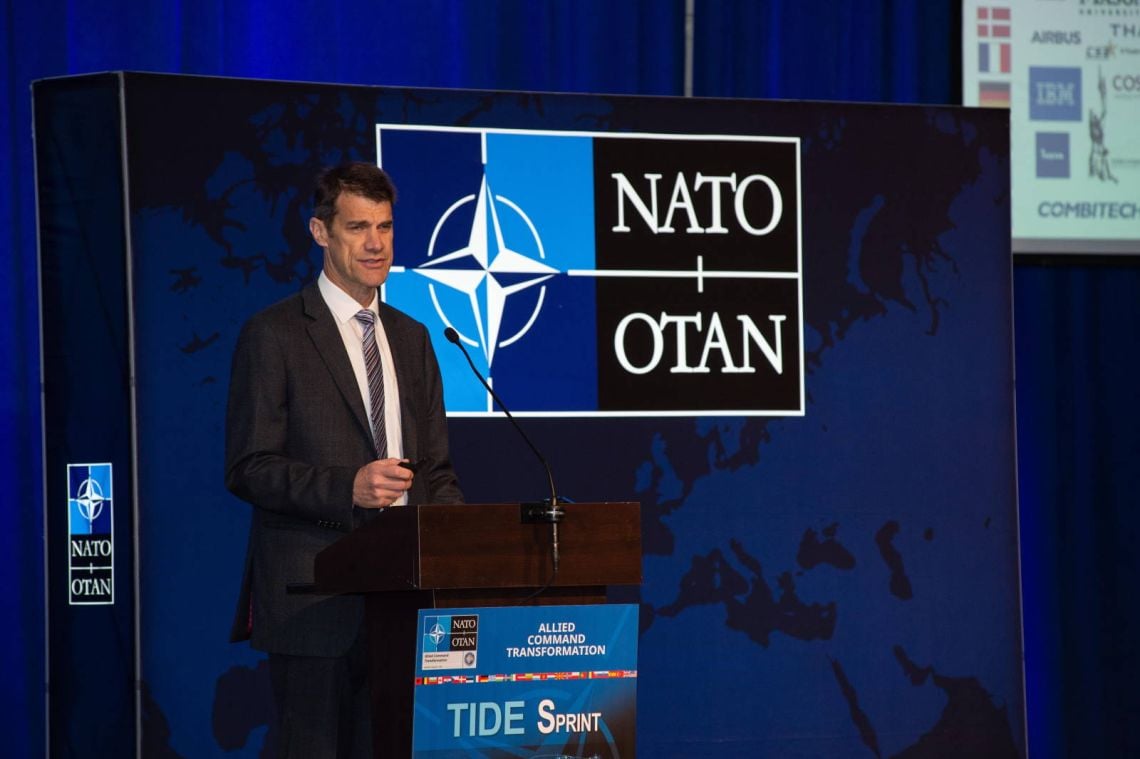 From April 17-21, 2023, Allied Command Transformation is bringing together experts from NATO, industry, and academia to address command and control and information technology challenges as part of the 2023 TIDE Sprint events.
Allied Command Transformation remains committed to delivering fully interoperable command and control and information technology services to enable multi-domain operations and NATO's ongoing digital transformation. As part of its efforts to keep up with the rapid pace of change, Allied Command Transformation is engaging national military, industry, and academic representatives to explore future interoperability solutions as part of a series of events known as the Think-Tank for Information Decision and Execution (TIDE) Sprint. In doing so, these events improve NATO members' and partners' ability to act together coherently, effectively, and efficiently to achieve Allied objectives.
This year's TIDE Sprint event will be held in Lillehammer, Norway from April 17-21, 2023. As part of the Supreme Allied Commander Transformation, General Philippe Lavigne's Interoperability Continuum, this event takes place alongside the Coalition Warrior Interoperability Exercise and the TIDE Hackathon. Altogether, these events bring together the TIDE Community to explore command and control capabilities and information technology challenges through collaborative working sessions that examine and deliver future requirements and interoperability specifications.
The Spring 2023 TIDE Sprint event will feature ten dynamic tracks delivered by subject matter experts responsible for improving interoperability across multiple functional areas. As always, Federated Mission Networking features heavily alongside Science and Technology as key enablers for digital transformation. This TIDE Sprint will also welcome back the Cyberspace track that will demonstrate the benefits of cyber wargaming, and the Medical track that will point toward the future with a closer look at space medicine.
A newly-featured track will explore the future of 5G Next Generation Networks, looking at use cases that include enhancing the delivery of medical support and Large Deployed Headquarters and Mobile Command Posts. The Data Science and Artificial Intelligence track will continue to develop and improve data literacy and will join with the Maritime track to see how Artificial Intelligence improves the Maritime Picture. As TIDE Sprint evolves, all of the educational and 101 sessions have been merged into a track called the TIDE Sprint School.
Many of the tracks will continue exploring the core theme of digital transformation and its importance to the Alliance. Although this will take place largely from a NATO perspective, one of the plenary sessions will feature insights from Ukraine about the benefits of digital transformation to the warfighter, with the current war being waged by Russia serving as a use case.
The Coalition Warrior Interoperability Exercise is the biggest interoperability event of its kind, allowing nations to test multi-domain interoperability between currently deployed, near-term, future, and experimental capabilities to support NATO's digital transformation. It encourages innovation by solving interoperability shortfalls, experimenting with alternative approaches, and exploring new and emerging technologies. In doing so, this exercise provides an opportunity for Nations to experiment, test, and de-risk their deployable systems before undertaking missions such as the NATO Response Force.
The TIDE Hackathon provides rapid demonstrations of new technologies to kick-start solutions to specific challenges. It innovates and promotes "Interoperability by Design" by allowing the NATO Alliance, its Partner Nations, and Non-NATO Entities to develop technology demonstrations into future solutions. Using the hackathon format, this event engages dynamic and diverse groups of young experts who understand the impact of emerging and disruptive technologies. In doing so, the small teams of 'hackers' demonstrate the 'art of the possible' whilst improving their technical skill, and learning more about the challenges facing NATO.
To learn more about the Interoperability Continuum events, click here.