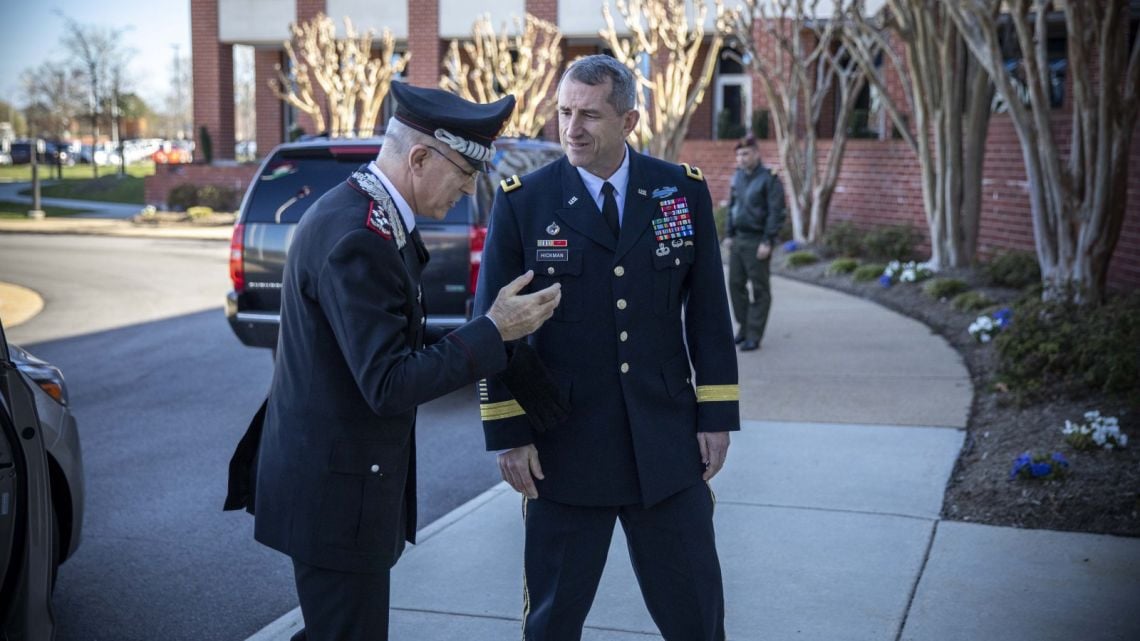 General Lanata, Supreme Allied Commander Transformation, welcomes Lieutenant General Nistri, Commanding General of Italian Carabinieri.
On March 26th, 2019, General André Lanata met with Lieutenant General Giovanni Nistri, Commanding General of Italian Carabinieri. During the office call, General Lanata expressed his personal thanks for the contribution the Carabinieri provide not only to Allied Command Transformation, through the expertise of a Stability Policing Subject Matter Expert and the valuable contributions of the NATO Stability Policing Centre of Excellence, but also to NATO, through the assets the Carabinieri provide to the Alliance Peace-Keeping Operations, mainly oriented to the mentoring, monitoring and training of local Police Forces.
Lieutenant General Nistri highlighted the Carabinieri's strong commitment to contribute to the objectives of the Alliance through its own special capabilities of a military force with full police capability, with reference to Stability Policing, which aims at creating a safe and secure environment, restoring and maintaining public order, security and the respect of the law by reinforcing or replacing Local Police with the long term objective of contributing to the establishment of the Rule of Law.
Carabinieri have been involved in the creation of the first "Stability Policing Concept", a NATO's Allied Command Transformation initiative, established with the purpose of endowing the Alliance with proactive Police Capability, in order to fulfil the "Projecting Stability" aspirations from the 2016 Warsaw Summit Declaration; the Declaration strengthened the importance to include a Stability Policing dimension within NATO and NATO-led operations. The Concept is aimed at creating a NATO Stability Policing Capability, through an implementation plan, including Stability Policing guidance in the next cycle of the NATO Defence Planning Process.