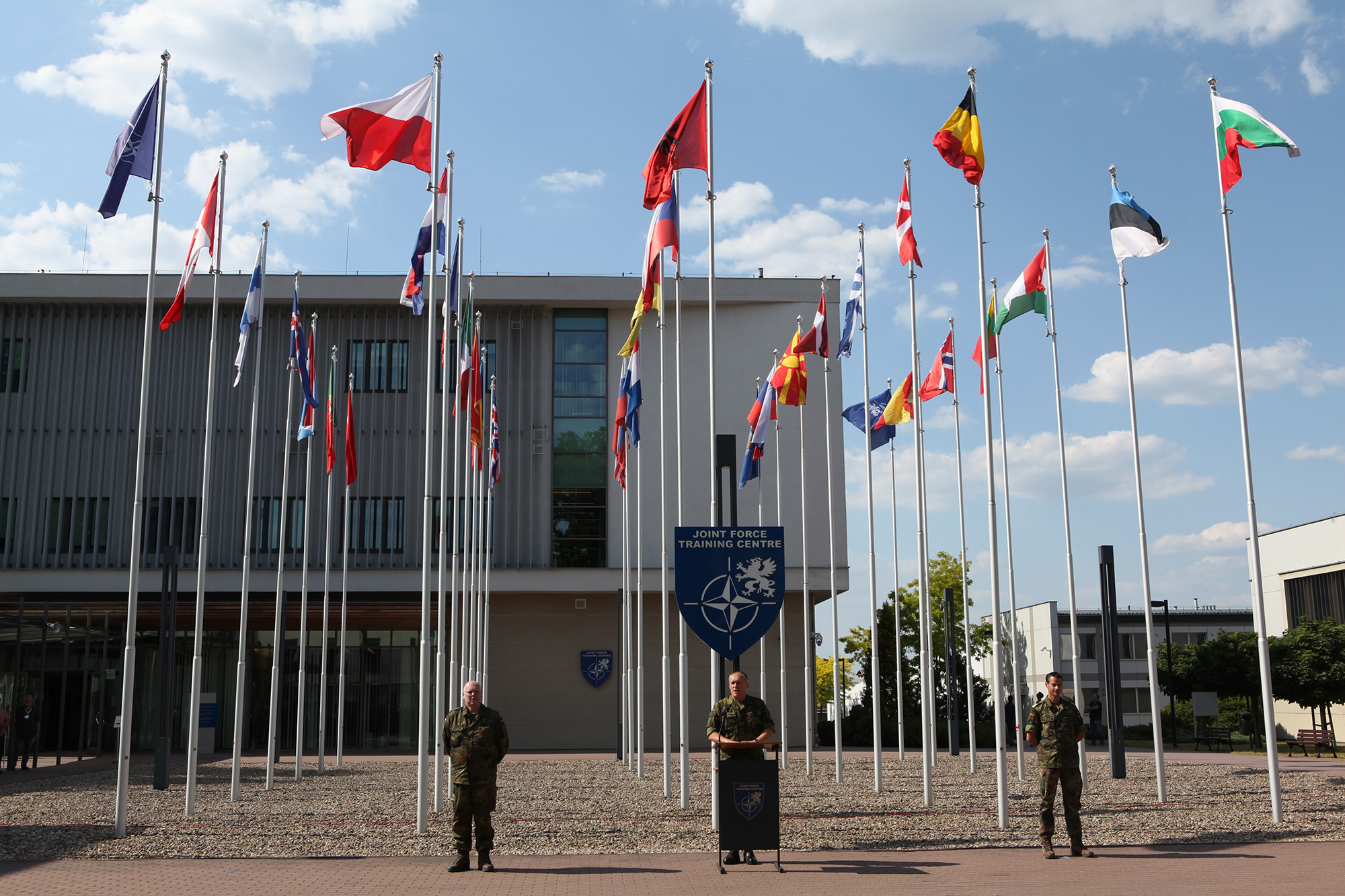 The opening ceremony for the 2023 Coalition Warrior Interoperability Exercise took place today at the Joint Force Training Centre in Bydgoszcz, Poland, with high-ranking Allied Command Transformation Staff providing speeches.
Allied Command Transformation is committed to delivering fully interoperable Communications and Information Systems to improve the cross-domain exchange of information needed for Multi-Domain Operations and NATO's ongoing Digital Transformation. One aspect of this effort is the Coalition Warrior Interoperability Exercise, better known as CWIX, which improves the interoperability of Alliance and Partner command and control systems by testing them in a coalition scenario. In doing so, CWIX improves the readiness, resilience, and agility of operational Communication and Information Systems by ensuring that NATO Allies and Partners can operate effectively together to keep the Alliance safe.
Allied Command Transformation's Joint Force Training Centre in Bydgoszcz, Poland, hosted the opening ceremony for CWIX 2023 on June 7th, 2023. Allied Command Transformation leads the execution of CWIX, with the technical testing of fielded, developmental, and experimental systems in a coalition scenario running concurrently in several Nations. This year's exercise includes approximately 1900 registered participants from Allied and Partner Nations, with close to 40 countries participating in testing.
The Deputy Commander and Chief of Staff of Joint Force Training Centre, Brigadier General Petr Svoboda, provided his opening remarks about the exercise, highlighting the critical role the Centre plays in enabling this exercise and how it adds value to NATO. In particular, Brigadier General Svoboda noted, "The Joint Force Training Centre is the home of CWIX and also an important participant, responsible for four focus areas. With our state-of-the-art venue for experimentation, testing and innovation, modern Information Technology platforms and the only NATO owned Battle Laboratory, the Joint Force Training Centre provides an ideal environment for this type of exercise. […] CWIX contributes to the cohesion of the Alliance and Partners. It makes NATO better, more effective and JFTC is honoured to be a part of this important process."
CWIX Exercise Director, Commander Robert Koch, also provided his remarks, underscoring the unique opportunity CWIX provides to Allies and Partners to test interoperability and lay the foundations for NATO's envisioned Military Instrument of Power. "While the realization of information sharing at the technical level is the foundation for everything else, CWIX is ultimately about enhancing the collective strength of our Military Instrument of Power and providing our warfighters with a decisive advantage on the battlefield," said Commander Koch. "CWIX supports this effort throughout the Capability Life Cycle by providing a cost-effective way of improving interoperability between NATO and Partners."
CWIX is NATO's Premier Interoperability Exercise, and is designed to solve interoperability challenges by testing NATO and National Communication and Information Systems, with particular emphasis on those that will deploy within a NATO Response Force. It is also designed to stimulate innovation and improve the interoperability of people, processes, and technology, to enhance commanders' decision-making through the exchange of information and the provision of situational awareness.
As part of the Supreme Allied Commander Transformation's Interoperability Continuum, CWIX takes place alongside the TIDE Sprint and the TIDE Hackathon. Altogether, these events provide a venue for subject matter experts to develop Communication and Information Systems to ensure the interoperability of NATO's systems now, and into the future.
To learn more about the TIDE Sprint, Coalition Warrior Interoperability Exercise, and the TIDE Hackathon, click here.