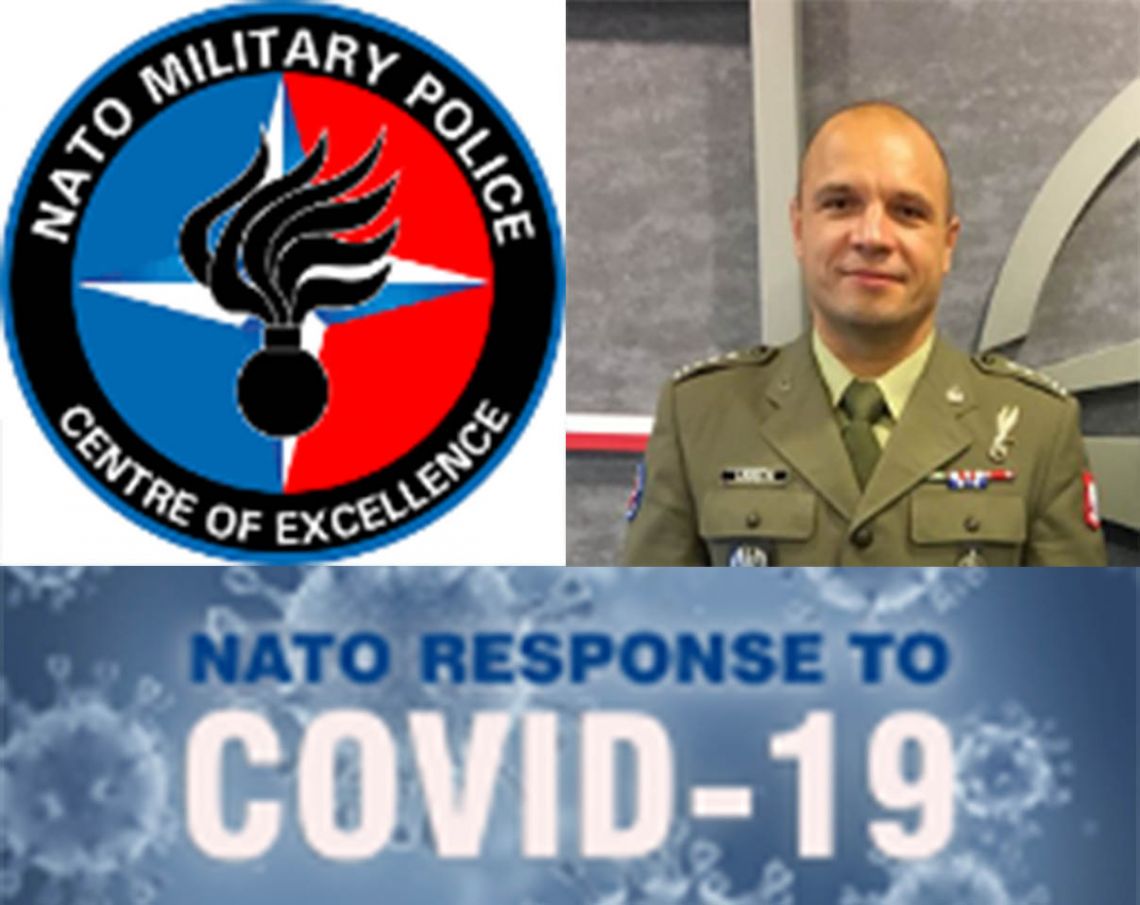 Due to the pandemic, thousands of national and multinational military personnel are collaborating in countering COVID-19. Military Police and Gendarmeries are also a member of the team and are playing a vital role in supporting national military and civilian responses across the Alliance. This support includes security of institutions or convoying medical transports, mobility support, border crossing tasks and much, much more. It is an essential role that the military provides to civilian authorities in times of crisis.
The NATO Military Police Centre of Excellence in Bydgoszcz started the initiative to collect "Lessons Learned" regarding the COVID-19 pandemic. The initiative is aligned with the NATO response to COVID-19 crisis and follows the Supreme Allied Commander Transformation Headquarters' guidance.
"This initiative will help us to review and enhance the NATO Military Police capabilities in order to provide a safe and secure environment for NATO Command Structures and NATO Force Structures (global and individual protection)", said Colonel Miroslaw Labecki, Director of NATO Military Police Centre of Excellence.
Therefore, the NATO Military Police Centre of Excellence will collect, analyse and share a set of Lessons Identified, Best Practices and Lessons Learned with the Military Police Community as well as other NATO/ EU/ national stakeholders. This work improves the process and coordination of the services within Crisis Response System, for instance with the National border guard or health service. In turn, that means more security for the vital products that assist the fight against COVID-19.
To get all the information about recent and ongoing Military Police-related contribution to counter COVID-19 the NATO Military Police Centre of Excellence is planning multi-level activities among the Military Police community as well as beyond it.
Within the first phase, it is addressing the Military Police community with a data collection questionnaire which is key of the COVID-19-related research. After getting all the feedback it will organise a workshop with all the stakeholders to analyse the observations. Results will be provided in the NATO Joint Analysis Report1 as well as during the subsequent NATO Military Police Centre of Excellence activities.
Research Fields:
Which unit and individual protection measures were be used (equipment and procedures)?
What tasks were be given to Military Police elements during COVID-19?
What roles did the Military Police in the NATO and National Crisis Response Management System have?
How did information sharing among the community of interest work?
What communication means & procedures were used between services while fulfilling tasks?
Which COVID-19 countering Tactics, Techniques and Procedures were in place/ used (overall)?
What Lessons Identified, Best Practices and Lessons Learned were observed regarding online working/ Home office working systems?
The NATO Military Police Centre of Excellence is already receiving quality feedback from military police across NATO. They have already shared with other stakeholders their recently collected lessons during online conference "The implications of COVID-19 pandemic on security" organised by the Crisis Management and Disaster Response Centre of Excellence. The first impressions from questionnaire are planned to be presented in a newsletter, which will be published on their webpage2.
You too can share your experiences to support the NATO Military Police Centre of Excellence initiative.
—
1 The Joint Analysis Report will be published in Winter 2020/ Spring 2021 (to be confirmed).
2 The first newsletter will be published End of May (to be confirmed).