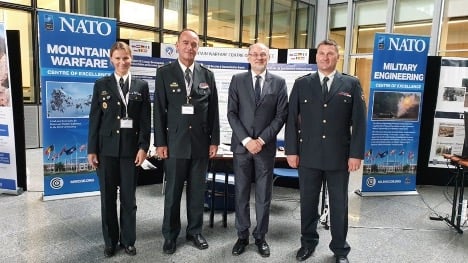 The 2022 edition of the NATO-Accredited Centres of Excellence Marketplace will take place at NATO Headquarters in Brussels, May 10th-11th, 2022.
Following a similar successful event held in July 2019, the 2022 edition of the Centres of Excellence Marketplace highlights the diverse but crucial the Centres provide to the Alliance.
This year, the Marketplace will open officially by Mr Mircea GEOANĂ, NATO's Deputy Secretary-General. Each Centre of Excellence will have the opportunity to display contributions made to the Alliance and for all Staff at NATO Headquarters to recognise, understand, and embrace the value of the expertise, support and advice provided by the 28 NATO-accredited Centres of Excellence.
The 2022 Marketplace is an excellent opportunity to promote each Centre of Excellence's work with examples of products, outputs, and outcomes delivered to NATO on behalf of their Sponsoring Nations.
Learn more about Centres of Excellence through this introductory video.