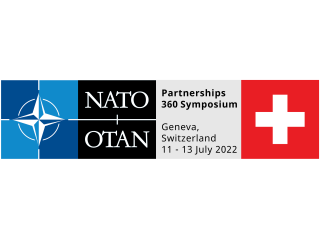 The NATO Partnerships 360 Symposium is a contemporary and innovative venture, bringing together civilian and military representatives from Allies and all Partner Nations to stimulate free exchange of ideas on the future evolution of NATO's partnerships policy.
The event, co-organized by NATO's Allied Command Transformation and the International Staff Political Affairs and Security Policy Division, engages the partnership network and community in a "one NATO" spirit of political-military cooperation.
The first edition of the NATO Partnerships 360 Symposium was held in 2018, in Berlin, Germany.
The NATO Maritime Interdiction Operational Training Centre in Chania, Greece, hosted the second Symposium in June 2019.
The NATO Partnerships 360 Symposium 2022 took place in Geneva, Switzerland, on July 11-13. The event attracted more than 250 participants from 54 Allied and Partner Nations, as well as IOs and NGOs, Centers of Excellence and the NATO military Commands. Opened by NATO Deputy Secretary General Mircea Geoana and with keynote addresses by the State Secretary of the Federal Department of Foreign Affairs of Switzerland Ms Livia Leu, and Deputy Supreme Allied Commander Transformation General Christian Badia, the symposium reflected on how deeper and concrete cooperation can strengthen Partners and NATO in an increasingly uncertain and dangerous world.
The plenary session on the first day of the symposium focused on the outcomes of the NATO Madrid Summit and the New Strategic Concept. This session was followed by 5 breakout sessions addressing:
The Rules based International Order
Human Security – Leading by Example
Capacity Building
Innovation
Interoperability
The second day continued with the main takeaways from the breakout sessions and a plenary session on Partnerships and Resilience.
The level of attendance and interaction clearly demonstrated the attractiveness and relevance of the NATO Partnerships 360 Symposium as a key venue for open and frank debate on engagement and cooperation between NATO and Partners.
For more information on the 2022 Symposium, read the news article here.
We express our profound appreciation to all participants, as well as to the Swiss authorities for their outstanding support in making this symposium a success.
Points of Contact:
Questions can be addressed to the following Allied Command Transformation Points of Contact:
MAJ Larissa Ancete:
[email protected]
Tel: +1 757-747-4017
LtCol Tim Bakewell:
[email protected]
Tel: +1 757-747-3918