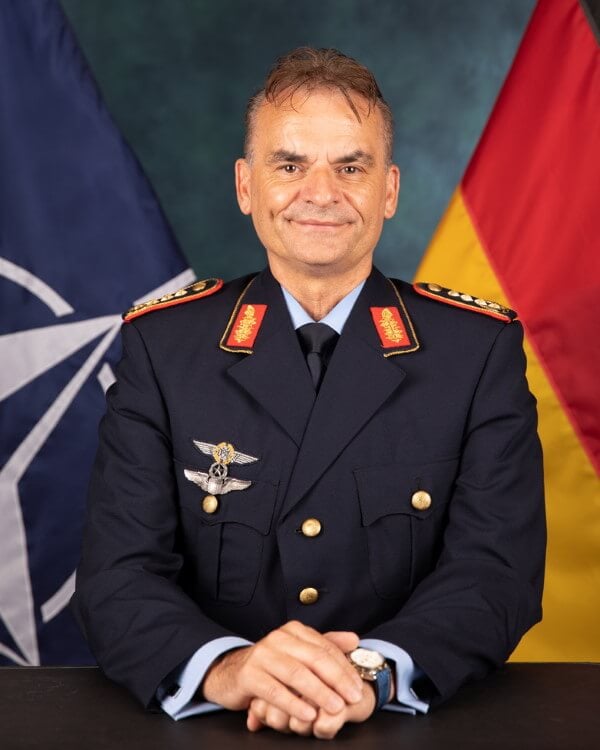 General Chris Badia
Deputy Supreme Allied Commander Transformation
---
German Air Force
North Atlantic Treaty Organization
General Chris Badia was born in Bavaria on September 28th 1963.
After finishing school, he joined the German Air Force as a cadet in 1984 to become a jet-pilot and officer. Trained in the US between 1986 and 1987 his first assignment led him to Fighter Wing 71 "Richthofen". General Badia gained experience for 8 years as a fighter pilot before taking his first command as Squadron Commander of the 1st Sqd. of that Wing between 1996 and 1998. He then was nominated to attend the 43rd Command and General Staff Officers Course at the Federal Armed Forces Command and General Staff College in Hamburg. His first assignment after the academy was with NATO as Personal Assistant to COM/DCOM HQ Allied Air Forces Northern Europe in Ramstein. After his follow-on assignment as Director Ops of the 4th Air Force Division in Aurich, General Badia was posted as Assistant Branch Chief for Military Policy Concepts for Operations and Exercises to the German Ministry of Defence in Berlin.
Following a tour in the Office and as the Head of Office to the Parliamentary State Secretaries Kolbow and Dr. Pflueger, General Badia assumed responsibility on his second commanding position, as Commander Fighter Wing 71 "Richthofen".
After three years of Command, he was posted for three consecutive assignments to the Ministry of Defence, as Branch Chief Concepts and Doctrine in the Air Staff, following his promotion to Brigadier General as Assistant Chief of Staff Air Force Future Development/Plans and Policy and as Division Chief for Strategic Defence Planning and Concepts in the MoD.
Following two commanding assignments, first as Commander, European Air Transport Command, in Eindhoven and then as Director General of the German Military Authority in Cologne, in 2018 he assumed responsibility as Director General for Planning in the Ministry of Defence.
On July 7th, 2022, General Badia was appointed as Deputy Supreme Allied Commander Transformation in Norfolk, Virginia.