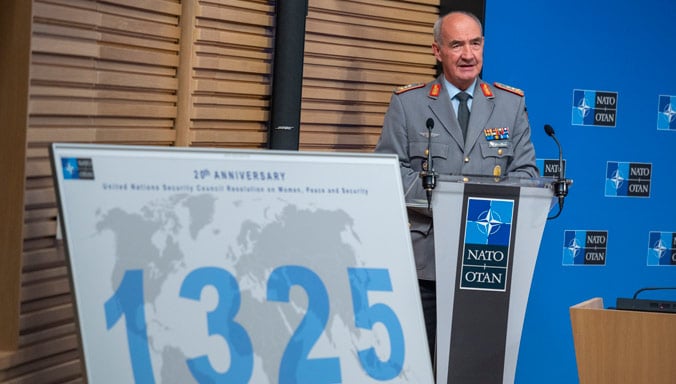 On October 31st, 2000, the United Nations Security Council created Resolution 1325 on Women, Peace and Security in response to the changing nature of warfare affecting civilians and the continued exclusion of women from decision-making roles in the peace and security sector.
The resolution, otherwise known as UNSCR 1325, highlights that the inclusion of more women in conflict resolution and peace processes leads to a more sustainable and lasting peace.
Through using a gender lens to view conflict and crisis dynamics, society has been able to learn not only about how men, women, boys and girls are impacted differently, but also how each can contribute to the prevention of violent conflict, the delivery of relief and recovery efforts and in the forging of lasting peace.
There are four pillars in UNSCR 1325: Participation, prevention, protection, and relief and recovery.
These pillars strengthen the actions of women and civil society. Issues such as protection and prevention measures to sexual violence during conflict and legal recourse for such war crimes are now addressed with an understanding that conflict has gendered elements.
---
There are government endorsed frameworks related to UNSCR 1325 that are
the core mechanisms for action. NATO & 1325
---
NATO is doing its part. Today, there are more women then there have ever been in the Alliance's armed forces. The NATO Committee on Gender Perspectives' strives for gender equality by amplifying the experiences of both men and women as integral parts of NATO policies, programmes and military operations.
NATO uses the integration of gender perspective as a way of assessing gender-based differences between women and men as reflected in their social roles and interactions, in the distribution of power and access to resources.
The NATO Women, Peace and Security agenda has been framed through the lens of the three I's: Integration, inclusiveness and integrity. The Secretary General's Special Representative for Women, Peace and Security serves as the high-level focal point for NATO's work in this domain and the NATO/EAPC Policy and Action Plan on Women, Peace and Security puts these principles into practice throughout all of the NATO military and civilian structure.

Allied Command Transformation is shaping the future in his regard. In 2009, Allied Command Transformation helped create a milestone document, the 'Bi-SC Directive 40-1 on implementing UNSCR 1325 and integrating a gender perspective'. This document provides guidance on effective and continued practical implementation and institutionalization of gender perspective in all activities within the Strategic Commands.
Allied Command Transformation embraces a gender perspective as critical for successful operations and fundamental for peace stability and security. The Command strives to embed gender perspectives into daily business through activities such as strengthening capacity building efforts, delivering gender education and training products, and integrating a gender perspective into doctrines and concepts.
Furthermore, the Allied Command Transformation Gender Advisor provides guidance and advice to NATO Commanders on how to integrate gender perspective into operations and missions, crisis and conflict analysis, concepts, doctrine, procedures, and education and training.
The Gender Advisor continuously looks for new ways to incorporate a gender perspective into key areas, which requires the essential support of the Gender Focal Points, a diverse network of men, women, civilians, enlisted and officers. These Gender Focal Points are the Gender Advisors' 'eyes and ears on the ground'.