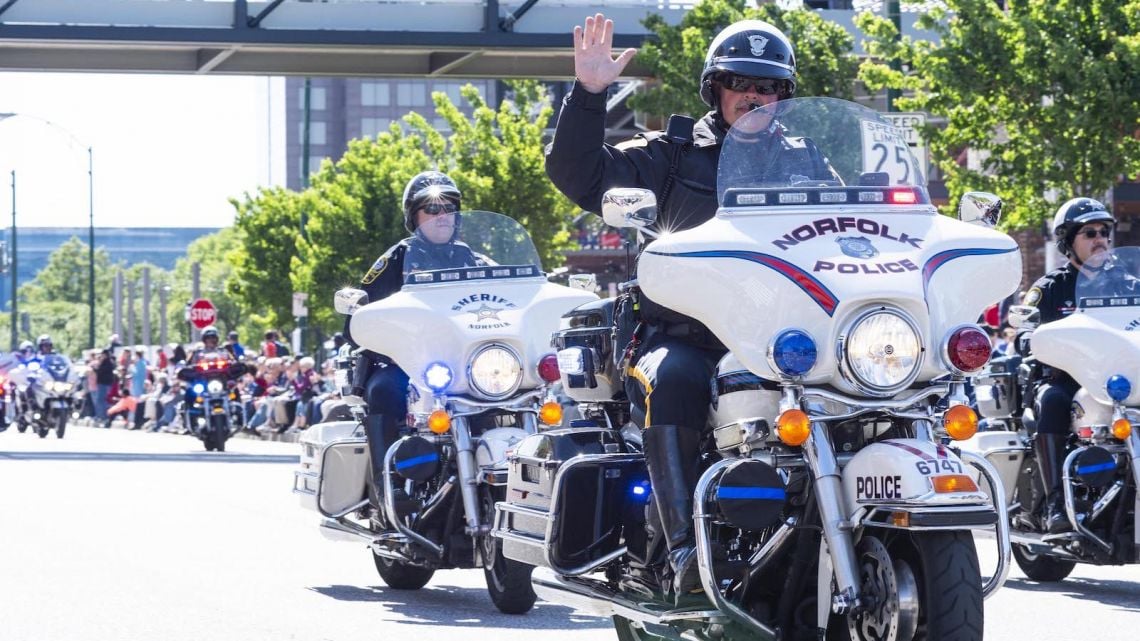 NATO Celebrates its Diverse Culture and Friendships through Music, Food and Fun!
NORFOLK, VA – The 66th annual Norfolk NATO Festival continued its program of activities on the beautiful sunny morning of Saturday, April 27, 2019 with the highly anticipated annual Parade of Nations, the only parade in the United States honouring NATO.
Downtown Norfolk was transformed into a lively and colourful atmosphere where spectators watched a stunning procession of over 100 parade units composed of local and visiting high school bands, U.S. and International Military bands, and skilfully handcrafted floats representing the pride and culture of each of NATO's 29 Member Nations. The parade also featured many local community organization and festival partners, showcasing the close partnership and collaboration between NATO's Allied Command Transformation (ACT) and the Hampton Roads region.
Supreme Allied Commander Transformation General André Lanata and Mr. Kenneth Cooper Alexander, Mayor of Norfolk, alongside Mr. Scott Jackson, Chairman of the Virginia Arts Festival, and Mr. Simon Scott, Chairman of the Norfolk NATO festival were in attendance to celebrate NATO's diverse culture, friendships, and achievements. The festival also celebrates the supportive relationship between NATO's Allied Command Transformation and the Hampton Roads region as well as ACT's contributions to the area.
Following the parade, attendees continued the celebration at the International Village located in Town Point Park which featured tents from each of the NATO Member Nations. Visitors had the opportunity to meet Member Nation representatives and interact with Allied Command Transformation staff to learn more about NATO and the specific work of ACT.
General Lanata made his way through the Village, stopping at the different tents and engaging with visitors, ACT staff, and families as well as enjoying the multicultural and cheerful setting. "We feel at home here at NATO's home in America and also in the Norfolk community," said General Lanata.
Guests experienced the diversity of NATO through cultural performances, international cuisine, art displays, and traditional music, and captured moments at the NATO photo booth. Children collected stamps in their NATO Explorer Passport from each tent, picked up goodies, and even had their own Kid's Zone dedicated to games, crafts, and international themed activities. It was fun-filled afternoon for the whole family!
The Parade of Nations and the International Village celebrate NATO's diverse and inclusive culture, emphasizing the Alliance's commitment to strengthening relationships between its Members on both sides of the Atlantic, based on shared values and close friendships. The Norfolk NATO festival demonstrates how the Alliance's presence in the Hampton Roads region has created a multicultural environment that makes it a vibrant international community.
In the spirit of international friendship, the Festival's next event is the Rugby Exhibition Match on Sunday, April 28 between the French Army's XV du Pacifique team and the hometown Norfolk Blues. As part of the event, a ceremonial haka dance of the Maori culture will be performed by a cohort of Pacific Islanders!