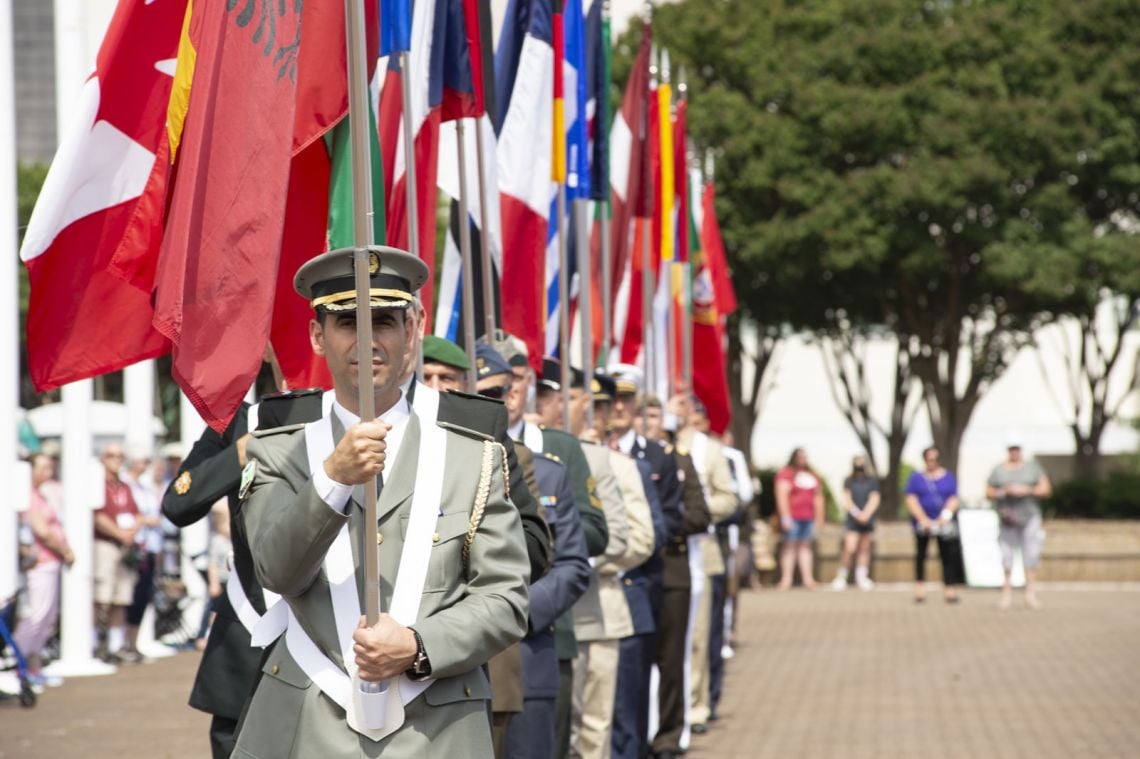 NORFOLK, VA. – The Hampton Roads community honoured its long standing connection with the North Atlantic Treaty Organization by celebrating the annual Norfolk NATO Festival June 5th. The festival brings together NATO and the Hampton Roads region in this annual tradition to provide the local community and visitors the opportunity to learn about the Alliance and the two commands that call Norfolk home.
NATO's Supreme Allied Commander Transformation General André Lanata kicked off the festivities at the annual Flag Raising Ceremony alongside Norfolk Mayor Kenneth Alexander, and Joint Force Command Norfolk Commander Vice Admiral Andrew Lewis. During the ceremony, NATO's 30 Member Nations presented their national flags, while the United States Fleet Forces Band performed a cultural sampling of music, a demonstration of the diversity and strength of the NATO Alliance.
After the ceremony, the International Village at Scope Arena opened to the public for viewing and interactive exhibits.
"Although the 2021 Norfolk NATO Festival may look a little different this year," said Gen. Lanata, alluding to the one-day event, "it is the embodiment of our strong community and friendship, especially after the last year of shared hardship and rebuilding. This year's theme, 'Stronger Together,' should resonate to everyone. The test the COVID-19 pandemic presented us all only amplified the importance of community strength, a bond that is truly one of a kind here in Hampton Roads."
As NATO's only two commands in North America, the festival recognizes and celebrates Allied Command Transformation and Joint Force Command Norfolk's contributions, achievements and influence in the Hampton Roads region, the United States and the globe.
"NATO Night" at the Virginia International Tattoo at Old Dominion University followed the Flag Raising Ceremony and International Village festivities on Saturday. The performance celebrated the NATO Alliance and featured an international cast of military bands, drill teams, dancers and choirs from NATO nations, partner nations and local community groups.
The Norfolk NATO Festival Committee hopes to return to the normal festival format in 2022.
NATO is the world's oldest and most successful political-military Alliance, dating back to 1949. NATO promotes democratic values and enables its 30 member nations to consult and cooperate on defence and security-related issues to solve problems, build trust and, in the long run, prevent conflict. NATO is also committed to the peaceful resolution of disputes. If diplomatic efforts fail, it has the military power to undertake crisis-management operations.