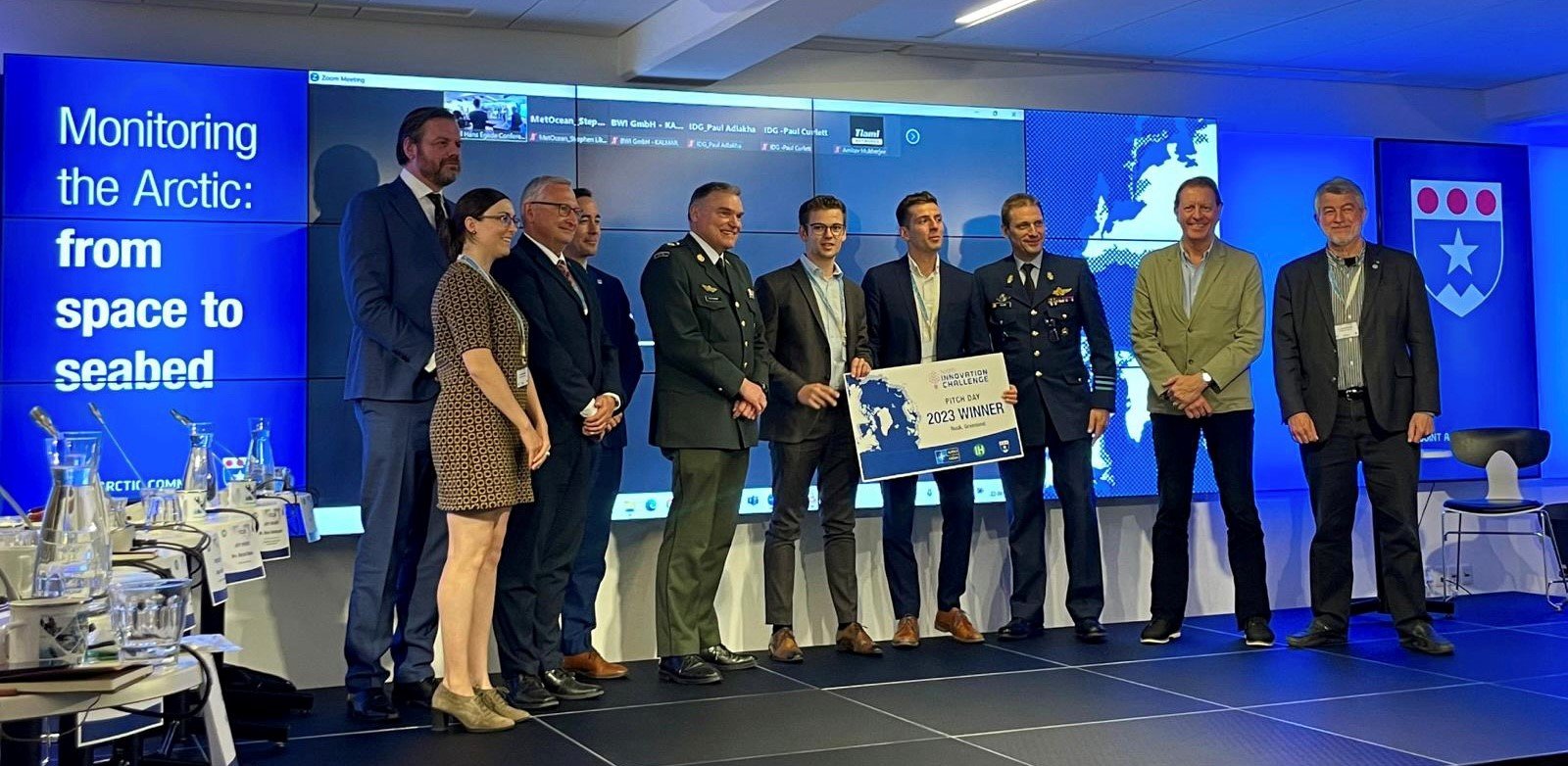 The first NATO Innovation Challenge of 2023 concluded on June 22nd in Nuuk, Greenland, with Finland's Kuva Space winning the challenge with its solution entitled "Constellation of Hyperspectral Imagers in Support of Situation Awareness in the Arctic."
Allied Command Transformation is fostering and exploiting relationships with innovative solution-providers from industry and academia to out-excel, out-pace, out-partner, and out-think potential adversaries. In doing so, the Command is contributing to the Alliance's ability to project power and generate options against threats in any domain, ensuring that NATO warfighters maintain a decisive advantage over its adversaries. One aspect of these efforts is the NATO Innovation Challenge, which helps identify innovative solution-providers from industry and academia and solidifies Allied Command Transformation's status as a key stakeholder for innovation within NATO.
The first NATO Innovation Challenge of 2023 concluded on June 22nd in Nuuk, Greenland. Hosted by Denmark's Joint Arctic Command, ten solution-providers from five NATO Nations pitched their ideas for monitoring the Arctic from space to seabed, addressing the topic areas of communications, situational awareness, search and rescue, and subsurface navigation. Three teams were selected as winners, with the top prize going to Finland's Kuva Space for their solution "Constellation of Hyperspectral Imagers in Support of Situation Awareness in the Arctic." Second and third place awards were given to Cellula Robotics for their solution "Fleets of Long-Range Autonomous Underwater Vehicles for Arctic Surveillance" and MetOcean Telematics for their solution "MetOcean NiKA – Advanced acoustic profiling float," respectively.
The Supreme Allied Commander Transformation, General Philippe Lavigne, kicked-off the event with his opening remarks, stating,
"The days when the defence budget were the main source of innovation is long gone. Today, in the military sphere, the pace of innovation is dictated by others. […] The Innovation Challenge offers us a way of surfacing innovative solutions drawn from outside to develop new tools and processes by calling out to smart people outside the traditional defence sector." He also noted the importance of these Challenges, saying, "With the NATO Innovation Network, the Innovation Challenge helps both the NATO Command Structure and the Allies to enhance a defence innovation ecosystem."
This iteration of the Innovation Challenge was led by Allied Command Transformation, and was co-organized with the NATO Communications and Information Agency and the Open Seas Technology Innovation Hub. In total, 48 proposals from 12 NATO Nations were considered, with solutions from Canada, Denmark, Finland, Germany, and the United States making it into the top ten. Outside the winners, the top ten solution-providers included:
BWI GmbH KALMAR (Germany) with their solution "KALMAR – Detect What is Not Seen"
IRSA Development Group (Canada) with their solution "IRSA – Integrated Remote Sensing for the Arctic"
Millennium Three Technologies Inc. (Canada) with their solution "DroneGrid -Computer Vision Guided no-RF Network of Drones and Automated Landing Pads"
Saab Denmark (Denmark) with their solution "Deployable Multi-mode Communications & GIS Package"
Tami LLC (United States) with their solution "Ultrahigh-Throughput High Frequency Communications for Arctic Scenarios"
The Danish Meteorological Institute (Denmark) with their solution "AI-Based Automated Sea Ice Services for the Arctic and Coastal Areas"
The National Space Institute of Denmark (Denmark) with their solution "Fusing Multi-Sensor Satellite Data for Arctic Situational Awareness"
The next Innovation Challenge will be hosted by Slovenia in November 2023, and is entitled "Military Mobility: Military Transport Planning and Monitoring within Trans-European Transport Networks." This Challenge seeks to solicit innovative digital solutions from academia and industry that will enable common, coordinated, and efficient military movement planning and execution with possible interoperability with civilian systems. Applications for the upcoming Innovation Challenge will remain open until October 5th, 2023.
The NATO Innovation Challenge, created in 2017, helps resolve common NATO and Nations operational problems in an efficient and cost-effective manner. Innovation Challenges are co-organized twice per year by the NATO Innovation Hub and NATO Nations, with each edition being hosted by a different Nation on a different topic. These scenario-based challenges are open to all NATO Nations, and bring international visibility to participants in a flexible format that is designed to attract innovators from academia, industry, and start-ups. The top three solutions presented to NATO receive monetary prizes, and help to support the development of future NATO concepts, doctrine, standards, requirements, and capability development.