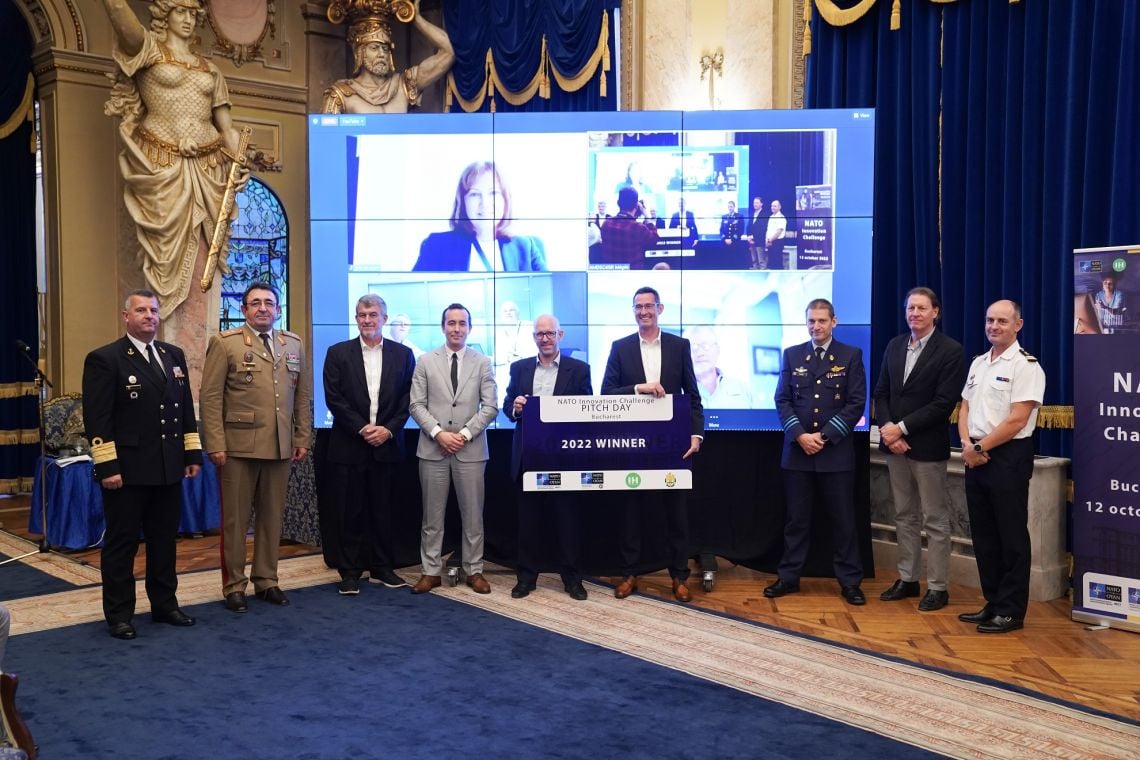 The NATO Innovation Challenge Fall '22 finale took place 12 October at the National Military Palace in Bucharest, Romania. The event was opened by General Philippe Lavigne, Supreme Allied Commander Transformation (SACT), and a representative from the Romanian Ministry of Defence.
Jury President Brigadier General Didier Polomé, special advisor to SACT on digital transformation, announced three winners from Germany, the United States, and Norway, out of dozens of submissions pitched from across the Alliance.
First-place finisher BWI innoX + SECLOUS NVD from Germany proposed resilient infrastructures and protected data management for unsecure components. Their solution integrates data protection and obscures visible information while protecting unique cryptographic access control for the handling of shared data. This ensures data sovereignty, protection, and control on unsecure components and improves infrastructure resilience, interoperability, and data management.
"We are happy and proud that the team of BWI innoX and SECLOUS NVD won this year's NATO Innovation Challenge, against 80 other innovative ideas from 19 countries," said Kai Rehnelt, CEO of SECLOUS GmbH. "Now we are looking forward to providing new solutions with NATO Alliance partners to improve digital resilience in order to support the reconstruction efforts in Ukraine."
Kinnami and the University of Nebraska from the United States placed second for their resilient hybrid data fabric and analytics for reconstruction in post-conflict environments. Kinnami's solution ensures data protection, availability, and security in contested and degraded environments.
Third place WilNor from Norway focused on a fusion of civilian and military data for improved situational awareness and management.
The jury included representatives from academia, NATO, and the Romanian Ministry of Defence.  The challenge was co-organized for the first time with the NATO Communications and Information Agency (NCIA). Antonio Calderon, NCIA Chief Technology Officer, served on the jury with Dirim Merve, NCIA Group Head of Service Support Applications, Service Support and Business Applications. Rear Admiral Cristian Lisman, Deputy Chief of Defence for Resources and Major General Teodor Incicas, Chief of the General Armaments Directorate, represented the Romanian Ministry of National Defence.
While in Romania, challenge participants visited two NATO Defence Innovation Accelerators for the North Atlantic test centres in Bucharest and met Sebastian Burduja, Minister of Research, Innovation and Digitalization and his advisor Ioan Istrate.
SACT and Ludwig Decamps, NCIA General Manager, will conduct the award ceremony for the winners at the new NATO Edge conference 25-27 October in Mons, Belgium.
"We are thrilled that our efforts will help NATO address real world data challenges in enabling national resilience when helping NATO neighbour nations to recover after conflict," said Sujeesh Krishnan, CEO of Kinnami Software. "Being part of an event like the Innovation Challenge has been a great experience for our team and we look forward to leveraging our Department of Defence work with NATO Alliance partners."