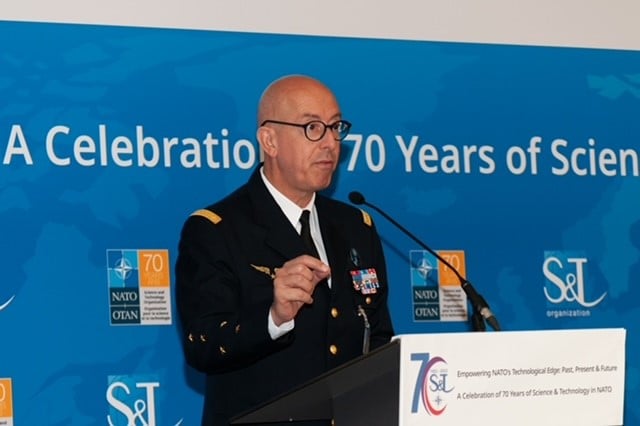 General Lavigne shares his vision on the conflicts of the future, the impact of technology on future capabilities and the role of Allied Command Transformation in their development.
Addressing the Scientific Community at the NATO Science and Technology Organization Symposium in Paris, France, Supreme Allied Commander Transformation General Philippe Lavigne discussed the changing nature of warfare and how the Alliance is preparing to face it.
Founded in 1949, NATO is the longest-running political and military organization in the world; for more than seventy years it has fulfilled its mission thanks to its cohesion, its deterrence but also its technological edge against adversaries and competitors. While the general tendency is to see the character of future wars through the lenses of present time, it is objectively difficult to assess the potential of military power only by examining quantitative parameters; this is why NATO's strategic thinking is going wider and farther, with the NATO Warfighting Capstone Concept as a fundamental threat-informed but risk and opportunity-based concept that takes into consideration the developments in security environment and offers a viable way ahead to develop NATO's military instrument of power for the next two decades.
One of the fundamental variables is technology, a key driver in societal development for decades and now, more than ever, the paramount factor due to its unprecedented growth and its pervasive presence in every aspect of modern life, as well as warfare: cyber technologies, Artificial Intelligence, quantum technologies and cognitive warfare are but a few examples of the challenges laying ahead for society, and inevitably for NATO.
Technological developments are already being exploited by the Alliance's near peers and adversaries, with the potential to disrupt not only military forces, but the very fabric of western societies; NATO's Emerging and Disruptive Technology roadmap is one of the key drivers of the transformation of the Alliance's defence capabilities, intending to maintain NATO's technological edge against potential adversaries and competitors.
Allied Command Transformation has a long tradition of innovation through its Science and Technology Programme of Work, executed by the Centre for Maritime Research and Experimentation in La Spezia, Italy; through this programme of work, worth twenty-five million Euros annually, autonomous systems, Artificial Intelligence technologies and quantum sensing technologies are field-tested during exercises or through sea trials, an essential asset to better understand the future and help leverage knowledge and technology. Parallel to this effort, Allied Command Transformation also leverages the transformation of the Alliance's digital capabilities, people and processes, to provide NATO with the ability to conduct Multi-Domain Operations based on digital transformation.
Allied Command Transformation and the Science and Technology Organization collaborate to maximize the value delivered to the Alliance; the Structured Partnership Between the two organizations provides a strong foundation with the NATO Warfighting Capstone Concept and the Warfare Development Agenda as clear priorities. In General Lavigne's words, "the role of science and technology is vital for the transformation of NATO's Military Instrument of Power. […] Science and technology connects the ends, ways and means of our efforts."