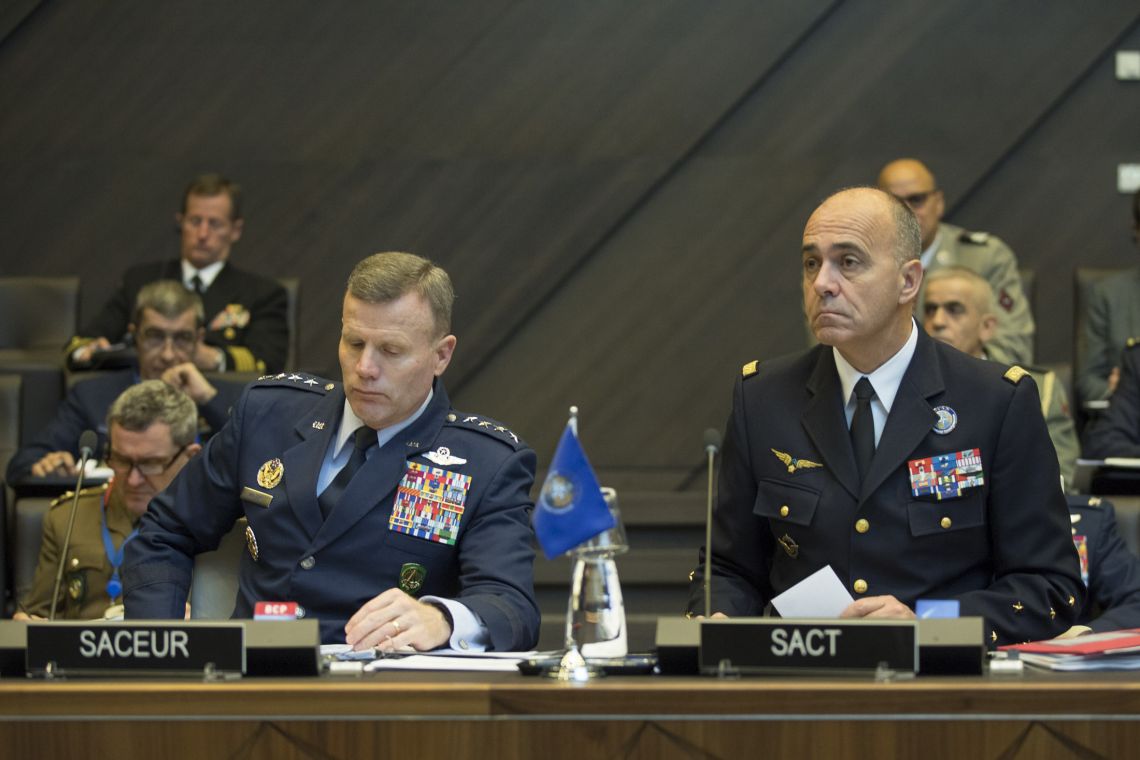 BRUSSELS, Belgium – Supreme Allied Commander Transformation, General André Lanata, attended the Military Committee in Chiefs of Defence Session at NATO Headquarters in Brussels from Jan. 14th to 15th, 2020.
During these two days sessions, the 29 Chiefs of Defence of NATO allies focused on a variety of topics important to the Alliance: NATO's Deterrence and Defence Posture, including the Deterrence and Defence Euro-Atlantic Area Concept, the Enablement of Supreme Allied Commander Europe's Area of Responsibility as well as NATO's Operations, Missions and Activities.
After meeting with NATO Secretary General Jens Stoltenberg, the Chiefs of Defence reviewed NATO's ongoing operational commitments, force generation and discussed potential future requirements.
The Chiefs of Defence then met, in dedicated sessions, with the Operational Partners from the Resolute Support Mission, the NATO Mission Iraq and the KFOR Mission. They also received an update on the current security situation, recent developments as well as a progress report on defence reforms, during a session with Partner Nation Georgia.
This 182nd session was also devoted to the concept of the Deterrence and Defence of the Euro-Atlantic and the NATO Warfighting Capstone Concept.
Air Chief Marshal Sir Stuart Peach, Chairman of the Military Committee, said: "These documents are derived from the NATO Military Strategy but are complimentary as the first one looks at the immediate to short-term and the second has a 20-year approach. They will allow our Alliance to prepare for a more unpredictable world and deal with the consequences of a changed security environment".
The changing security environment requires Alliance to think across the traditional domains of maritime, air, land as well as new domains like cyber and space for deterrence and defence. Throughout this concept, Allied command transformation will identify potential capability gaps and provide the necessary recommendations to ensure NATO maintains its military advantage and remains able on all fronts and in all domains in the future.
"The threat-informed, risk- and opportunity based, NATO Warfighting Capstone Concept will set, based on warfighting at a 20 year horizon, a direction of travel for warfare development. […]. NATO Warfighting Capstone Concept will allow us to build coherent links between future requirements and present capability development initiatives", said General Lanata.
Organized three times annually, twice in Brussels and once in an Allied member country, this meeting aims to continue a progressive and constructive discussion on NATO issues to provide consensus-based military advice to the North Atlantic Council.
The Allied Chiefs of Defence will meet again at NATO HQ in May 2020 in Brussels.