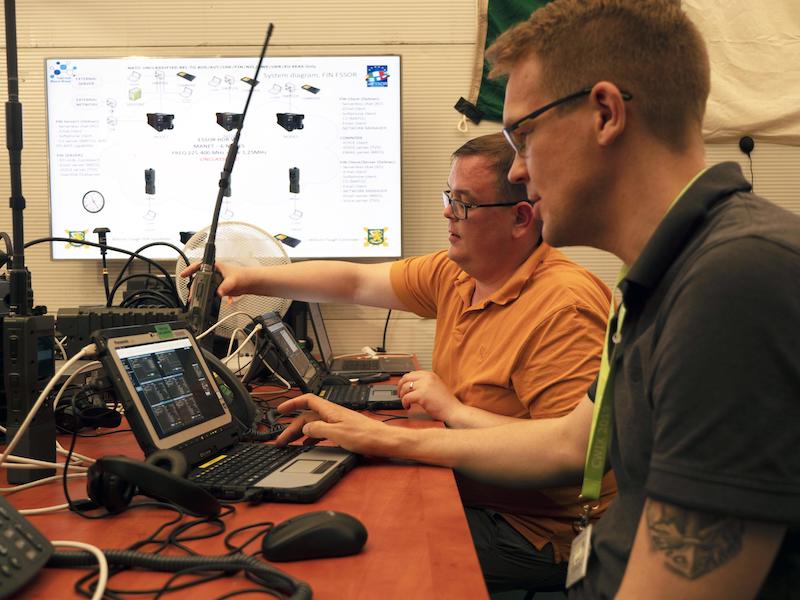 The Coalition Warrior Interoperability eXercise (CWIX) provides a unique venue for systems and network engineers to find innovative solutions to technical interoperability issues. CWIX 2021 will focus on three key themes: the NATO Response Force (NRF) and Very High Readiness Joint Task Force (VJTF); Federated Mission Networking (FMN); and Innovation and Emerging and Disruptive Technologies (EDTs). Through these core areas, CWIX 2021 will test interoperability now, in the near term, and in the future, in order to ensure the readiness and resilience of deployed Communications and Information Systems (CIS). Both interoperability and readiness are crucial to the success of the Alliance; they allow national forces to act together, be effective from the very start of the operation, and operate effectively as one cohesive force.
The Opening Ceremony of CWIX 2021 will take place on 9 June. This year's event will operate as a hybrid effort, with a main execution site at the Joint Force Training Centre (JFTC) in Bydgoszcz, Poland, and several distributed locations in Europe and North America. 28 NATO and Partner Nations will conduct classified and unclassified interoperability testing under 17 Focus Areas and across 5 networks.
CWIX is a cost-effective way of improving interoperability between NATO and Partner Nations. Interoperability is the foundation of all multinational operations and covers people, processes and technology. It provides a purpose-built efficient and effective testing and training environment for participating nations and organizations to "try, fail, fix, and try again". Through this rigorous testing process and experimentation, CWIX participants can identify new requirements and solutions to existing operational challenges, helping to prepare Alliance and Partner Nations to meet future security challenges successfully.
This testing process is crucial to ensuring the operational and combat readiness of NATO troops, processes, and technologies, which must work together efficiently and effectively prior to every operation. During a multinational operation, getting the right information to the right person at the right time requires information from different platforms to be merged and analysed across security domains. CWIX emphasises the importance of interoperability to improve the exchange of information and situational awareness to speed up decision-making. This provides commanders with an edge in the field, allowing them to make critical decisions more quickly.
In addition to ensuring the interoperability of troops on the ground, CWIX provides an environment for innovation and experimentation. By exploring, experimenting, examining, exercising, CWIX identifies future challenges and designs innovative solutions to these issues. As well as focusing on the here and now, CWIX therefore looks into the future, maintaining NATO's forward-leaning posture.