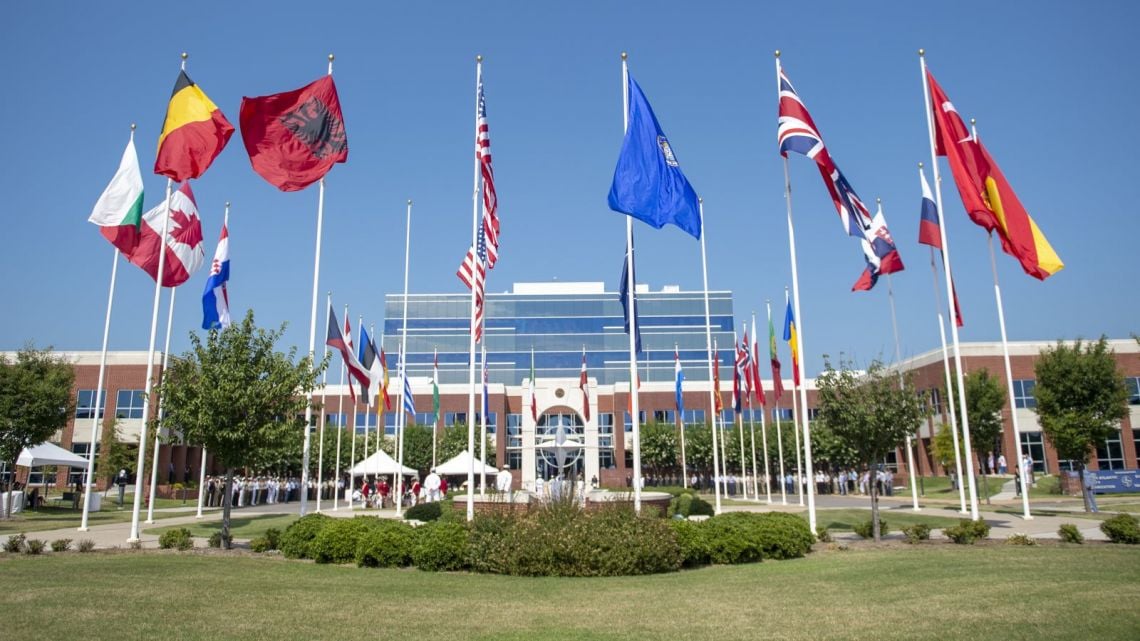 NATO Allied Command Transformation Celebrates America's Independence Day.
NATO's Allied Command Transformation leadership, staff and families celebrated America's Independence Day during a flag raising ceremony on July 3.
General André Lanata, Supreme Allied Commander Transformation, and Congresswoman Elaine Luria, member of the Democratic Party and U.S. Representative for Virginia's 2nd congressional district, provided remarks that spotlighted the importance of a NATO Strategic Command in North America.
"NATO members and their families feel immense privilege and pride, sharing this moment with the men and women serving a country which has always preserved the heritage of the universal principles enshrined in the Declaration of Independence," said General Lanata (click here to read General Lanata's remarks).
General Lanata continued to emphasize how, "the fates of the United States of America, Canada and Europe are inseparable."
Congresswoman Luria highlighted the importance of celebrating Independence Day alongside Allies at Allied Command Transformation.
"We have in common an uncompromising commitment to protect democracy, a task too large for any one nation to handle alone," congresswoman Luria stated in her remarks.
"Today, NATO's Allied community wants to wholeheartedly thank you for the opportunity to join you on this day of remembrance, to celebrate together our common heritage, a legacy that we will continue to protect at the highest price and pass on to new generations," said General Lanata. "Long live these values! Long live our Alliance! And long live the United States of America, Land of the Free and Home of the Brave!"
As one of NATO's two strategic commands, and its only Strategic Command in North America, Allied Command Transformation has been located in the United States since its inception in 2003. The City of Norfolk, and the region as a whole, serve as exceptional hosts to military and civilian personnel from 34 Allied and partner nations. Allied Command Transformation's mission is to contribute to preserving the peace, security and territorial integrity of Alliance member states by leading the transformation efforts of military structures, forces, capabilities and doctrines.