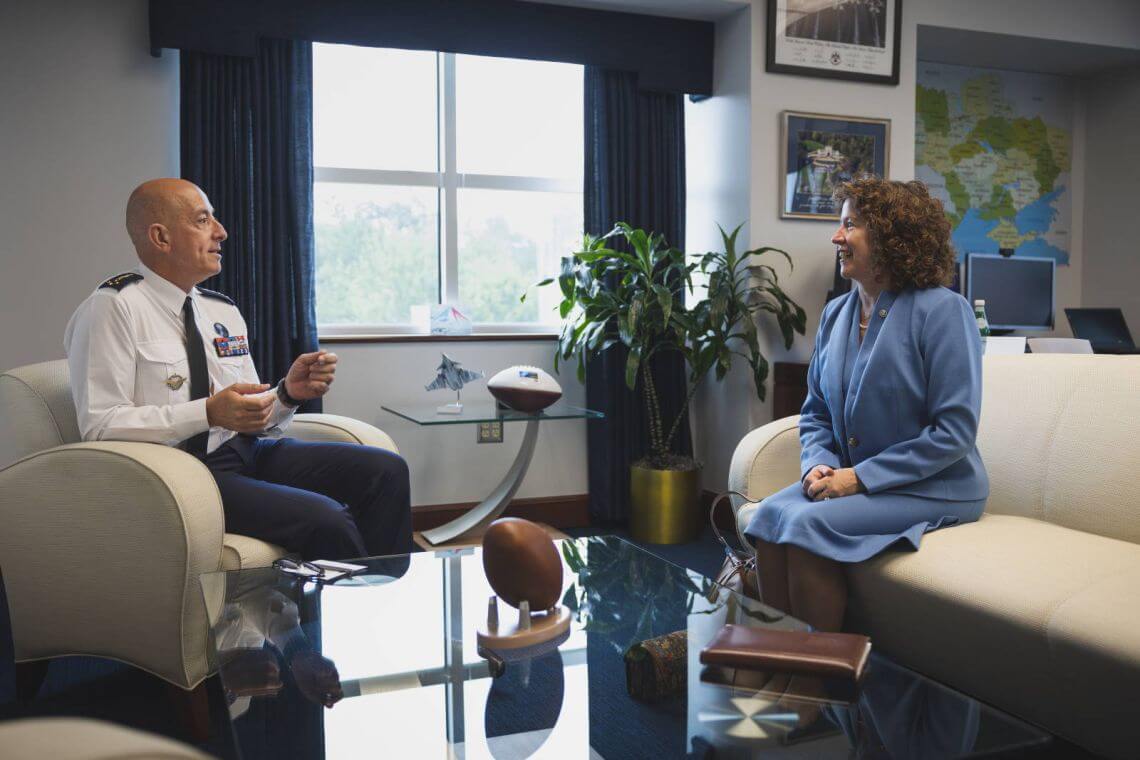 NORFOLK, VA – On April 24, 2023, Supreme Allied Commander Transformation General Philippe Lavigne received Ms. Barbara McQuiston, Chair of the Board of Directors for NATO's Defence Innovation Accelerator for the North Atlantic (DIANA), in Norfolk, VA. Ms. Barbara McQuiston discussed cooperation and facilitation of innovation with Allied Command Transformation and visited the NATO Allied Command Transformation Innovation Hub.
NATO's Defence Innovation Accelerator for the North Atlantic (DIANA) is a network of research hubs, test centres, and cooperative stakeholders, including innovators, mentors, and investors. NATO originally introduced the DIANA Initiative at the North Atlantic Council meeting in Brussels in 2021. Later, the Charter of DIANA was approved on April 7th, 2022, as part of the Alliance's push to strengthen technical collaboration and cooperation between member nations.
DIANA brings defence personnel together with Alliance-wide academia and industry, enabling transformation through a whole-of-NATO approach to innovative solutions and military capability development. In 2023, DIANA will launch pilot Challenge Programmes around three focus areas: Secure Information Sharing, Sensing and Surveillance, and Energy Resilience. DIANA expects to reach full operational capability in 2025, as the DIANA network of affiliated test centres and accelerators has now grown to over 100 sites across almost all Allied countries.
Previously the Pentagon's Deputy Chief Technology Officer for Science and Technology, Ms. Barbara McQuiston is the first-ever Chair of the Board of Directors for DIANA. She brings over 30 years of executive management experience in high-technology companies and government services, including advisory positions throughout the Department of Defence and nearly a decade at the Defence Advanced Research Projects Agency (DARPA).
Ms. McQuiston met with Deputy Chief of Staff for Capability Development, Lieutenant General David Julazadeh, who also serves as the Supreme Allied Commander Transformation's Innovation Representative. "DIANA is a crucial Allied Command Transformation partner. Together, we can harness the power of innovation to rapidly address not only warfighter needs but also ensure the Alliance maintains its military edge" said Lieutenant General Julazadeh, highlighting the importance of delivering capabilities at the speed of relevance. During the visit, discussions focused on NATO-wide network integration, Rapid Adoptions, and upcoming activities from 2023 through 2025.