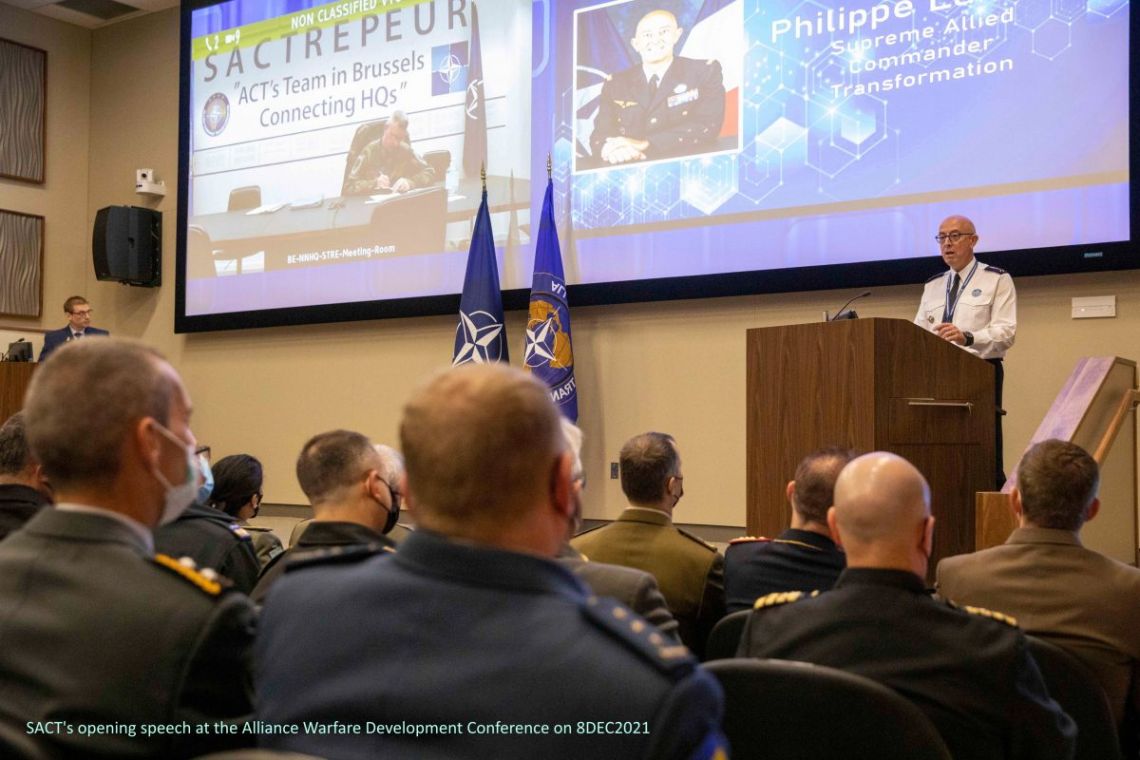 Supreme Allied Commander Transformation, General Philippe Lavigne, has hosted the inaugural Alliance Warfare Development Conference at NATO's Allied Command Transformation from 7-9 December 2021.
The Alliance Warfare Development Conference replaces the Chiefs of Transformation Conference and is organised to bring together senior leadership from NATO nations responsible for warfare development in order to promote and explain NATO's warfare development activity, help align national warfare development efforts, build communities of interest and exchange best practice.
The theme of the 2021 Alliance Warfare Development Conference was "The Alliance Warfare Development Agenda: From Concept to Implementation" and the conference agenda focused on the Warfare Development Agenda from multiple perspectives. The Alliance Warfare Development Conference syndicate and plenary sessions worked to:
Provide a comprehensive update on the Alliance Warfare Development Agenda whilst reflecting on the 2021 Warfare Development Talks and seeking topic recommendations for talks in 2022;
Inform delegates of NATO's current Multi-Domain Operations work, exploring how the draft definition and vision can be improved and exchanging views on what Multi-Domain Operations should look like from a NATO perspective. It was an opportunity to continue the process of building consensus around Multi-Domain Operations and will directly help the development of the Military Committee task on guiding principles for Multi-Domain Operations warfare development;
Consider Data and the Alliance, focusing on the role of data and data exploitation play in becoming a data-centric organization. Delegates discussed requirements setting and resourcing needs to reflect the political priority given to data exploitation and artificial intelligence, as well as the capability exploration and delivery processes for these digital capabilities. This was an opportunity to discuss NATO / National interdependencies and explore ways to move forward together;
Inform Alliance Warfare Development Conference stakeholders about developments in Audacious Wargaming, demonstrating practical developments in wargaming and addressing national expectations on NATO's wargaming capability.
A dedicated programme was also developed for select Partner nations which got an opportunity to discuss Warfare Development Agenda and Multi-Domain Operations in an unclassified setting.