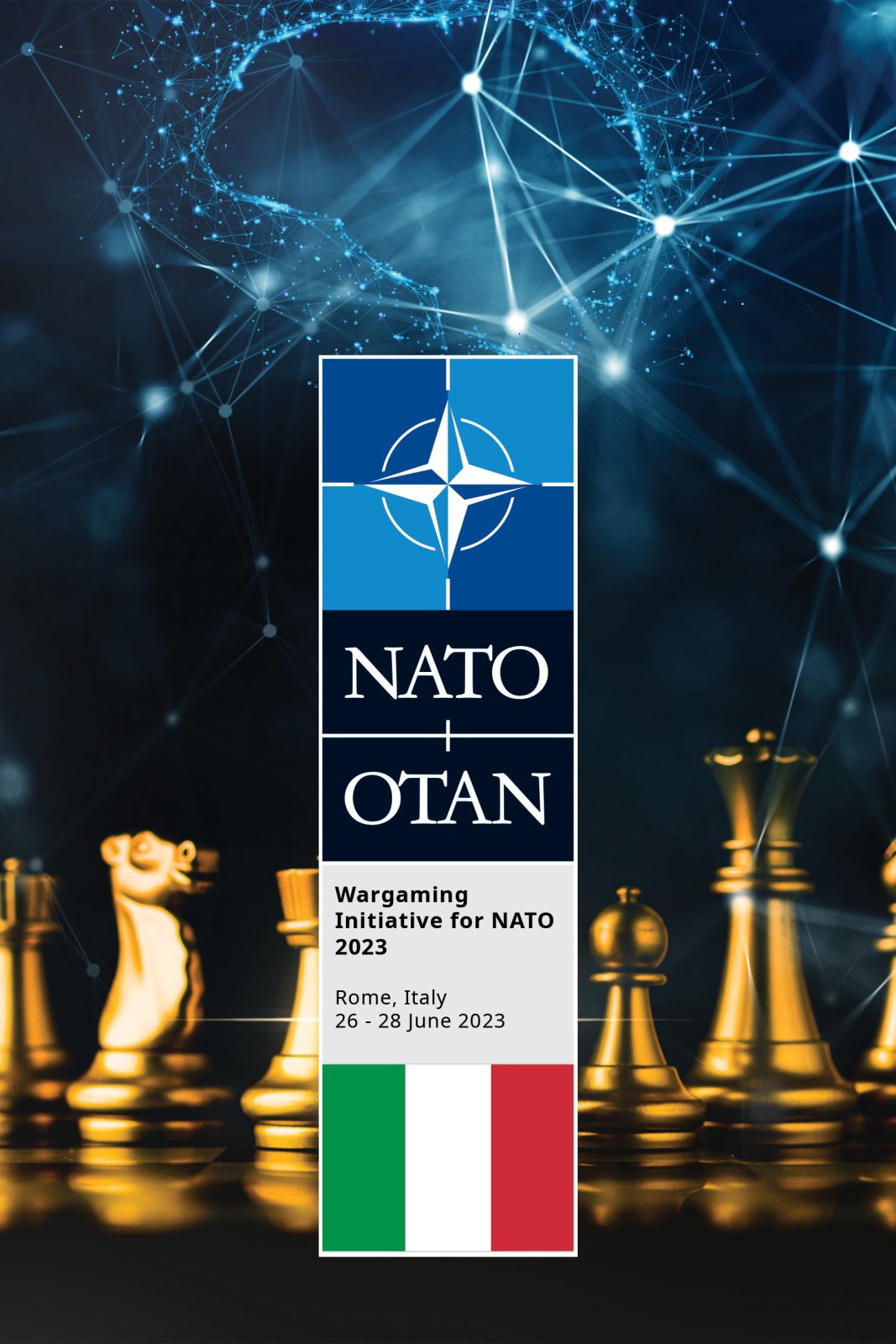 Introduction:
On 26-28 June 2023 Allied Command Transformation held the Wargaming Initiative for NATO 2023 (WIN 23) in Rome, Italy, co-chaired by France, Italy and Germany.
The 2023 edition of the Wargaming Initiative for NATO was the highlight of a continuum of activities related to wargaming, introduced in 2022 with the first iteration of WIN in Paris, France, and NATO's first practitioner-level wargaming conference at King's College London in May 2023, co-hosted by Allied Command Transformation.
Under the theme 'Harnessing the Power and Potential of Wargaming', WIN 23 brought together over 300 participants from 25 Allied and partner nations, as well as participants from academia and industry.
The objectives of this event were to: expose senior NATO military and civilian officials to future wargaming practices and technologies, enabling NATO's competitive edge into the future by reinforcing analytical rigor at all levels of decision-making and providing the opportunity to explore threats in a safe-to-fail environment, as well as promoting and showcasing the benefit of wargaming, and how we may improve Decision Making through the development of national and Allied wargaming capabilities.
The conference started on the evening of 26 June with an icebreaker session hosted by LtGEN Carmine Masiello, Italian Vice Chief of Defence. On the morning of 27 June, the working session of the conference was inaugurated jointly by LtGEN Masiello, Deputy Supreme Allied Commander Transformation General Chris Badia, French Vice Chief of Defence General Eric Autellet, and German Vice Chief of Defence LtGEN Markus Laubenthal.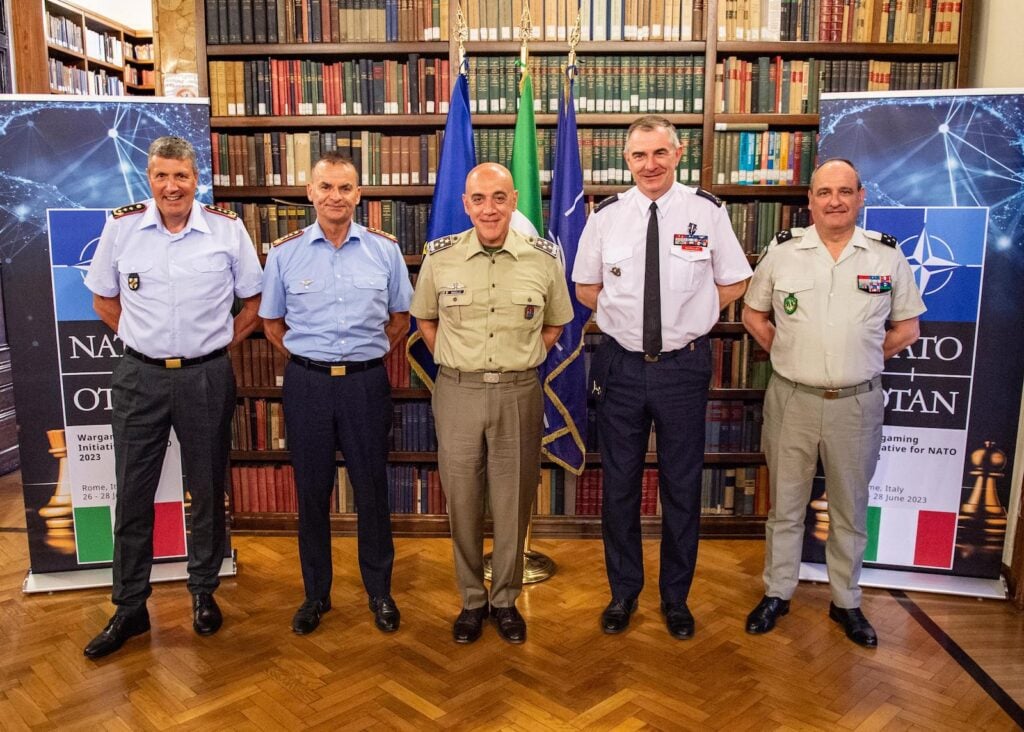 In his opening remarks, Italian Vice Chief of defence, LtGen Masiello, thanked all participants for joining and reflected on the origins of the Initiative in Paris, in October 2022, under the bilateral leadership of France and Italy. He also underlined Italy's national commitments to develop wargaming capabilities at all levels as a tool to analyse complex problems and support the decision-making process, especially in the current Operational Environment characterised by the 'continuum of competition' among Nations and war at the doorstep of the Alliance.
Deputy Supreme Allied Commander Transformation General Chris Badia observed with satisfaction the growing number of participants at this edition in comparison with 2022. He attributed that growing interest to the fact that being the most successful alliance in the world is not a given. To remain so, he stressed the need to keep investing in resilience, power projection, and cross domain command and control. He also emphasised the need to remain open-minded. "To this end, wargaming can be used at all levels and all ages".
He continued by explaining that WIN 23 provides an important opportunity for Allied Command Transformation to highlight the benefit of wargaming and further the development of national and Alliance wargaming capabilities. It also provides the opportunity to foster a 'wargaming mindset' where ideas, plans, or technologies can be tested to failure, learned from, and refined. He finally noted that what Allied Command Transformation is doing is really the first step in addressing how the Alliance uses wargaming to shape the future.
In his intervention, French Vice Chief of Defence, General Eric Autellet, explained how the Initiative helps reinforce the visibility of wargaming at the national level and demonstrate a willingness to strengthen the culture of wargaming among the French military services. To that extent, he has established a roadmap and created a joint wargaming team. By the end of the year, a Wargaming Center will be created in Paris within the framework of the ACADEM project – a Defense Academy project that will be co-located with the Ecole Militaire – in order to further develop and promote French military strategic thinking and education. He concluded his speech by emphasizing that WIN 23 was an effect multiplier in disseminating this culture.
LtGen Markus Laubenthal, German Vice Chief of Defence, emphasized that even though it might seem incongruous or paradoxical to conflate war with "the frivolous concept of the game", wargaming's "practical relevance for security policy should not be discounted". He mentioned that Germany has almost 200 years of historical experience in wargaming and that this culture did not stop after the 19th century. On the contrary, Germany is proud to further enshrine wargaming into the future by developing within the Bundeswehr a wargaming manual based on the British model (the UK being one of the world-leading nations in the field). He also took the opportunity to confirm that WIN 24 will be hosted by Germany.
Dr Andrea Gilli of the NATO Defence College in Rome chaired the first plenary session. The panel included LtGen Hubert Cottereau, SHAPE Vice Chief of Staff, BGEN Nicolas Auboin, Deputy Director of the French War College, Mr Sebastian Bae from the Center for Naval Analyses – Georgetown University and Dr David Banks from King's College London.
Entitled 'Wargaming for Strategic Advantage – Challenges and Opportunities', this session aimed at understanding how the use of wargaming can enhance the Alliance's strategic advantage and help prepare for tomorrow's conflicts across all domains. In setting the scene for the plenary session, Col (ret) Jean-Michel Millet stressed the importance of our leaders embracing being out-of-their comfort zone by training to fail and not just to validate their assumptions. He recognized the limits of wargaming but also the benefits as an aid in preparing leaders to face alternative realities.
Dr Andrea Gilli reflected on the fact that in 2019 there was no consensus on the role of wargaming, whereas today a rapid growth of interest in this tool and its use is underway. In order to go beyond the buzzwords arising with the rediscovery of wargaming, he expressed the idea of seeing it as a tool to achieve agreement among members of NATO or other international organizations.
BGen Auboin insisted that wargaming offers intellectual tools and not solutions. He believes that this the appropriate pedagogical approach for an age of uncertainty, not only at the strategic level but also at the operational one. Therefore, efforts regarding investments at the operational level should be a priority.
Prof Sebastian Bae focused on the importance for the Alliance to be a critical consumer because wargaming cannot predict the future. However, working transparently by sharing baseline assumptions and developing a diverse collaborative wargame ecosystem with long term planning and learning objectives will enable the Alliance to better train its leaders in a failsafe environment.
Dr David Banks focused on the fact that despite its 200 year history, wargaming is in its infancy and there is an overwhelming tendency to focus on the tactical and operational level because this level of modelling is easier. Nevertheless, despite the inevitable kinetic dimensions and effects of a conflict, the political and strategic events leading to or surrounding that conflict are critical and need to be included in wargaming. The Russian invasion of Ukraine, for example, is the result of political dynamics, not military ones. "We should have prepared for it with a strategic level wargame, not an operational one".
Vice COS SHAPE, LtGEN Hubert Cottereau, explained that after the doctrinal and cultural shift from wars of necessity to wars of choice, SHAPE lost its ability to synchronise a campaign in a war-of-necessity context. Hence, the need for more, and more complex, exercises. Wargaming, and more specifically integration wargames that will reflect national sensibilities, are a necessary tool of reciprocal understanding from nations to the Alliance and vice versa, allowing a better appreciation of our asymmetrical environment by challenging our biases and assumptions.
The second plenary session, moderated by Lt Col Aaron Beam from Allied Command Transformation, was dedicated to 'Wargaming and the Political-Military Decision-Making Process'. This session gathered experts such as Ambassador Timo Koster from the Atlantic Council, Dr Francesca de Rosa, Chief Scientist for Gaming at the Center for Advanced Pathogen Threat and Response Simulation, Ms Becca Wasser, Lead of the Gaming Lab at the Center for a New American Security, and Prof Jorit Wintjes from Julius-Maximilians-Universität in Würzburg.
The session presented opportunities to exchange ideas on how wargaming can develop better decision-makers in an age where accelerating the decision-making process becomes a must; unpack  how and why wargaming can empower both the political and military decision-making process; and finally discuss the value of wargaming in understanding and gaining insight into complex issues.
The discussion started with a presentation by Col Mirosław Wnorowski from the Doctrine and Training Center of the Polish Armed Forces, wherein he demonstrated the needfor wargaming to take into consideration the political military interaction which is embedded in the North Atlantic Treaty.
Dr Francesca de Rosa pointed out that we have been observing a crisis of decision-making capabilities in the political sphere. This is explained by the nature of our time, by the nature of our international organizations, but also by our own human limits, all of which lead to paralysis. She noted, for example, the case of the first weeks of the Russian War of Aggression in Ukraine. Because decision-making is a combination of cognitive and meta-cognitive processes, she argued that wargaming can help us to develop our decision-making skills under uncertainty and complexity.
For Mrs Becca Wasser, scarcity of time will always be a characteristic of decision-making processes. Therefore, time pressure must be a dominant feature of wargaming. She insisted that wargaming should not be used to validate our assumptions or to reinforce budget allocations or power structures. Indeed, the so-called 'perfect game', wherein everything is formalised and all options are detailed, would limit players' creativity and space for experimentation. Enabling failure must be a feature of wargaming. The challenge must allow for failure, defeat and errors.
Ambassador Timo Koster pleaded for wargames to take into account and develop five fundamental features. First, the political sphere and institutional actors such as the North Atlantic Council, EU and Council of Europe are determining Instruments of Power that have to be fully integrated. Second, decision-making capabilities, creative and rapid planning need to be developed.Third, since our adversaries commonly evoke the nuclear threat in their rhetoric, planning and operations, we need to include the nuclear sphere in our activities of training, planning and doctrine.
Fourth, when it comes to logistics, as we no longer have large resources deployed at the borders, we need to plan and train for huge logistics challenges in case of need, including through wargaming.
And finally, we need to understand members' unique perspectives within our international organizations. There will always be a difference in diplomatic attitude towards China among our member states, for example. Those differences will persist and need to be taken into account in wargaming as well.
Prof. Jorit Wintjes concluded by underlying the fact that the winning side is not necessarily the team that has benefited the most in terms of learning and in the adoption of  the best possible decision-making method. That is the reason why we need to leave participants free to make mistakes; failure has a pedagogical role. Games must therefore be incomplete to some extent as inaccuracies can be beneficial.
Other highlights during the two days included wargaming sessions where senior NATO military and civilian officials experienced the benefits of wargaming, as well as TED Talks and exhibitions showcasing wargaming solutions, topics, and capabilities from NATO, academia, and industry.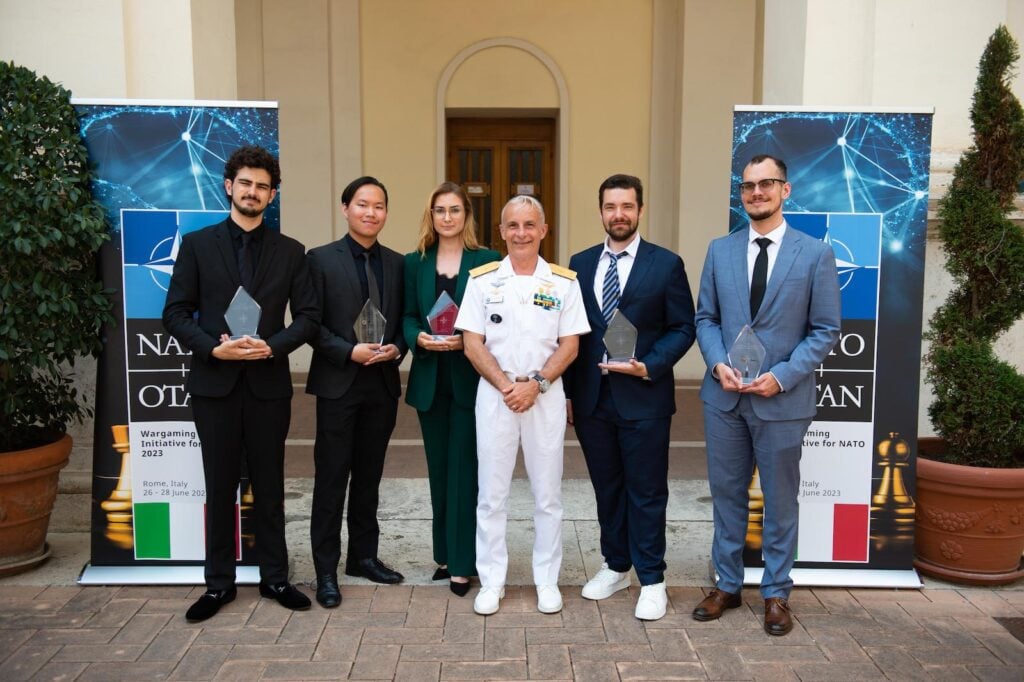 Another key point of the conference was the presentation of their wargame by the winners of the Innovation Challenge, on the topic of: "An innovative wargame in support of strategic level decision-making in a complex multi-domain scenario where the Military Domains (Land, Maritime, Air, Space, Cyber) and the Cognitive Dimension are combined".
Andrew Bell, Lowna van Hezeken, Jehezekiel Jordan Kodrajaya, Jose Del Olmo Garcia Tejerina Lafuante and Jane Vasov, five students from the Hague University of Applied Sciences came to Rome created a a functional MDO wargame. The goal of the game, regardless of which side wins, is to employ a term coined as the Triple C – cooperation, communication, coordination – to effectively showcase the importance of multiple domains working together and improve communication between current and future leaders.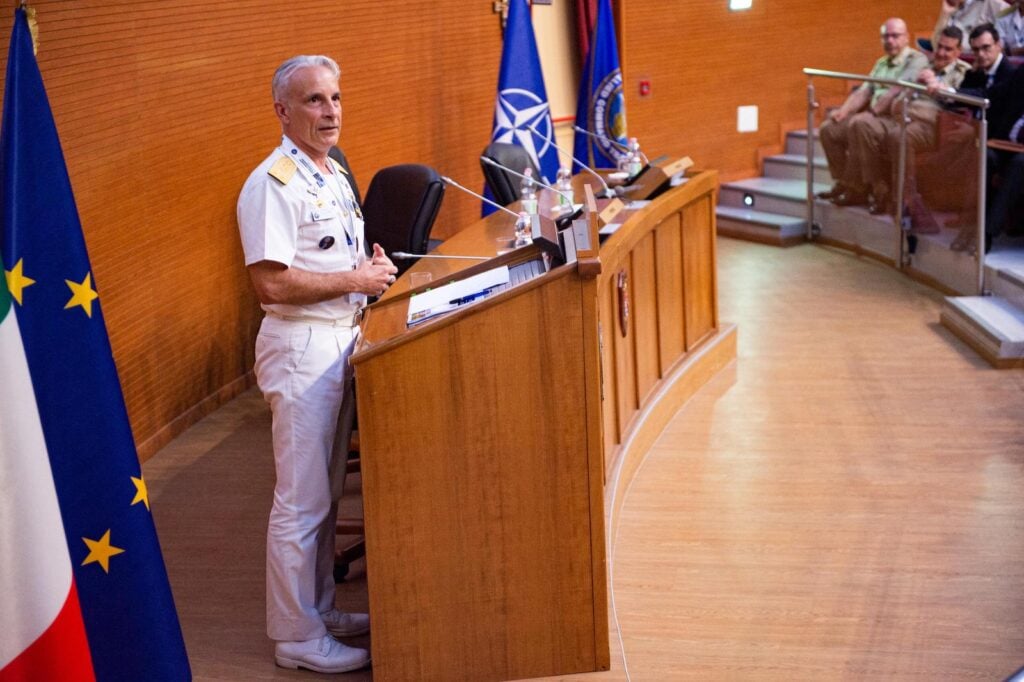 The conference was concluded by Admiral Giacinto Ottaviani, President of the Italian Center for Higher Defence Studies (CASD), where the conference was hosted, and Rear Admiral Placido Torresi, Allied Command Transformation Deputy Chief of Staff Joint Force Development.
While Admiral Ottaviano outlined the future of CASD as a center of excellence for both leadership and wargaming, RADM Torresi mentioned ACT's future commitment to further invest in wargaming via a NATO common funding mechanism: an Audacious Wargaming Capability.
They both saluted the German decision to host WIN 24 in the summer in Hamburg.
---