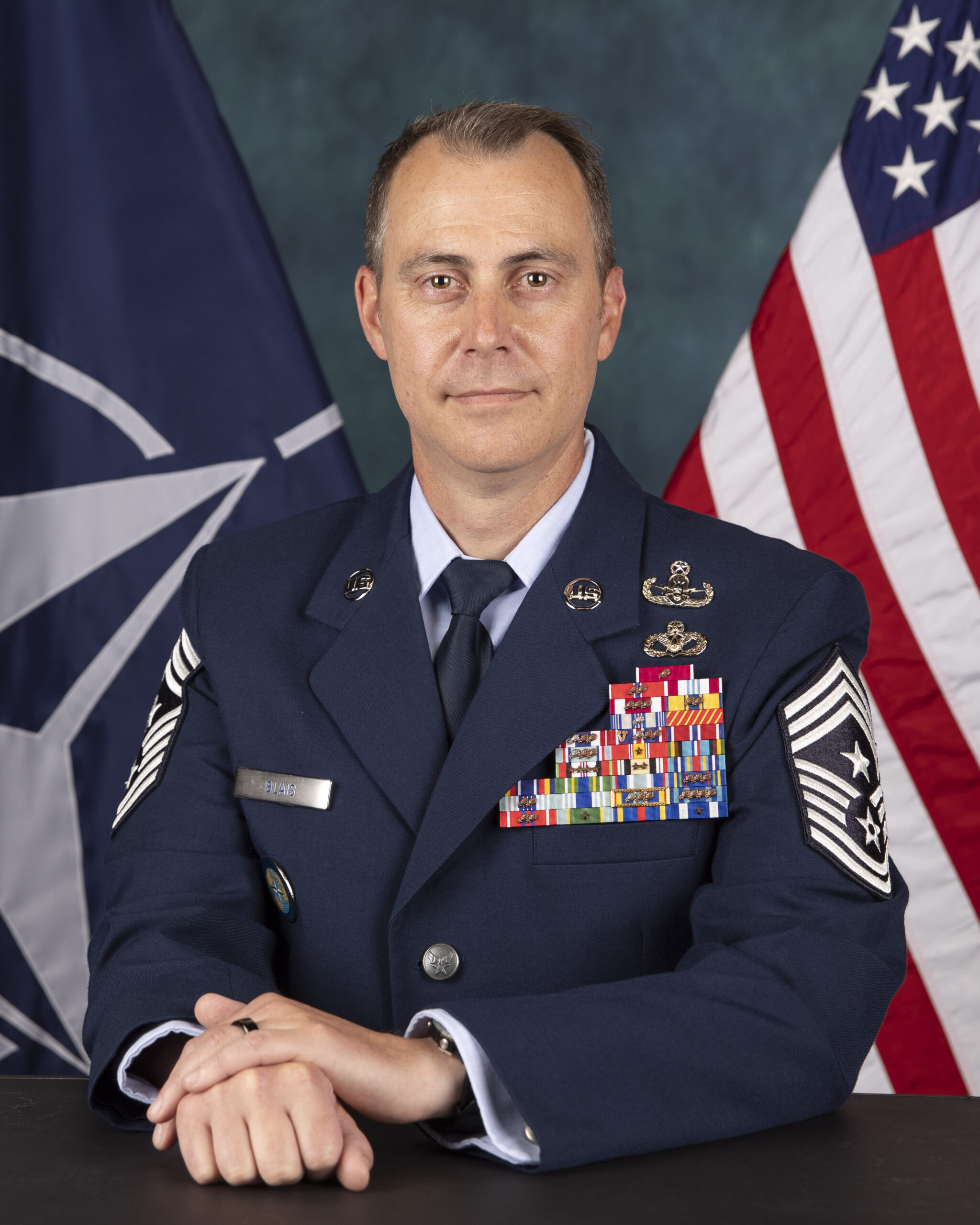 Chief Master Sergeant Brion P. Blais
Command Senior Enlisted Leader
---
United States Air Force
North Atlantic Treaty Organization
Chief Master Sergeant Brion Blais assumed the post of Command Senior Enlisted Leader, Allied Command Transformation on 29 September 2021.
Chief Blais entered the United States Air Force in May 1994, and after graduating Naval School Explosive Ordnance Disposal (EOD), served the next twenty years at numerous positions from the unit‐level to the Major Command. He has multiple combat deployments supporting joint‐force and coalition operations in Afghanistan, Diego Garcia, Iraq, Kuwait, Saudi Arabia and Qatar. In addition to his depth in EOD and Counter‐Improvised Explosive Device  operations, Chief Blais has developed a broad background in the Infrastructure, Nuclear Surety, Service Delivery and Test & Evaluation disciplines.
His first nominative Command Chief Master Sergeant position was at the Air Force Nuclear Weapons Center and 377th Air Base Wing, quickly followed by positions at Joint Base San Antonio and the Air Force Installation and Mission Support Center. Prior to assuming his current position, Chief Blais was the Command Chief Master Sergeant for United States Air Forces in Europe and Air Forces Africa, Ramstein Air Base, Germany.
Chief Blais has accomplished many educational milestones to include a Bachelor of Science in Management & Human Resources, the Senior Enlisted Joint Professional Military Education II as well as the Keystone Command Senior Enlisted Leader Course from the National Defense University.
He has been recognized with numerous awards and accolades to include the John L. Levitow Leadership Award, the Legion of Merit with oak leaf cluster, the Bronze Star with two oak leaf clusters, the Defense Meritorious Service Medal, the Meritorious Service Medal with three oak leaf clusters, the Air Force Commendation Medal with two oak leaf clusters, the Air Force Achievement Medal with five oak leaf clusters and the Air Force Combat Action Medal.
Chief Blais was promoted to the grade of Chief Master Sergeant in 2013. He is happily married to Emma Blais, both of whom share a passion for the outdoors, literary works and motorcycles.